One of popular
Vietnamese Soup recipes
is
Katok Soup with shrimp and pork.
Katuk also known as star gooseberry, or sweet leaf, is a shrub grown in some tropical regions as a leaf vegetable. It is one of the most popular leaf vegetables in South Asia and Southeast Asia and is notable for high yields and palatability. The shoot tips have been sold as tropical asparagus. In Vietnam, the locals cook it with crab meat, minced pork or dried shrimp to make soup.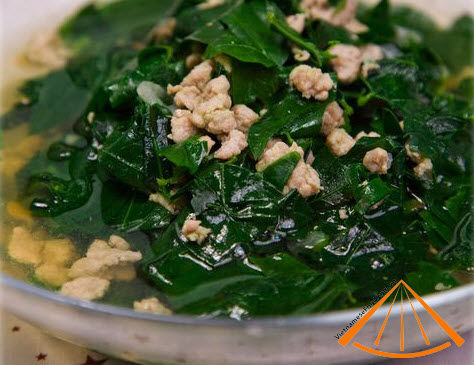 It is a good source of vitamin K and A, especially in freshly picked leaves, as well as high levels of vitamins B and C, protein and minerals. The more mature leaves, the higher nutrient content of the leaves.
Katuk is really fresh and sweet, cooking with shrimp and grinded pork. It is one of good Vietnamese Soup recipes for your family and friends.
Ingredient
-100gr shrimp
-150gr grinded pork
-A bunch of Katuk
-Salt, spring onion, pepper and sugar.
Process
Step 1: Clean shrimp and peel the cover and push black line out of them. Mix shrimp and grinded pork together. Next, add a little salt, pepper into mixture.
 
Step 2: Pluck off the leaves of Katuk to use, exclude hard leaves. Next, put leaves in basket to clean and after that use your hands to rub leaves.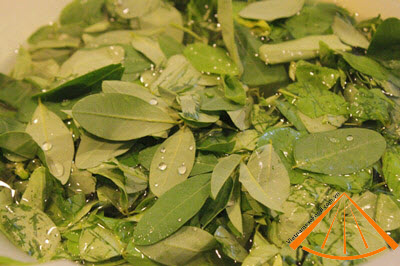 Step 3: Boil the olive oil and pour spring onion into pot to fry, next pour shrimp and grinded pork into the pot too, fry until the mixture gets medium cooked.
Step 4: Pour 2 water bowls into the pot and continue cooking till it boils again.
Step 5: Put leaves into the post. Depend on your taste, flavor the soup again. Turn off the heat, scoop soup out of pot into a big bowl and use with rice. Most Vietnamese Soup recipes like this dish require not close the pot when boiling soup.
 
To sum up, many
Vietnamese Soup recipes are required eating with rice. And this dish does not exclude. When your mouth is ulcerated cause hot weather; you can use this soup about 1 week and will have a good result.
 
From
EZ Vietnamese Cuisine
Team.