Today, I will show you one of popular
Vietnamese Salad recipes
is
Shredded pork and pork skin rice paper rolls (Bi Cuon)
. The mixture of pork skin, roasted rice powder and shredded meat will make the strange taste, but delicious for this amazing dish.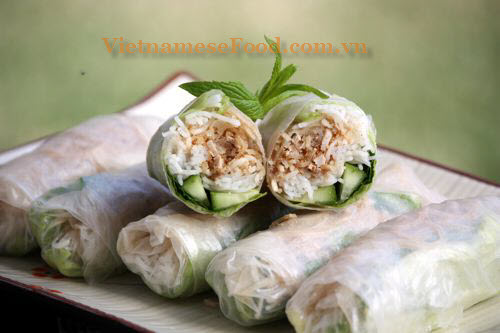 Last week, I made this dish for my family, and I received some positive feedbacks from my parents. To make this dish successfully fro many delicious
Vietnamese Salad recipes please follow my recipe now.

Ingredients:

-150g of pork, washed
-100g pork skin
-30g roasted rice powder
-150g raw vegetables, washed
-8 rice papers
-2 Cloves garlic, finely minced
-1 Teaspoon of white sugar
-1 / 4 teaspoon pepper
-1 / 2 cup coconut milk
 
Sweet and sour sauce ingredients:

-1 Tablespoon lemon juice
-2 Tablespoons of fish sauce
-4 Tablespoons white sugar
-6 Tablespoons of coconut milk
-1 / 2 pepper, finely chopped.

*** Boil coconut milk, and then add white sugar and fish sauce stir well. Let it cool, and then add lemon juice on it.
 
Process:

Follow our instruction carefully to make one of Vietnamese Salad recipes like this dish more delicious
 
Step 1- Pork boiled, and then marinated with seasoning, white sugar, and ground pepper.

 

Step 2- Fried minced garlic with oil until fragrant, add pork, coconut on it with small heat to absorb seasoning, and then cut yarn.

Step 3- Mix the pork, pork skin, roasted rice powder, pepper together.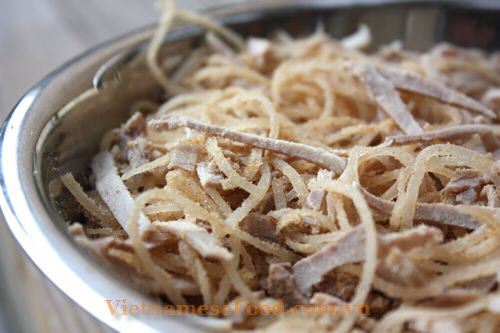 Step 4- Roll rice paper with salad and pork skin together.You can follow step 4 of Vietnamese Fresh Spring Rolls to know the process.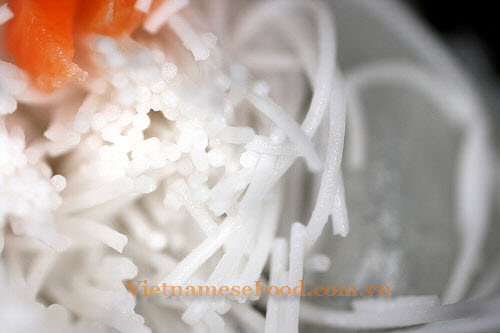 Step 5- Use Shredded pork and pork skin rice paper rolls served with sweet and sour spots.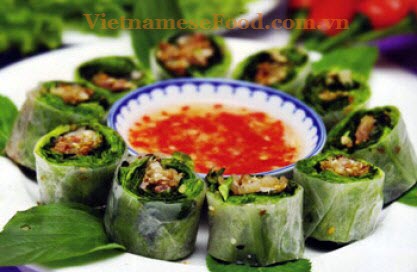 Finally, you finished an amazing dish. Lay some rolls on dish, use with vegetables and sweet and sour sauce (ladle sauce on small bowl, you can add chopped pepper if you like). Hope you like this recipe and do not miss our next posts about
Vietnamese Salad recipes next time. Good luck for your cooking.

From Vietnamese Food Team.