This week, I will introduce one wonderful recipe of
Vietnamese Salad Recipes
. It is Vietnamese Grapefruit Salad with Shrimp and Pork. This is one stunning salad which has both beautiful colour and good taste. Moreover, it is really good for health, especially skin. Grapefruit contains many vitamins which really neccessary for your body.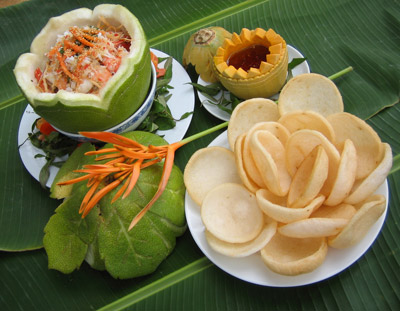 There are 3 steps to make this recipe. Moreover, this recipe is from many delicious
Vietnamese Salad Recipes which just need 15 minute to create. So, are you ready for cooking? Please follow us carefully.

Ingredients:

– 200gr Pork
– 10 Shrimp
– 1 Grapefruit
–  100gr Ear pork
– ¼ Carrot
– 10gr Laksa leaves
– 1 Chilli
– 10gr Roasted peanuts
– 5gr Chopped Garlic
– 20 Shrimp chips
– Ginger.

Sweet and sour sauce:

– 1Tablespoon of lemon juice
– Chopped garlic
– 60 ml Sauce
– 60 gr Sugar
– 1 Chopped chilli
Add lemon juice, sauce, sugar, chopped chilli and chopped garlic into a bowl. Then, mix them together.

Process

Step 1: Wash the pork and ear pork. Next, boil them until cooked. Thinly slice the pork and ear pork. Wash the shrimp. Boil the shrimp until cooked. Remove the cover of the shrimp.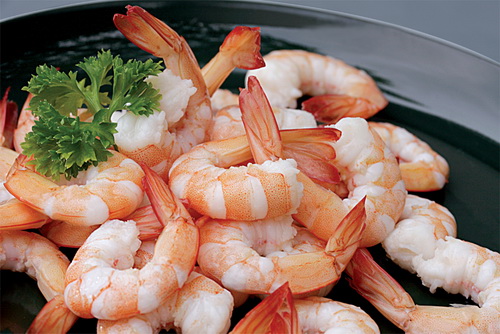 Step 2: Remove the cover of carrot, julienne slice the carrot. Wash the laksa leaves. Then slice the laksa leaves to small parts. Julienne slices chilli and ginger. Peels a grapefruit and separate its pulp into segments. Keep both the grapefruit's meat and cover.
Step 3: Mix the shrimp, pork, ear pork, carrot, laksa leaves, chilli and sweet and sour sauce. Add the mixture into the cover of grapefruit. If you want to make this salad which is one stunning of
Vietnamese Salad Recipes become more beautiful, you can design for the cover of grapefruit to make it more beautiful. Organize the roasted peanuts on the top. Now you can enjoy this salad with shrimp chips.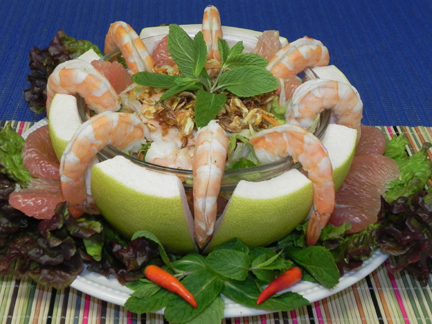 Finally, you can enjoy this salad with wine or beer and deep fried shrimp pastes (Banh phong tom). Moreover, the taste of this salad is very special because Vietnamese Grapefruit Salad with Shrimp and Pork combines the taste of seafood, pork and sour of grapefruit. Next week I will introduce one dish which is more amazing from 
Vietnamese Salad Recipes. So, good luck for your cooking and see you next time.  

From Vietnamese Food Team.