Have you ever thought that you can use pork leg to create many amazing Vietnamese Pork Recipes? Pork leg contains many benefits for your health, especially to increase blood and create milk for all mothers after bore babies. This dish is called Stewed Pork Legs with Pumpkin and Peanut (Móng heo Hầm Bí Đỏ và Lạc). It is not only delicious, but also really good for your body, especially women.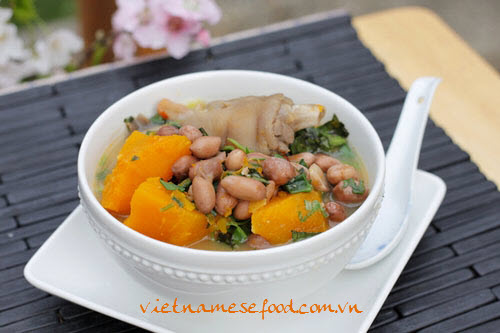 Stewed Pork Legs with Pumpkin and Peanut (Móng Heo Hầm Bí Đỏ và Lạc)
 
If you want to take care of your family health, especially for your mother or wife or sister, you can follow my instruction to create one of stunning Vietnamese Pork Recipes for them. Are you ready now? When you do want to cook, let us start together right now.
Ingredients:
2 pork legs
1 sliced pumpkin (100 – 150g)
½ bowl boiled peanut (peeled)
Salt, fish sauce, Magi's stuff
Spring onion, coriander.
Process:
Step 1: Clean well pork legs into cold water and then soak into hot water in 5 – 7 minutes. Next, use knife to shave all dirty outside of pork legs. Chop into small pieces.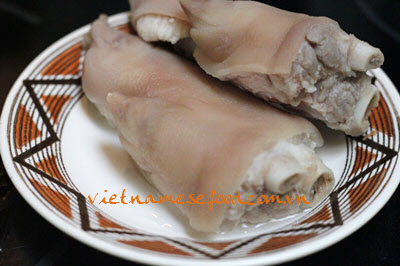 Step 2: Soak boiled peanut into water about 30 minutes before cooking. If you use dried peanut, you should soak through 1 night or 6 – 7 hours, next bring to boil in 20 minutes and peel off the cover.
 
Step 3: Peel off the harsh cover of pumpkin. Slice into small pieces.
 
Step 4: To create one of stunning Vietnamese Pork Recipes, I think you should not neglect from this step. Pour all sliced pork legs into pot; add more boiled peanut and water, make sure water will cover all these ingredients. Bring to cook until it boils, season with a little salt. Cover the pot; continue to stew in 30 – 45 minutes with small heat. When you see pork legs and peanuts are soft, they are ok.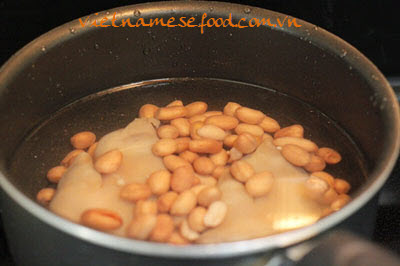 Step 5: Next, add more sliced pumpkin into pot and cook until it is soft as well. Season again to suit your flavor is here.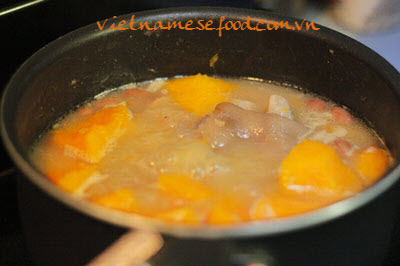 Finally, your food is already served. Turn off the heat, sprinkle more sliced coriander, spring onion on face of food. Scoop into bowl and eating with boiled rice or vermicelli is all delicious. Together protect your family health by following my recipes. Hope you have a good appetite and do not miss our other Vietnamese Pork Recipes next time. Good Luck for your Cooking.
 
From EZ Vietnamese Cuisine Team.