In winter, never better with you can enjoy one hot vermicelli soup with your beloved family and friends. And may I suggest one stunning dish from many
Vietnamese Noodle Recipes
to you? It is called
Vermicelli with Beef Balls and Tendon (Bún Bò Viên Và Gân Bò)
. This dish likes a song with many singers from pork bones, lemongrass and chili. And I bet you will not regret about your decision.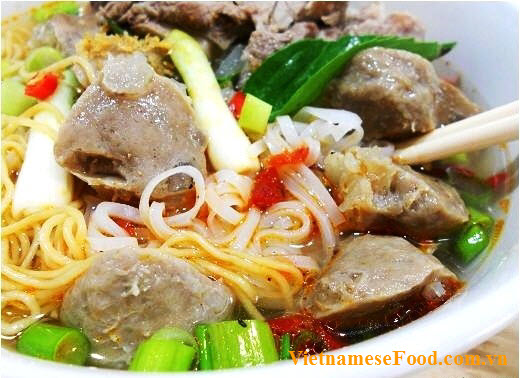 So, are you ready to cook one of stunning
Vietnamese Noodle Recipes
for your beloved family? In weekend, here is the best way to keep closer with them. If you want, please follow our instructions below carefully.
Ingredients:
1kg beef bone (leg bone)
1 – 2 branches of ginger
 1 – 2 onions
500gr beef balls (Bò Viên) – Buy at Vietnamese Markets
500gr beef tendon
Scallion, coriander.
1 tablespoon annatto seeds oil
Spices: salt, Maggi's stuff, sugar, pepper, lemon juice
Bean sprout, Vietnamese mint, basil, cleaned
1 – 2 tablespoons minced lemongrass
2 – 3 teaspoons chili powder
Garlic, vegetable oil.
Process:
Step 1: Cut beef balls in half. Soak into hot water about 2 – 3 minutes to clean it.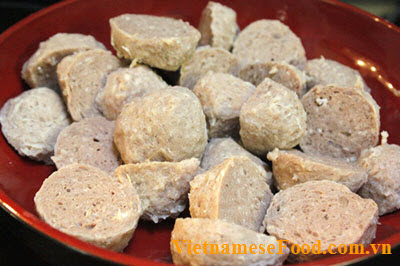 Step 2: Clean bone and tendon of beef carefully with water added a little salt in 2- 3 times. Next, soak into hot water about 2 -3 minutes to clean again.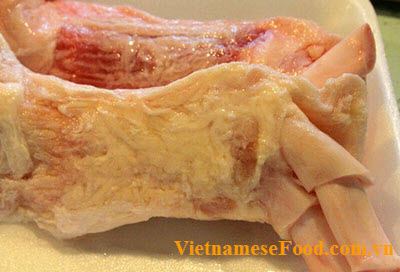 Step 3: Peel off the cover of ginger and onion. Grill ginger and onion until they are fragrant. Add them with beef bone and tendon into big pot; pour water to flood them with 1 tablespoon salt. Cook until it boils. Sometime when cooking, use spoon to scoop away dirty bubble on face of broth to make it more clear and delicious. Here is the important step to create one of stunning
Vietnamese Noodle Recipes
.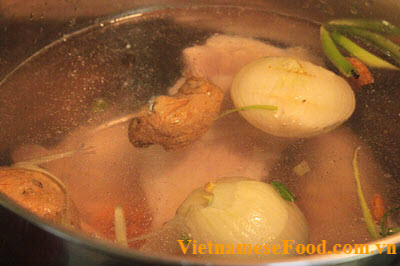 Step 4: Clean scallion + coriander, slice small. Clean bean sprout + Vietnamese mint, wait to dry.
Step 5: Soak vermicelli into hot water about 5 minutes to clean it. Next, wash immediately through cold water to make sure they will not stick together.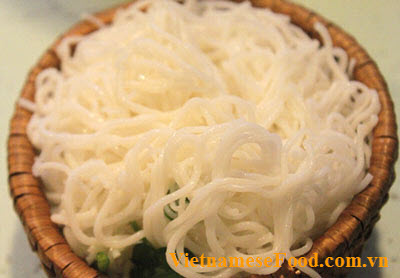 Step 6: Put a pot on cooking stove, add 1 tablespoon annatto seeds oil, wait to hot, add more minced garlic + lemongrass + chili powder + 1 teaspoon fish sauce + a little sugar, fry about 5 minutes. Turn off the heat and pour into bowl.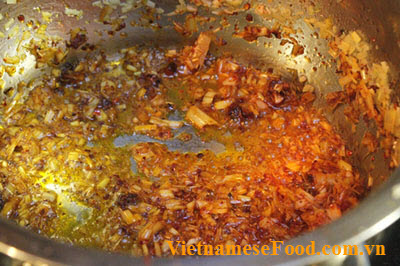 Step 7: In step 3, after cook about 1 hour, continue add 2 – 3 bowls water + mixture (in step 6), and season again to suit your flavor and cook more 30 minutes. Next, add more sliced beef balls into pot and continue cook about 10 – 15 minutes. Do not turn off the heat, using small heat to make sure your broth is not cold when serving.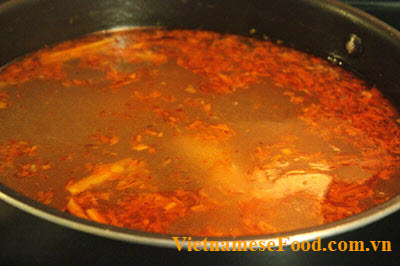 Finally, your dish is basically finished. Put a little vermicelli on bowl, add more sliced beef balls + tendon on face, scoop 2 – 3 tablespoons of broth. Sprinkle a little sliced scallion before eating. You can use this dish with vegetables like bean sprout, basil, chili, Vietnamese mint and lemon juice. This way will help to increase its flavor for you. Hope you love this dish and make sure you will not miss our other stunning
Vietnamese Noodle Recipes
next time. Good Luck for your Cooking.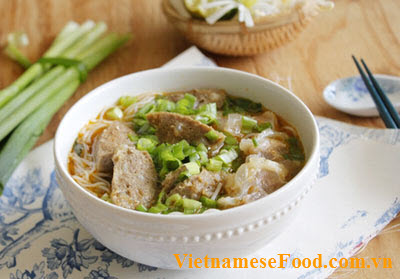 Vermicelli with Beef Balls and Tendon (Bún Bò Viên Và Gân Bò).
From
EZ Vietnamese Cuisine
Team.