Today, I will introduce one of amazing Vietnamese Pork Recipes for all you guys. Instead of cooking boring meals, you can choose this food for your family meals. This dish is Fried Pork Meat with Lemongrass Rolls (Heo Chiên Bọc Xả). The specific flavor from lemongrass will be absorb into meat when frying and create a fantastic flavor in your mouth. Trust me, if the weather where you live is still freaking cold, here is a great decision.
 
So, are you ready to cook one of stunning Vietnamese Pork Recipes with us? Eating with boiled rice and hot soup is always Vietnamese people choice. How do you think? Are you ready to cook right now? Please follow my instruction below carefully to create a stunning meal for your family.
Ingredients:
500g grinded pork
7 – 8 lemongrasses
1 tablespoon minced lemongrass
2 tablespoons tapioca starch
2 tablespoons vegetable oil
Salt, Maggi's stuff, honey, oyster oil, fish sauce, purple onion.
Vegetable oil for frying.
Process:
Step 1: Clean lemongrass sticks carefully. Peel off the hard cover and use knife to cut in quarter (like photo below).
 
Step 2: Marinate pork meat with minced purple onion + tapioca starch + vegetable oil + salt + fish sauce + pepper + 2 tablespoons honey + minced lemongrass + sliced spring onion. Use spoon to mix them well until this mixture become thick and smooth. Here is also the important step to create one of delicious Vietnamese Pork Recipes.
 
Step 3: After that, use nylon bag to cover this mixture carefully and put in fridge about 30 minutes.
 
Step 4: Next, separate this mixture into small balls. Then, roll them around lemongrass sticks. Make sure that it sticks firmly into these sticks. Continue until this mixture is out.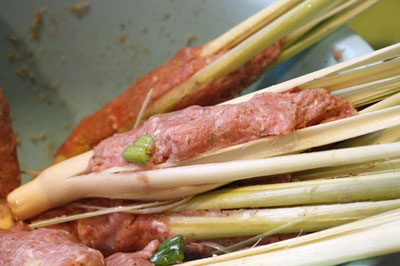 Step 5: Heat the oil (make sure it will cover all these sticks when frying). Put these sticks into pan and fry until they turn brown yellow and spread out the stunning specific flavor.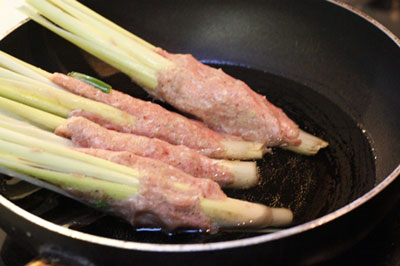 Step 6: In the process of frying, use chopsticks to change their faces to make sure they will be cooked well.
 
Finally, your dish is ready to serve. Serving with boiled rice and hot soup as you be told above is my favorite choice. How about you? Do you love it and ready to cook one of delicious Vietnamese Pork Recipes like this one with us? Hope you have a good appetite and Good Luck for your Cooking.
 
From EZ Vietnamese Cuisine Team.