One of my favorite Vietnamese Pork Recipes when I feel exhausted is Stewed Pork Chop with Green Bean (Sườn Non Hầm Đậu Hà Lan). The great combination between many healthy beans such as lotus seeds, green bean and carrot, pork chop will create a fantastic song in your mouth. This dish is not only delicious, but also quite good for your health. Carrot contains Vitamin E which is really necessary for your eyes. And lotus seeds will help you to prevent many diseases, one of them is increase the necessary blood for women.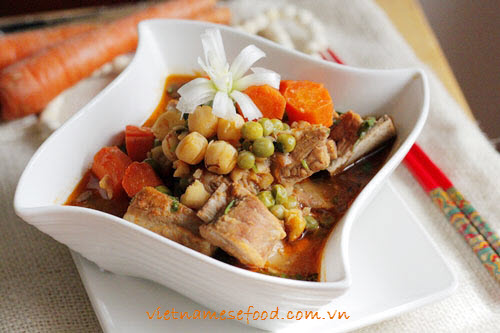 You have many ways for eating when finished cooking one of delicious Vietnamese Pork Recipes. Sticky rice or Bánh Mì or boiled rice is all great choice. Trust me, you will never regret with this decision. When you are ready, please follow my instruction below and let us together start cooking right now.
Ingredients:
600g pork chop
200g fresh lotus seeds
100g green beans
1 carrot
Ketchup
Salt, Pork/chicken broth mix, vegetable oil, garlic, coriander, purple onion
Sticky rice or Bánh Mì.
Process:
Step 1: Clean pork chop and soak into hot water in 3 – 4 minutes. Next, clean again with fresh water.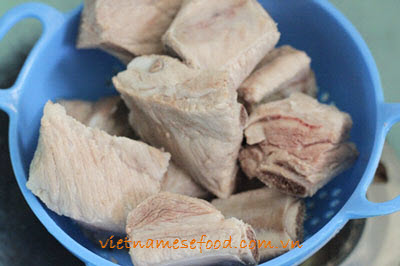 Step 2: Pour pork chop into bowl, add more 1 tablespoon ketchup + ½ teaspoon salt + ½ teaspoon minced garlic. Mix well and wait in 2 hours. Here is the important step to create the flavor for one of amazing Vietnamese Pork Recipes.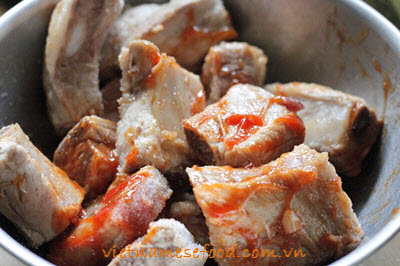 Step 3: Clean carefully lotus seeds and green bean. Make sure you already remove all cores from lotus seeds. If not, it will create a bitter flavor for your food. Peel off the cover of carrot, clean and slice into short pieces.
 
Step 4: Heat the oil (2 – 3 teaspoons), add more minced garlic and sliced purple onion, fry until they are fragrant. Next, add more pork chops into pot and fry in 5 – 7 minutes.
 
Step 5: Then, add more 3 – 4 bowls water or coconut juice into pot. Cook until it boils and add more lotus seeds.
 
Step 6: Cook more 30 minutes and then add more 2 tablespoons ketchup + 1 teaspoon salt into pot and continue to cook until pork chop is soft.
 
Step 7: Next, add more sliced carrot + green bean into pot. Cook until all ingredients are soft and season again to suit your flavor.
 
Finally, your dish is ready to serve. Turn off the heat and add more sliced coriander on face of food. I suggest you should eat when it is hot. With this tip, it can help you feel the specific flavor from one of delicious Vietnamese Pork Recipes. As I told above, eating with sticky rice or Bánh Mì or boiled rice is all amazing. Good Luck for your Cooking and have a good appetite.
 
From EZ Vietnamese Cuisine Team.