Lò Đúc (located in Hà Nội City) is a famous place to the local teenagers who are seeking for amazing Vietnamese Street Food with reasonable price, the food here is calling everyone through its signature smelling especially at night.
If you go there with only 1 partner, then it should only cost you 200,000 VND at most to eat to satiety. People in Lò Đúc are specialised in grilled Vietnamese Street Food and normally from August to December, the street is full of guests because of cold weather which makes the food is even better.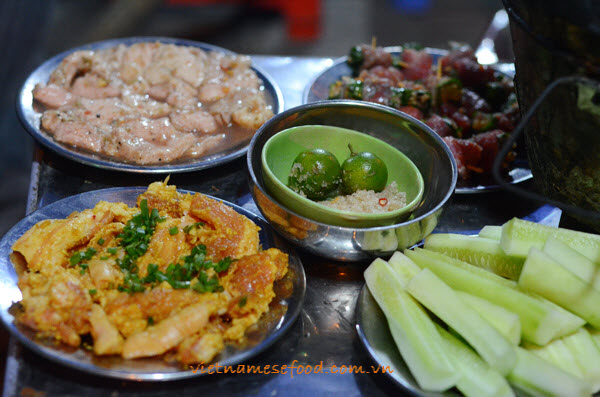 Even though it is known that using stove with alcohol is more convenient, less smoky and less harmful, the local people still believe that only using coal stove and grill manually would make the best quality food.
A small kiosk in Lò Đúc (near Trần Xuân Soạn, Hà Nội) has been there for quite a long time but never show that it lost its reputation. There might be fewer customers coming to the kiosk when the weather is hot, but the rest of the time customers are lining up to buy food here.
1. Grilled Pork Side (Thịt ba chỉ nướng)
This dish is one of the typical Vietnamese Street Food, each piece of meat is carefully selected, contain both the lean and fat. We slice the meat, marinate in spices then grill in a hot coal stove. Be careful when grilling, you must remember to turn the meat side constantly until it is cooked. For 2-3 people, depending on how much you can consume, you can order 3-4 plates with a total price (drinks included) within 200,000 VND.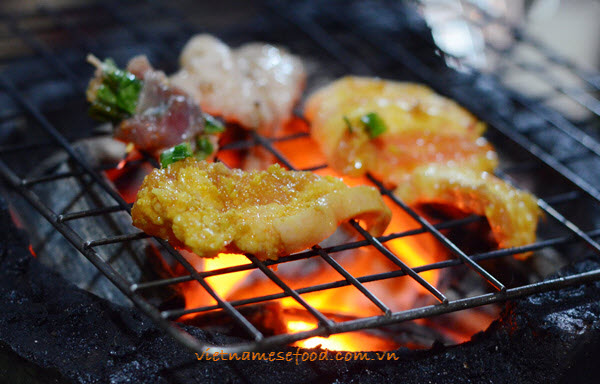 2. Grilled Rolled Beef (Bò cuộn)
This delicious dish is recently introduced by the owner. The first time tasting you might wonder why the beef is crunchy and different from the original grilled rolled beef. The secret is that the vegetable inside the roll and in the middle there are corncobs.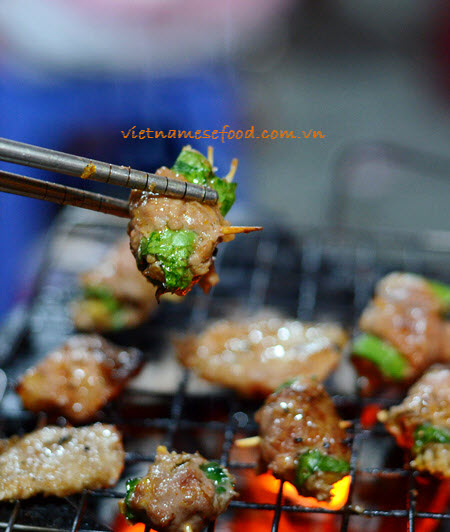 3. Crunchy (Giòn lai rai)
For others, the reason they come here is because of the dish named Crunchy (Giòn lai rai). The dish name is created by the customers. Its main ingredient is the pig or cow's heart stems marinated with spices.
 
4. Honey Bread (Bánh  mì mật ong)
In the menu, there are 13 grilled Vietnamese Street Food, such as grilled beef, spicy marinated oyster, grilled octopus with pepper, grilled pork side with sour and sweet sauce, etc. Accompanying with these dished is Honey Bread (Bánh  mì mật ong) which will definitely make you remember the taste forever.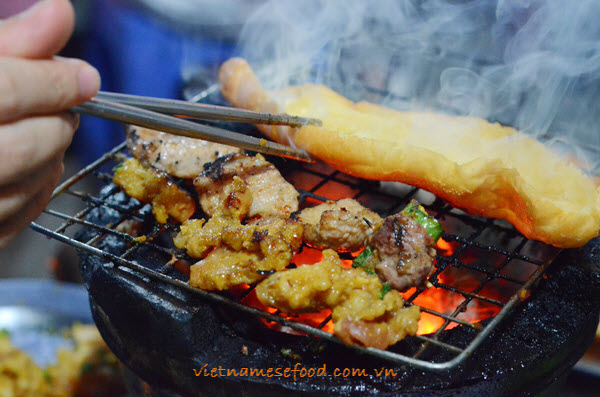 The only inconvenient thing when eating these grilled Vietnamese Street Food is that your clothes may be smelly for quite a time. However, for the food lovers, being able to enjoy these grilled food, that little "inconvenient" thing is not worth time for second consideration.
From EZ Vietnamese Cuisine Team.