As you may know, Bánh Mì is the best Food in Vietnam. There are many delicious Vietnamese Sandwich Recipes in our country. Today, I will introduce one stunning way to enjoy Bánh Mì. It is called Shredded Pork Skin with Bread (Bánh Mì Bì Heo).
Here is also one of the most popular bread in Vietnam. From kids to elderly fall in love with it. If you love Bánh Mì Vietnam, I think you should try this dish at least once time.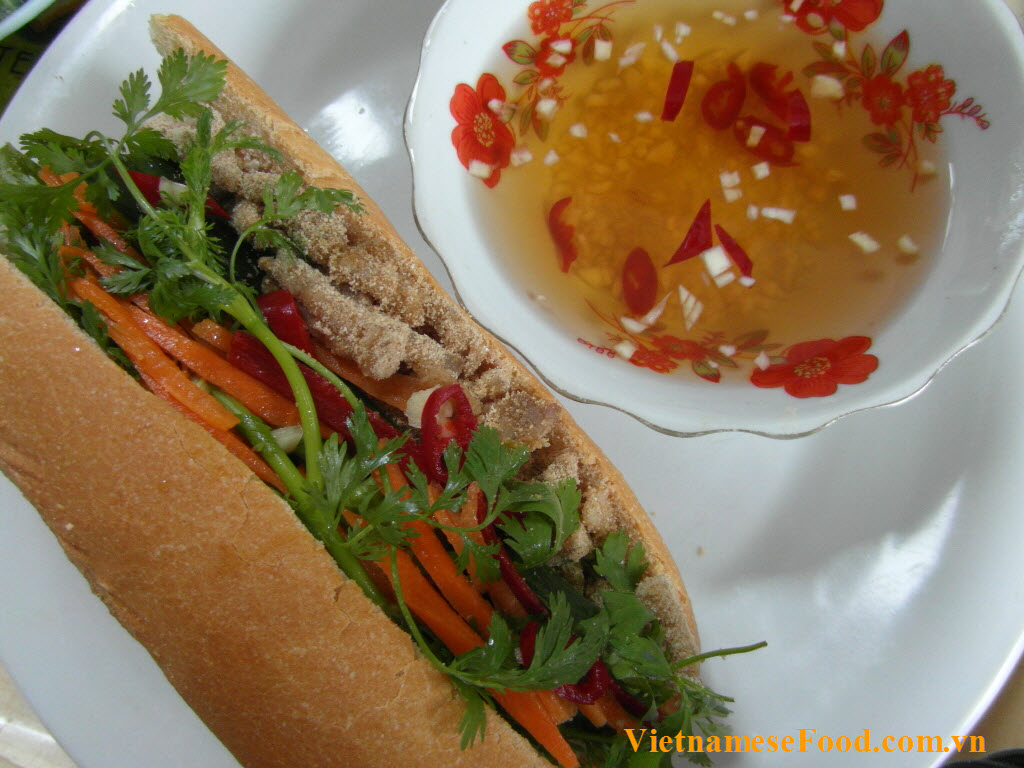 So, are you ready to make one of the amazing Vietnamese Sandwich Recipes from us? With this dish, it can become your breakfast. I bet your kids and all members in family fall in love with it. If you want to know how amazing the flavor of Bánh Mì, please follow carefully our instruction below. Let us start now.
Ingredients:
100gr dried pork skin (Bì Khô) – Buy at Vietnamese Markets.
100gr roasted rice, grinded (Thính Gạo).
600gr pork meat, cleaned and sliced into medium pieces.
White wine and vinegar
Spices: Fish sauce, salt, Maggi's stuff, pepper, sugar, garlic
Scallion, cleaned and sliced small
Bread
Cucumber, coriander, scallion, carrot.
Sliced chili
Dipping sauce, you can follow the recipe to create it.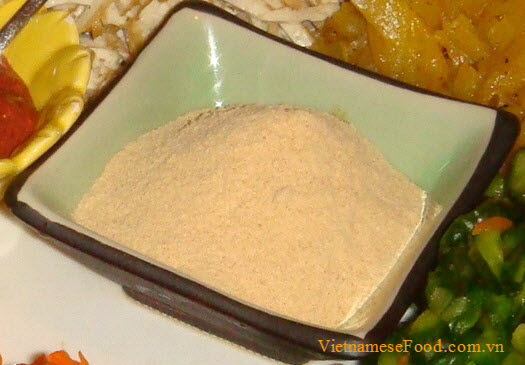 Process:
Firstly, I will tell you the main ingredients to create one of the stunning Vietnamese Sandwich Recipes. It is called Shredded Pork and Skin (Bì Heo). Then, wash it with wine + vinegar until reduce all its smell.
Step 1: Soak dried pork skin into the water about 10 minutes.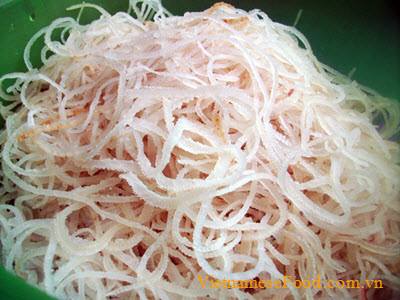 Step 2: Boil the water, then pour dried pork skin into pot and soak about 3 minutes. Then, wash immediately in cold water. Wait to dry.
Step 3: Marinate pork meat with minced garlic + fish sauce + salt + pepper + sugar about 15 – 20 minutes. Add oil into a pan, wait to hot, and add more minced garlic and fry until it is fragrant. Then, add sliced pork meat and fry about 5 minutes. Add more 1/3 bowl of water and simmer with small heat until water is out. Put fried pork meat on the plate, wait to get cool and slice into long and thin pieces.
Step 4: Mix well-sliced pork meat (in step 3) with roasted rice (Thính) together. And you shredded pork and skin is ready.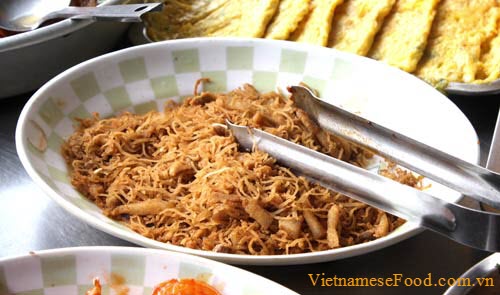 Step 5: Clean cucumber + coriander + scallion + carrot. Peel off the cover of carrot, slice long and thin pieces. Then soak it into water added a little vinegar + salt for 30 minutes before using. Slice cucumber into long and thin pieces. Next, slice coriander + scallion into short parts.
Step 6: Add 1 tablespoon oil into pan, wait to hot, add sliced scallion and fry quickly about 3 minutes. Then add a little salt before turn off the heat.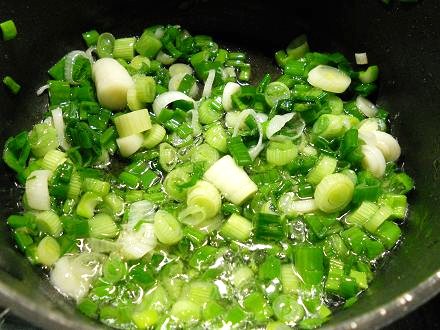 Finally, your dish is basically ready to serve. Cut across bread, spread a little mixture (in step 6), then add shredded pork and skin + sliced cucumber + coriander (the most important herb to create a difficult flavor for Bánh Mì Vietnam) + sliced chili + pepper + mixture (in step 6) and dipping sauce. And you can enjoy it now. I bet you will not regret about this dish.
Moreover, its flavor will maintain in your mouth whole day. Hope you love this dish and do not miss our other stunning Vietnamese Sandwich Recipes next time. Good Luck for your Cooking.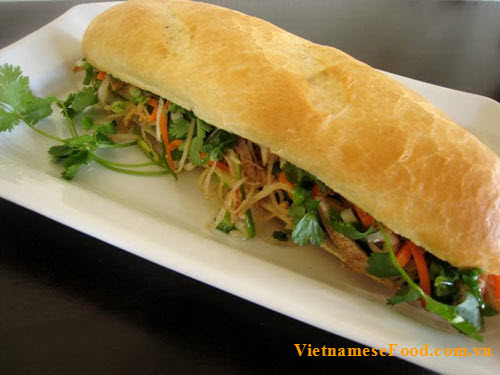 From EZ Vietnamese Cuisine Team.