Do you want to eating something new for your family meals or party with friends? May I suggest one of amazing Vietnamese Salad Recipes for you guys? It is called Salad Lotus Roots with Chicken Legs (Nộm Chân Gà Ngó Sen). Using with sweet and sour sauce will bring a stunning flavor in your mouth. Moreover, you can eat it as a snack meal when watching tivi with your friends and family. It can help relationship between you and them getting closer.
 
So, are you ready to make one of amazing Vietnamese Salad Recipes with us? If you do want, please follow carefully our instructions below and let us start cooking right now and I bet you will not regret about this decision.
Ingredients:
4 – 5 chicken legs
150 lotus roots
1 carrot
Fish sauce, sugar, salt, vinegar, lemon, garlic, chili
Ginger, peeled and minced
Vietnamese mint, basil.
Process:
Step 1: Use your hands to press chicken legs with salt and minced ginger. Next, clean in warm water in 2 – 3 times.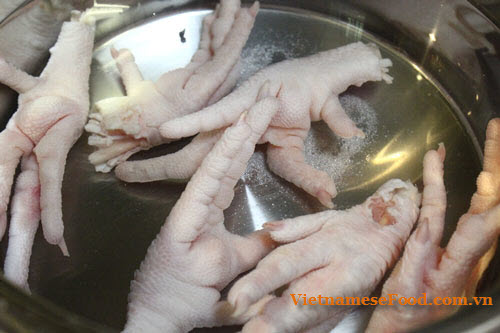 Step 2: Boil chicken and soak in hot water in 10 minutes. Do not cover the pot when boiling.
Step 3: After boiled chicken legs, soak them into cold water added a little vinegar. With this step, it can help legs more crispy and delicious. Here is the also way to create one of stunning Vietnamese Salad Recipes.
Step 4: Use a knife to cut aross legs to throw away bones.
 
Step 5: Tear lotus roots into long pieces. Soak into water added a little vinegar + sugar + salt.
Step 6: Peel off the cover of carrot, slice into long and thin pieces. Mix with ½ teaspoon salt + 1 teaspoon vinegar + 1 teaspoon sugar.
Step 7: Clean and slice small Vietnamese Mint and basil.
Step 8: Making Dipping Sauce: Mince garlic and chili. Add 2 tablespoons fish sauce + 2 tablespoons sugar + 2 tablespoons water, stir well. Next, add more garlic, chili and 2 – 3 teaspoons lemon juice into mixture. Season to suit your flavor. It requires a little sweet and sour from this sauce.
Step 9: Use your hands to press out all water from lotus roots and carrot (in step 5 and 6). Mix them well with chicken legs (in step 4) + sliced vietnamese mint + basil + dipping sauce.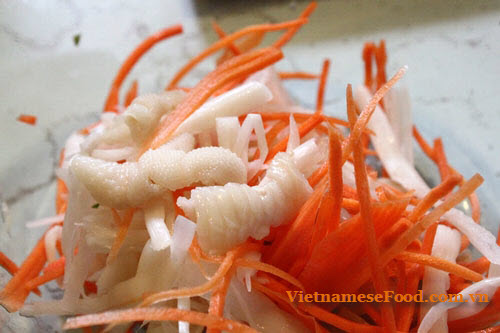 Finally, your dish is ready bring to serve. You can use it as a snack or eating with Fried Shrimp Glutinous Rice Cakes (Bánh Phồng Tôm) is all delicious. Moreover, it can be an amazing dish when you are watching Tivi with friends or family. Hope you love this dish and do not miss our next other stunning Vietnamese Salad Recipes soon. Good Luck for your Cooking.
From EZ Vietnamese Cuisine Team.