From many requests of my friends, the next recipe I will introduce today comes from many delicious Vietnamese Soup Recipes. It is called Beef meat Soup with Tomato (Canh Thịt Bò Cà Chua). Just use beef and tomatoes, process in 10 minutes; you have got a warm and tasty bowl of soup. It is really easy to eat; especially it is suitable with both hot and cold weather. For who, need a dish to recover their health after got sick, this dish is the best choice for them to have a better health.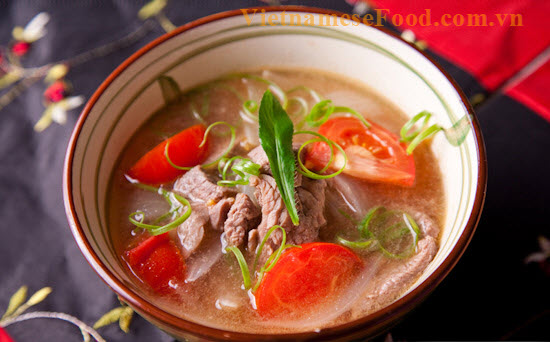 Beef Meat Soup with Tomato (Canh Thịt Bò Cà Chua)
Moreover, this dish is good for your kids and I bet they will love it too. There are 3 simple steps to cook this amazing dish. If you want to know how to cook one of stunning Vietnamese Soup Recipes, you should follow our instructions below carefully.
Ingredients:
– 150g beef, sliced ​​thin.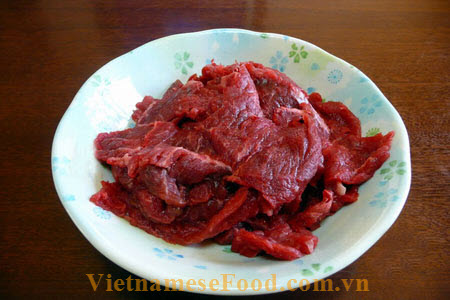 – 1 tablespoon fish sauce
– 1 tablespoon soybean sauce
– 1/8 tablespoon ground pepper
– 1/2 tablespoon vegetable oil
– 1/2 onion, slice in fibre
– 2 tomatoes cut into 6 parts per each.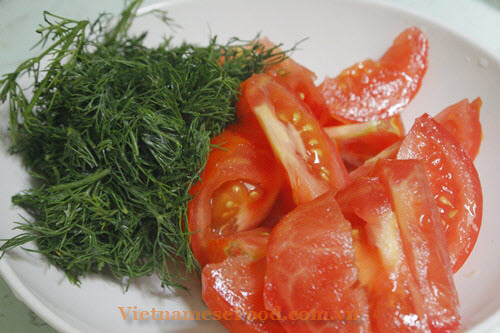 – Maggi's stuff, spices: salt, pepper, sugar, chili
– Scallions, slice the white part
– Coriander.
Process:
Step 1: Marinate beef with fish sauce, soybean sauce and pepper. Wait about 15 – 20 minutes
Step 2: Put the oil in the pot, fry onions until fragrant. Put the beef into pot quickly and fry. When beef cooked (about 3 – 5 minutes), pour them out. Add 1/2 tomato + onion + little maggi's stuff on pot and fry. When tomatoes are soft and ripe, pour  water and taste again to suit your flavor. Wait to boil.
Step 3: This step is the most important part to make one of stunning Vietnamese Soup Recipes more delicious and amazing. Then, add beef on boiling water; wait soup to boil again, then turn off the stove, add scallions and coriander on face of soup.
 
Finally, you have done one of stunning Vietnamese Soup Recipes. Serve this dish with boiled rice and some others Vietnamese Food. It is more delicious when using this delicious soup with your beloved family on weekend. Hope you like this dish and Good luck for your cooking, and have a good appetite.
 
Beef Meat Soup with Tomata (Canh Thịt Bò Cà Chua).
From EZ Vietnamese Cuisine Team.