Hanoi Chicken Vermicelli Soup (Bún Thang) originally comes from North, but already found a new home in many places in South, esp. in Ho Chi Minh City where has been considered as the largest food hub. People now consider it as the Traditional Vietnamese Food. Easy to find this dish around the city.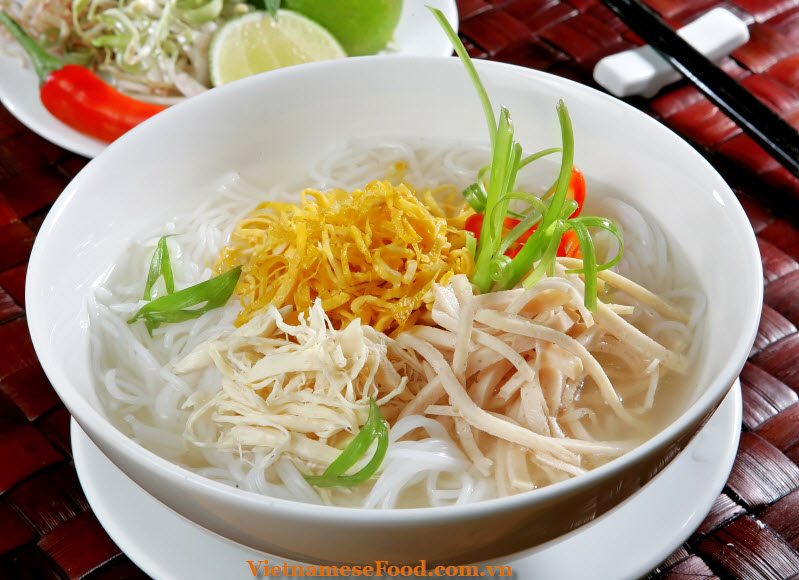 Hanoi capital in the old days, this dish traditionally prepared on the fourth day of our Lunar New Year (Tết), when we have a meal to see off our ancestor.  All the left-overs in the kitchen from ham, chicken, shrimp, and pork to some veggie have been used for this dish. That is why everything has been cut into shreds.
Today, Hanoi Chicken Vermicelli Soup seems simplified a lot, from the ingredients to the cooking process, esp. in South where is far away from the origin place. This Traditional Vietnamese Food requires long preparation. How to keep the soups clear, how to make thin omelet, to cut it and Vietnamese pork ham into super thin shreds as you see from the photo. And also how to tear the cooked chicken meat into small strips, but we missed shrimp floss this time.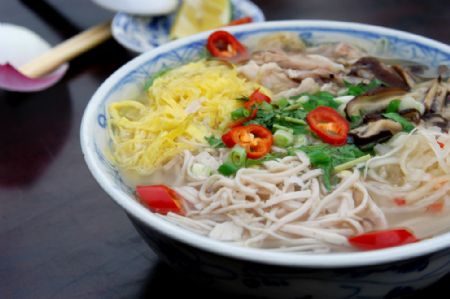 Otherwise our color picture would look nicer with red shrimp floss, yellow egg shreds, pink pork ham strips, green Vietnamese mint and ivory chicken floss. Soup for this dish is chicken soup base; to keep it clear during cooking process would take time and patience to do so. Among different kinds of soup for rice vermicelli I probably prefer the taste of chicken soup than the others, pork or beef.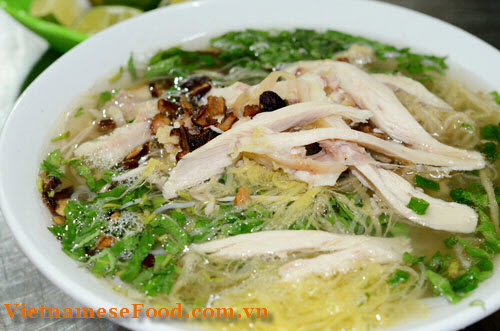 This Traditional Vietnamese Food is quite unique, outstanding from other dishes.  We put all items in the bowl – the mix of rice vermicelli with shreds of fried egg, pork ham strips, chicken floss, Vietnamese mint, some slices of red chili and finally the soup. Squeeze some lemon juice and a spoon of shrimp paste. They are the combination of egg, ham, chicken with sweet taste from soup and special flavor of shrimp paste. No words to describe! It is just perfect. Especially strong flavor of shrimp paste makes this dish tastier, richer.
Now you have more Traditional Vietnamese Food to enjoy, come and take it if you have a chance. Make sure that you already take note this dish on your travelling book before visit Vietnam. Good Luck for your Cooking.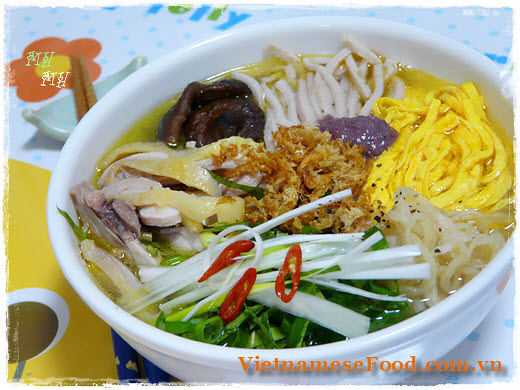 From EZ Vietnamese Cuisine Team.