Green stick rice is the Traditional Vietnamese Food that is made only in autumn and cherished by all Vietnamese. For Hanoians, nothing evokes autumn like the taste of young rice from Vong Village( Circle village); the grain so sweetly scented that they left a lasting impression.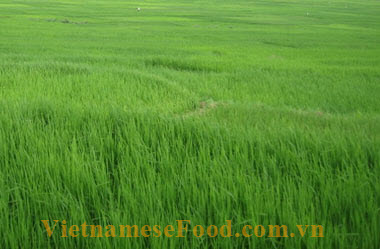 Served with red persimmons or ripe bananas, Green sticky rice is truly delicious. Vong village, on the outskirts of Hanoi, is said to produce the best Green sticky rice in northern Vietnam. When autumn comes, Hanoians everywhere always remember the special taste of this Traditional Vietnamese Food which is a special gift from the soil made by hard-working peasants, holding a simple and fresh fragrance.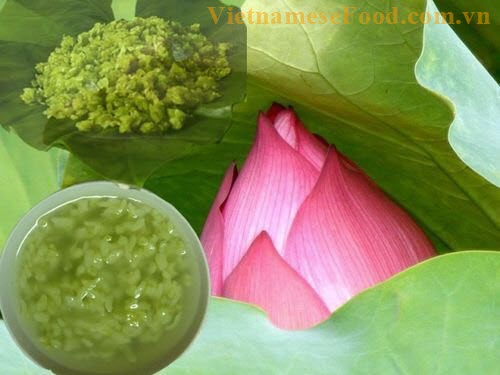 Green Sticky Rice (Cốm)
Green sticky rice is often eaten by hand, directly from the lotus leaves, a pinch at a time. When eating green sticky rice, you must enjoy slowly and chew very deliberately in order to appreciate all the scents, tastes, and plasticity of the young rice which is sweet, nutty and buttery.
 
Visitors to Hanoi during the green sticky rice making season are invited to go to Vong Village where they will have a chance to listen to the special rhythmic pounding of wooden pestles against mortars filled with young rice and see women shifting and winnowing the pounded young rice.
 
In Vong Village, making Green sticky rice used to be a common trade. People from Vong village are said to have the most complicated process for making this Traditional Vietnamese Food .Firstly, glutinous paddy is planted. To produce their famous green sticky rice, residents of Vong village grow a special variety of sticky rice. The sticky rice must be harvested at just the right moment. When the paddy begins to ripen and still contains milk it is reaped but only at early dawn. The rice is plucked off manually so that the grains are not broken.
 

Next, the choice grains are carefully selected, sifted and washed. At night, the grains are dried in a large pan over a soft fire and then pounded in stone mortars. Following this, the young rice is removed from the mortar and winnowed before being poured again into the mortar and the process repeated. This is then repeated exactly seven times so that the entire husk is removed from the young sticky grains.
 
There is an art to this part of the process. If the pounding is done irregularly and in haste, or it is not repeated seven times, the green color of the grains will disappear and be replaced by an unexpected brown color. Then the whole process will have been to no avail because customers will refuse to buy such produce. This should go some way to explaining exactly how difficult the whole process of Green sticky rice making is.
So, are you excited about this dish? Do not miss this Traditional Vietnamese Food when you visit Hanoi, especially the autumn time. Hope you have an amazing trip with family and friends in my beautiful country. Good Luck.
From Vietnamese Food Team.