Have you ever heard about Doc Mung Noodle Soup (Bún Dọc Mùng) before? This dish comes from many amazing Vietnamese Noodle Recipes. If you want to try, you can follow my recipe below. The natural sweetness from pork bone can help you get a good appetite. I suggest you should eat when it is hot. Adding more chili paste/chili powder if you love spicy is great.
 
My friends told me, ever they are 100% Vietnamese, they still ever knew about one of amazing Vietnamese Noodle Recipes like this one until I told them. Wow, cuisine is so large field. Do you agree? When you are ready, please follow our instruction below and let us start together cooking right now.
Ingredients:
500g pork bone or pork chop
250g grinded pork meat
3 – 4 Jelly's ear mushrooms
4 – 5 shiitake mushrooms
3 – 4 purple onions
2 – 3 tomatoes
Indian taro stem (Dọc Mùng) – Buy at Vietnamese Markets
Fish sauce, salt, pork broth mix, apple vinegar
Spring onion, coriander, basil
Vermicelli.
Process:
Step 1: Clean pork bone in water added a little salt in 2 – 3 times. Then bring to boil. Make sure water will cover all faces of bones. Cook about 5 minutes and pour away the first boiling water. Clean again then add more cold water into pot added pork bones and wait to boil. Sometime use spoon to scoop away the dirty bubbles to make the broth more clear. Cook in 40 – 60 minutes in medium heat to create one of stunning Vietnamese Noodle Recipes.
 
Step 2: Soak all mushrooms in 15 minutes. Cut off the roots and clean again.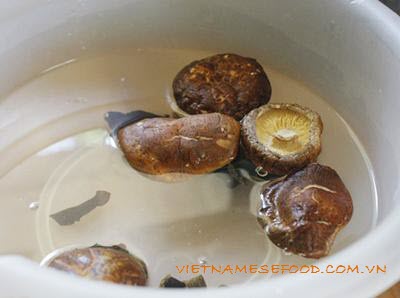 Step 3: Mince all mushrooms. Keep 2 shiitake mushrooms to add into pot later.
 
Step 4: Marinate grinded pork with all minced mushrooms + a little pepper + 3 teaspoons fish sauce + ½ teaspoon pork broth mix + sliced purple onion. Mix well and wait in 15 – 20 minutes.
 
Step 5: Clean all spring onion, tomatoes, coriander, basil leaves. Then slice small. Slice tomatoes into fiber shapes.
 
Step 6: Heat 2 teaspoons oil, add sliced purple onion and fry until it is fragrant. Pour sliced tomatoes and fry until it is soft. Add 1 teaspoon salt into pot to help tomatoes cooked quickly.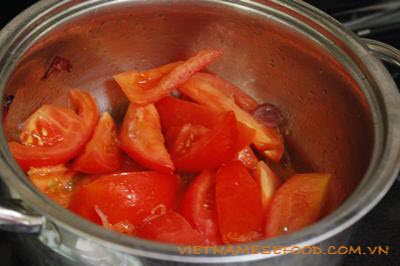 Step 7: The left purple onion, bring to grill.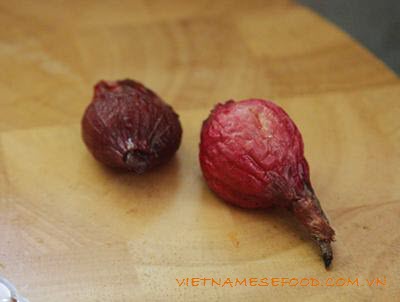 Step 8: Peel off the cover of Doc Mung. Clean and slice like photo below. Mix it with a little salt and wait in 15 minutes. Next, use hand to press gently and bring to clean again. Boil the water, soak them into 2 – 3 minutes and put on plate.
 
Step 9: Add grilled purple onion into the broth in step 1. Continue to cook in 10 – 15 minutes.
 
Step 10: Use spoon to scoop one by one ball from mixture pork in step 4 and pour into broth pot. Add more shiitake mushrooms and cook until all ingredients are cooked.
 
Step 11: Finally, pour all fried tomatoes into pot, season to suit your flavor. If you love sour, you can add more apple vinegar into pot. Boil the water and soak vermicelli in 2 – 3 minutes to clean and then wash immediately in cold water.
 
Now, your dish is basically finished. For serving, add vermicelli into bowls. Add boiled Indian taro stem on face and pour the pork broth into bowl. Then, sprinkle sliced spring onion, coriander and basil on face of dish. If you love spicy, you can add chili powder/chili paste before eating. Hope you love this dish. It will be a great choice for weekend. Do not miss our other stunning Vietnamese Noodle Recipes next time. Good Luck for your Cooking.
From EZ Vietnamese Cuisine Team.