Do you want to cook Deep Fried Egg Noodle with Seafood (Mì Xào Giòn) which comes from many delicious Vietnamese Noodle Recipes with us today? A little change will create a spectacular flavor for your family meal and I bet all members in your family will love it a lot. Serving for lunch or dinner time is perfect. The combination between egg noodle and seafood with vegetables will create an amazing song in your mouth when chewing.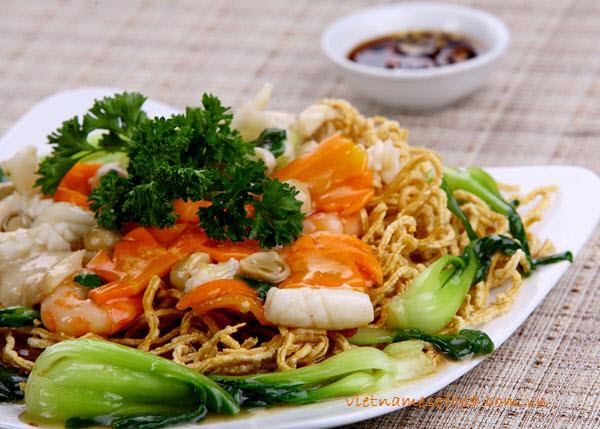 If you want to cook one of amazing Vietnamese Noodle Recipes with us, please follow my instruction below and let us start right now. One more tip is I suggest you should eat when it is hot to keep the specific flavor of this food.
Ingredients:
150g dried egg noodle
Vegetable oil
70g fresh prawn (peeled off cover, pulled out the black lines on backs and clean)
70g fresh squid (clean and sliced small)
50g scallop (clean and cut in half)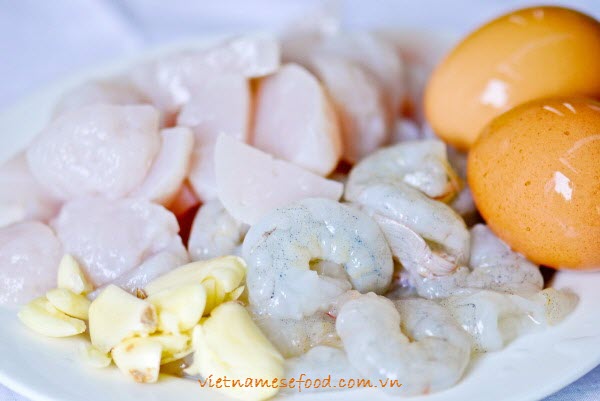 Coriander
Tomato
Onion, minced garlic
Shiitake mushrooms, soaked and cut off the roots
Chinese Cabbage, clean and cut in half
Green Broccoli, cleaned and sliced small
Carrot, peeled, cleaned and sliced small
Spring onion, celery
Soya sauce, oyster oil
Pepper, salt, chicken broth mix, sesame oil, sugar.
Chicken Eggs (Optional).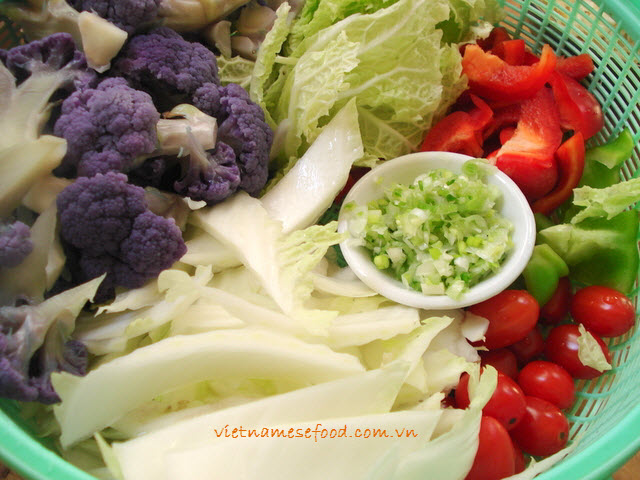 Process:
Step 1: Soak egg noodle in warm water in 10 minutes. Next, clean again in cold water and wait to dry.
Step 2: Heat the oil (make sure it will cover all egg noodles), fry until it is crispy and turn brown yellow. Put on plate added paper napkin to absorb wasted oil. Here is the important step to create one of amazing Vietnamese Noodle Recipes for your family.
 
Step 3: Heat the oil again (2 -3 teaspoons), add minced garlic and fry until it is fragrant. Add more all seafood and fry quickly in 2 – 3 minutes.
 
Step 4: Next, add more sliced onion, shiitake mushrooms, Chinese cabbage, celery, carrote, green broccoli and fry in 4- 5 minutes. Season to suit your flavor with salt, pepper, chicken broth mix, soya sauce, oyster oil, sesame oil and sugar.
Step 5: Making sauce: Pour 1 big spoon water into pan, add more a little tapioca starch to make this sauce becomes thick. Next, add more sliced spring onion, sliced tomatoes and fry until they are soft. Season to suit your flavor and turn off the heat.
 
Finally, your dish is finished basically. Before serving, pour the sauce on face of deep fried egg noodle with seafood. Eating when it is hot is perfect. Hope you love it and do not miss our next amazing Vietnamese Noodle Recipes tomorrow. Good Luck for your Cooking and have a good appetite.
From Vietnamese Food Team.