My mom always tells me that if you want to create a perfect braised pork meat, you should cook with white radish. The natural sweetness from this fruit can increase the flavor for pork meal. So, that is the reason why today I will introduce one of stunning Vietnamese Pork Recipes from my mom. It is called Braised Pork Meat with White Radish (Thịt Heo Kho Củ Cải Trắng). On the first day of Tet Holiday, you also can make this dish for your beloved family and they can feel how much you love them.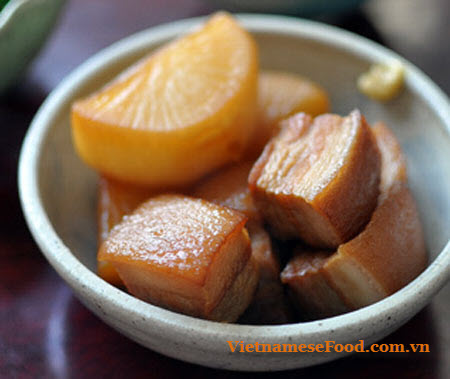 So, are you ready to cook one of stunning Vietnamese Pork Recipes with us? Using with boiled rice is always a good choice of most Vietnamese families. When you are ready, please follow our instruction below and let us start cooking right now.
Ingredients:
200gr half lean and half fat pork meat
1 white radish
Fish sauce, salt, Maggi's stuff
Chili paste, spring onion
Garlic.
Process:
Step 1: Clean pork meat and slice thinly.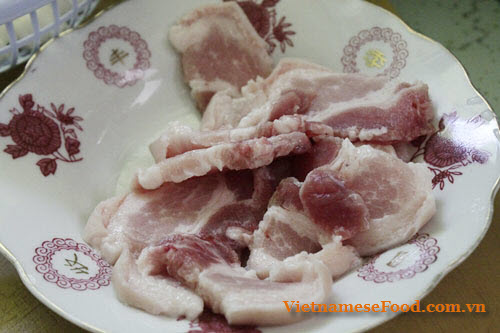 Step 2: Peel off the cover of white radish, clean and slice into long cubes like photo below.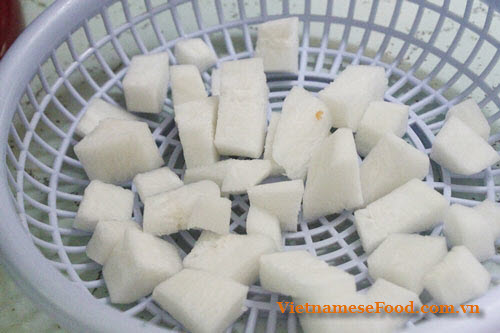 Step 3: Add 3 teaspoons oil into pan, wait to hot and add minced garlic and fry until it is fragrant. Then, add more sliced pork meat into pan and fry in 5 – 7 minutes. Here is the first step to create one of stunning Vietnamese Pork Recipes from us.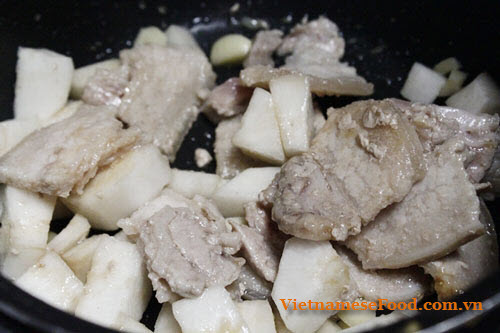 Step 4: After that, add more sliced white radish into pan and season with 2 teaspoons fish sauce + ½ teaspoon salt + ½ maggi's stuff and cove the pan. If you want to create more broth, add more ½ tablespoon water before cover. Cook until pork meat is soft, season again to suit your flavor.
Step 5: Next, add more sliced spring onion + 1 teaspoon chili paste (depend on you love how much spicy). Turn off the heat.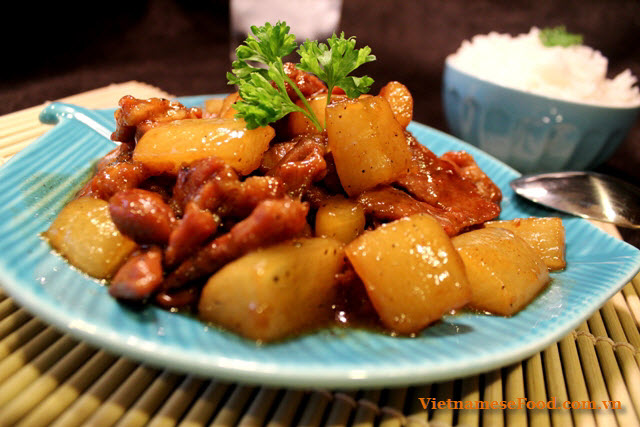 Finally, your dish is ready to serve. Pour on plate and sprinkle a little pepper on face. I suggest you should use when it is hot and eating with boild rice. Hope you love this dish and do not miss our other stunning Vietnamese Food Recipes for your Tet holiday. Good Luck for your Cooking and Happy Lunar New Year.
From EZ Vietnamese Cuisine Team.