Winter is coming soon. Many people want to choose food which can make them feel warm inside increasing. From many delicious Vietnamese Chicken Recipes, today I will show one spectacular dish which is suitable in winter season. It is called Braised Chicken Meat with Mushroom (Thịt Gà Kho Nấm). Using this dish with boiled rice is a good choice in cold days.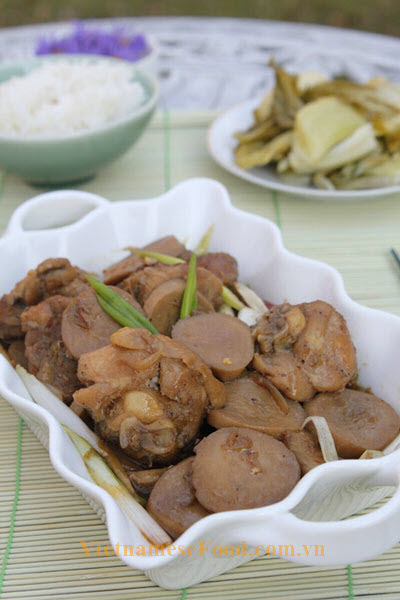 Braised Chicken Meat with Mushroom (Thịt Gà Kho Nấm)
There are 6 steps to cook one of amazing Vietnamese Chicken Recipes like this dish. If you want to cook, please follow our instruction below carefully. Let us cook now.
Ingredients:
3 – 4 Chicken legs or ½ boiled chicken
1 clove of ginger
300gr shiitake mushroom/king oyster mushrooms
½ onion, dried purple onion, garlic
Spices: Fish sauce, salt, sugar, pepper, Maggi's stuff and scallion
1 teaspoon sugar syrup. (Melted Sugar).
Process:
Step 1: Use chicken skin or not, it depends on your flavor. Clean it; then chop into small pieces. Marinate with dried purple onion + minced garlic + 1 teaspoon salt + 1 teaspoon fish sauce + pepper, mix them together and wait about 2 hours.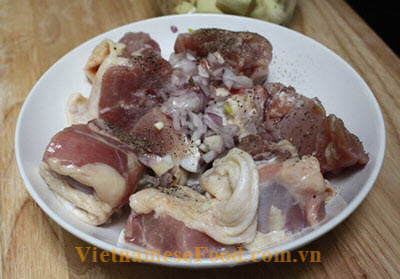 Step 2: Cut off the root of king oyster mushrooms, soak into cold water about 15 – 20 minutes.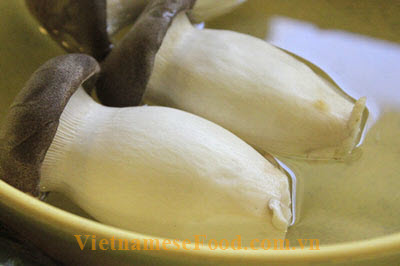 Step 3: Wait mushroom to dry. Slice the body of mushroom into circle shapes. Peel off the cover of ginger, slice thinly. Peel off the cover of onion, slice thinly into circle shapes.
 
Step 4: Here is the first step for cooking one of amazing Vietnamese Chicken Recipes. Pour oil into pan, wait to boil, add chopped chicken meat into pan; fry quickly about 5 minutes until chicken meat turns yellow. Put them on plate.
 
Step 5: Add more oil into pan; fry minced garlic + sliced purple onion until it is fragrant. Next, add more chicken meat + sliced garlic + onion + mushroom + 2 tablespoons fish sauce + salt + sugar/maggi's stuff + sugar syrup. Cover the pan, cook with large heat about 7 – 10 minutes. When it boils, add a little water into pan, cook with small heat and do not cover pan this time.
 
Step 6: Braise about 30 – 40 minutes, season again to suit your flavor. Turn off the heat, add more sliced scallion.
 
Finally, your dish is ready to serve. Pour it on plate; sprinkle a little pepper on face to increase its flavor. Using with boiled rice and hot soup will bring an amazing feeling for you. I bet your beloved family will fall in love with it. Hope you like this dish and will cook it in this winter. Do not miss our other Vietnamese Chicken Recipes next time. Good Luck for your Cooking.
From EZ Vietnamese Cuisine Team.