Yesterday, my mother cooked one of my favorite dish from Vietnamese Salad recipes is Bamboo Shoot Salad with Shrimps and Pork (Goi Mang Tuoi). This dish is absolutely delicious, so I learned how to cook it from my mother immediately. And now, I will show you my experience and the right way to cook this dish successfully.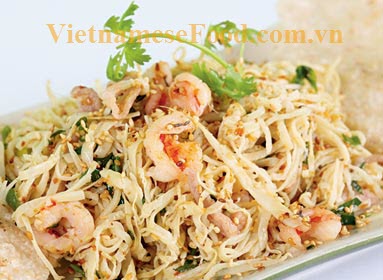 Bamboo Shoot Salad with Shrimps and Pork (Goi Mang Tuoi)
It is not difficult to cook one of stunning Vietnamese Salad recipes like this dish. There are 2 steps and I will perform to you, and then you will receive the best result. Let us do it now.
Ingredients:
100g frozen pork ears
100g fresh shrimp
100g fresh bamboo shoots
1/2 carrot
30 Vietnamese mints
50g roasted peanuts
Mixing Dipping Sauce: 1 tablespoon fish sauce + 1 teaspoon chili chopped + 1/2 tablespoons vinegar+ 2 teaspoons sugar, stir well.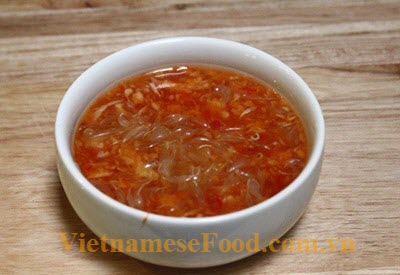 Process: Before making, I want to tell that do not miss any step of this dish which comes from many delicious Vietnamese Salad Recipes, if you want to make a delicious dish).
Step 1: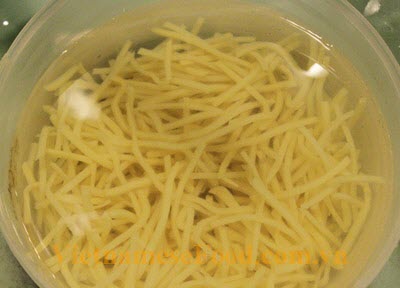 – Pork ears and shrimp boiled. Vertical split shrimp, thin sliced ​​pork ears.
– Fresh bamboo shoots boiled thoroughly for remove all the bitter, washed again by cold water, cut thin slices to suit your taste.
– Peeled carrots, cut microfiber. Washed Vietnamese mints and chopped.
Step 2:
– Add shrimp, pork ears, bamboo shoots, carrots, Vietnamese mints in bowl, sprinkle mixed broth, and mix well.
– Scoop on plate, sprinkle peanuts on the surface, serve immediately, if it's not suit your taste, add more sweet sauce, and use with fried chips.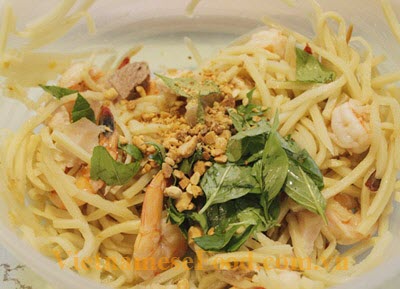 *** Small tips:
– You should boil bamboo shoots twice. First add a little shrinkage, boiling, rinse in cold water.
– Second times just boiled water, soft boiled, taste if it is not bitter.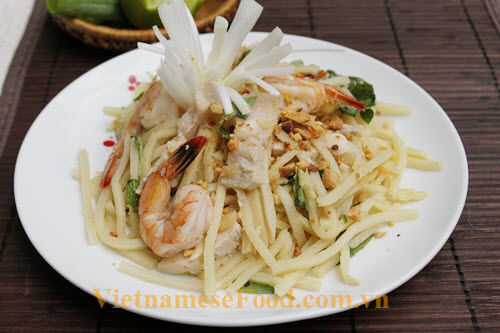 Bamboo Shoot Salad with Shrimps and Pork – Goi Mang Tuoi
So now, are you ready for enjoy your dish which from one of stunning Vietnamese Salad recipes? Lay everything on dish, and decorate with some Vietnamese mints, and peanuts. It's more delicious when use with your family. I ensure that all members of your family will gather around and eat. You know why? Because this dish is extremely delicious and impressive, no one wants to miss it. How about you? Good luck with your cooking
From EZ Vietnamese Cuisine Team.