Tofu Soup with Mushrooms and Tomato soup 
is  one of typical
Vietnamese Soup Recipes
– a clear broth form the north of Vietnam. It is designed to be light, to balance a meal that may include some heavier meat or poultry dishes. As the soup is reliant on a well-flavored, aromatic broth, the basic stock needs to be rich in taste. And this is really a popular dish which is cooked usually in summer.  
Optional: Mixed with oyster, put it on top when using.
Next, I am going to show how to cook
Tofu Soup with Mushrooms and Tomato
,
one of delicious
Vietnamese Soup recipes
Ingredients 
115g       dried shiitake mushrooms, soaked in water for 20 minutes
15ml      vegetable oil
2              shallots, halved and sliced
2              thai chillis, seeds and sliced
4cm       fresh rood ginger, peeled and grated or finely chopped
15 ml     fish sauce
350g      tofu, rinsed, drained and put into bite-size cubes
4              tomatoes, skinned, seeded and cut into thin strips
1/4 tsp  salt
1/4 tsp  ground black pepper
1               bunch Chilantro, stalks removed, finely chopped, for garnishing
 
For Stock
1              meaty chicken carcass or pork ribs
25g        dried squid or shrimp, soaked in the water for 15 minutes
2             Onions, peeled and quartered
2             cloves garlic, crushed
7.5cm   fresh root ginger, coarsely chopped
15ml      fish sauce
6             black peppercorns
4cloves star anise
1             cinnamon stick
1/4tsp  sea salt
Process
+ To make the stock, put the chicken carcass or pork ribs in a deep pan. Drain and rinse the dried squid or shrimp.
+ Add to the pan with the remaining stock ingredients, except the salt, and pour in 2 liters water. Bring the water to the boil, and boil for a few minutes, skim off any foam, then reduce the heat and simmer gently with the lid on for 1 1/2 – 2 hours. 
+ Remove the lid and continue simmering for further 30 minutes to reduce. Skim off any fat, season with salt, then strain and measure out 1.5 liters.
+ Squeeze dry the soaked shiitake mushrooms, remove the stems and slice the caps into thin strips. Heat the oil in a large pan and stir in the shallots, chili and ginger. This is an important step to create one od stunning Vietnamese Soup recipes.
+ As the fragrance begins to rise, stir in fish sauce, followed by the stock.Add the tofu, mushrooms and tomatoes. Bring the stock to the boil. Reduce the heat and simmer for 5-10 minutes.
 
+ Season to taste and scatter the finely chopped fresh coriander over the top.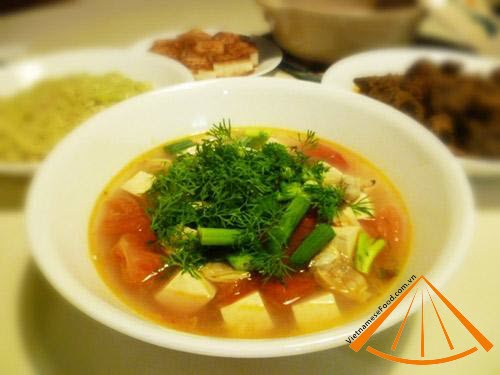 Now, you can serve this Tofu Soup with Mushrooms and Tomato to your family and friends. Using when it is still hot with a bowl rice in rainy day. So joyful. This is one of Vietnamese Soup recipes we have just showed you. Waiting for us to get more information about next Soup. Good luck to you when you want to cook this dish.
From EZ Vietnamese Cuisine Team