Vietnamese Soup recipes
usually are made by mixture of vegetable, meat or seafood. And today I will show you how to cook
Vietnamese Spinach (Ong Choy) Soup with Basil Clams
 from recipes of my mother. The sweet soup from Hard Clam combines with the crispy and fresh of Vietnamese Spinach will create the delicious soup for your family meals. If you love ginger, you can add some slices into soup.  
Ingredients
-400gr Basil Clams
-200gr Vietnamese Spinach (Ong Choy)
-1 small ginger
-Salt
Process
Step 1: Clean Basil Clams Cover carefully, and then soak them into cold water about 30 minutes. Next, clean again to make sure they all are clean.
 
Step 2: Peel the cover of Ginger and slice it small. You clean Vietnamese Spinach (Ong Choy) in salt water. Next, pluck to short branches.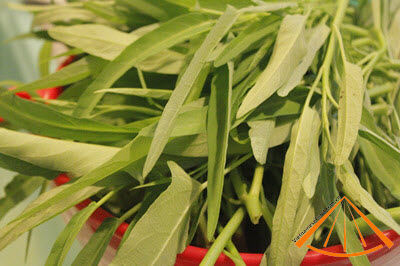 Step 3: Put Basil Clams into pot, add some sliced ginger, and pour water into pot until it touches the surface of Basil Clams. Boil until their mouths opens. And turn off the heat. This step is really important of soup to create one of 
Vietnamese Soup recipes.
 
Step 4: Put hard clams out the pot, wait to get cold and you keep the meat of basil Clams, leave out their covers. However, if you want to keep the cover, it is okey. Keep the soup of basil Clams, do not throw it.
Step 5: Pour 2 bowls soup of basil Clams and some sliced ginger into pot and boil it.
 
Step 6: When water boils, you put Vietnamese Spinach (Ong Choy) into pot, next add meat of basil Clams, a little salt and sugar (optional), you wait to boil again and adjust with your flavor. Turn off the heat, scoop to a big bowl. We suggest you should use when it is hot.
If you love Vietnamese Spinach (Ong Choy) and
Vietnamese Soup recipes, you cannot skip to make and eat this dish. I hope I do give you basic steps to make this soup. Good luck and enjoy it.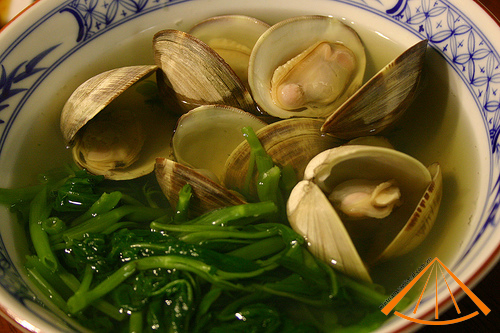 You can keep the cover of Basil Clams for your Soup.
From
EZ Vietnamese Cuisine
Team