Today, I am going to introduce one of stunning Vietnamese Salad Recipes. It is Vietnamese Green Mango Salad with Sun-Dried Squid (Goi Xoai Xanh Kho Muc). This is the most popular street food in our country. Most young people fall in love with this dish. They usually buy or even cook at home in parties.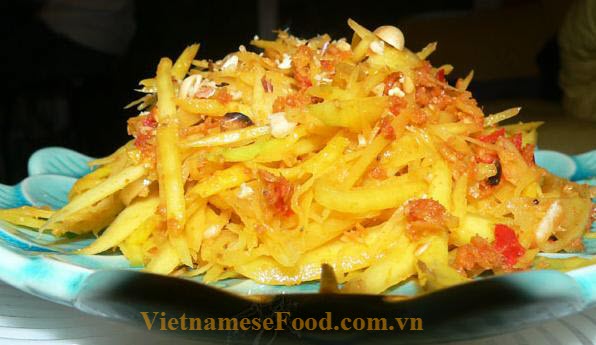 Green Mango Salad with Sun-Dried Squid (Goi Xoai Xanh Kho Muc)
If you want to make this dish, you can see on this post. There are 4 steps to make it. It is not too complex. Moreover, this dish which comes from many Vietnamese Salad Recipes just needs 15 minute to create. So please, follow our instruction carefully.
Ingredients:
– 2 Green mangos
– 1 Sun-dried squid
– 1 Onion
–  4 Tablespoons of fish sauce
– 4 Teaspoons of sugar
– 3 Tablespoons of lemon juice
– 3-4 sliced lemon leafs
– 3-4 chopped chilli
– ½ cup of dried salty shredded pork
– Chopped garlic
– Roasted peanuts
– 2 grilled rice crackers
– Basil.
Process:
Step 1: Remove the cover of green mango. Soak into the cool water. Next, thinly slice the green mango. Add it into the bowl and keep it on fridge.
 
Step 2: Grill the sun-dried squid. After that, tear the squid to small parts. If you like the fish, you can add the shredded stockfish which was grilled into this dish.
 
Step 3: Mix the fish sauce, sugar, lemon leaf, chopped chilli, chopped garlic, dried salty shredded pork and lemon juice. Next, add the slice onion into the mixture and mix them. Wait about 10 minute. This mixture of fish sauce is based on your habit. If you like hot, you can add more chilli. This step is important to make the amazing dish which comes from many stunning Vietnamese Salad Recipes.
Step 4: Add the sliced green mango, sun-dried squid and the mixture sauce into a bowl. Next, mix them together. Add the basil and roasted peanuts. Now you can enjoy this dish with grilled rice crackers.
 
Finally, you can serve this dish already to your friends and family. This salad combines between vegetable and squid make the taste of salad become special. In Vietnam, this dish is usually use with wine or beer. With a little wine or beer will bring an amazing flavour in your mouth. Hope you like it. And do not miss our next dishes about Vietnamese Salad Recipes next time. Good Luck for  your cooking and see you soon.
From EZ Vietnamese Cuisine Team.