Next dish I will introduce today is from many delicious Vietnamese Soup Recipes. It is called Tomato and Egg Soup (Canh Ca Chua voi Trung). Just use eggs and tomatoes, processed in 10 minutes; you have got a warm and tasty bowl of soup. It is really easy to eat, especially it is suitable with both hot and cold weather.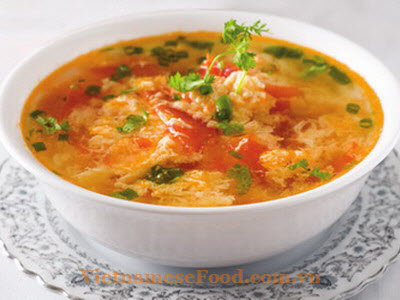 Tomato with Egg Soup – Canh Ca Chua voi Trung
 
If you want to know how to cook one of stunning Vietnamese Soup Recipes, you should follow our instructions below carefully to make this soup absolutely delicious.
Ingredients:
Some big tomatoes
1-2 eggs
Scallions
Some parsley
Cooking Oil
 
Process:
Step 1: Scallions, cilantro picked up the roots, and wash. Tomatoes slice in 4 parts of each tomato. Peel off the cover.
 
Step 2: Add oil in the pan; put the tomatoes on pan to fry until soft and cooked. Poured water pot, boiled water, seasoned to suit your taste. Beat eggs into bowl, defeated. Then both stirring soup, pour eggs slowly into the pot. Egg will spun in many fibers look very nice.
Step 3: This step is the most important part to make one of stunning Vietnamese Soup Recipes like this dish more delicious. Although, this step is so simple and easy, but please follow and notice our instructions carefully to make tomato and egg soup more perfect. Drop chopped scallions and parsley on pot.  Ladle soup into bowls, it is delicious when  using hot.
 
Finally, you have done one of stunning Vietnamese Soup Recipes. Serve Tomato and egg soup (Canh Ca Chua voi Trung) with boiled rice and some others Vietnamese dishes as fried fish, fried pork or fish stock, and so on…..It is more delicious when use this delicious soup with your family on weekend or family meals. How do feel after doing our instructions? If you interested in this soup, let us know by commenting on the box below. We are pleasure when receive your feedbacks. Good luck for your cooking, and have a good appetite.
 

Tomato with Egg Soup – Canh Ca Chua voi Trung
 
From EZ Vietnamese Cuisine Team.