Suông Vermicelli Soup (Bún Suông) maybe is a strange food for many people in you guys. That is why today I want to introduce one of amazing Vietnamese Noodle Recipes like this one. You can feel the fantastic flavor when eating it. And I bet you will satisfy with what you cooked with us. Eating with fried chopped shrimps will bring an amazing flavor in your mouth. I suggest you should eat when it is hot to feel the true flavor from this dish.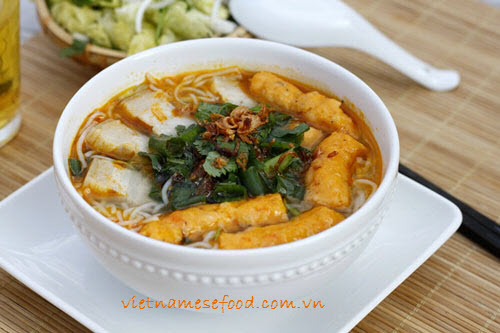 So, are you ready to cook one of stunning Vietnamese Noodle Recipes with us? In weekend, you can cook it for all members in family, I bet they are really excited when they can smell its flavor and happy to enjoy it. When you do want to make it, please follow my instructions below and let us together start right now.
Ingredients:
800g pork bone
1 big white radish, peeled and sliced into short pieces
1 tablespoon dried shrimp, soaked in 5 minutes.
500g silver shrimps
Salt, pepper, annatto seed oil, Maggi's stuff, garlic, purple onion, tapioca starch
300g half lean half fat pork meat
Vermicelli, bean sprout, salad, basil, lemon, chili, spring onion, coriander.
Process:
Step 1: Clean carefully pork bone. Next, soak them into hot water in 3 – 4 minutes. Then, bring to wash again with fresh water. Pour all pork bones into pot, add more dried shrimps, sliced white radish and 4 – 5 bowls water. Cook in 2 hours. Sometime use spoon to scoop away dirty bubbles to create a stunning flavor for one of amazing Vietnamese Noodle Recipes.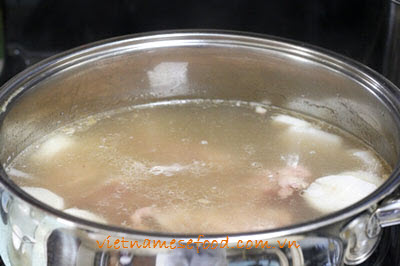 Step 2: Peel off the cover of silver shrimps, pull out the black lines on their backs. Soak into water added a little salt in 15 minutes. Next, bring to clean again and wait to dry.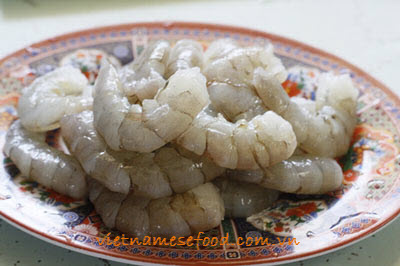 Step 3: Peel off the cover of garlic, purple onion and mince them well. Add all silver shrimps in step 2 + garlic + purple onion into grinder machine and grind well.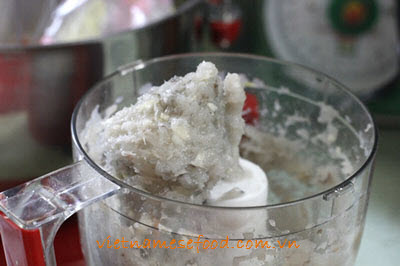 Step 4: Next, pour this mixture into clean bowl. Marinate with a little pepper + 1 teaspoon annatto seed oil + 1 teaspoon salt + ½ teaspoon Maggi's stuff + 2 teaspoons tapioca starch. Mix well until this mixture becomes soft and thick. Use food nylon to cover carefully this mixture and put in fridge in 2 hours.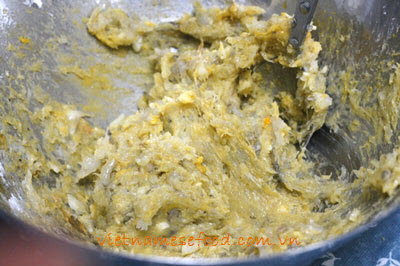 Step 5: Clean pork meat and bring to boil.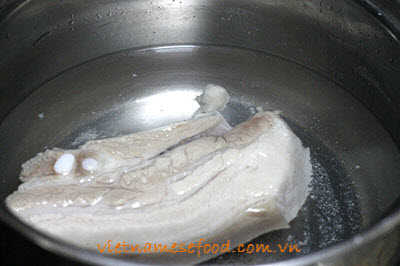 Step 6: Wait to get cold and slice thinly. Arrange on plate.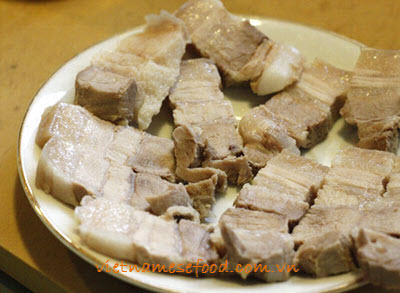 Step 7: The mixture shrimps in step 4, use spoon to knead again by spoon in 5 minutes. Next, pour it into nylon bag and cut on head of bag. You can see the photo below.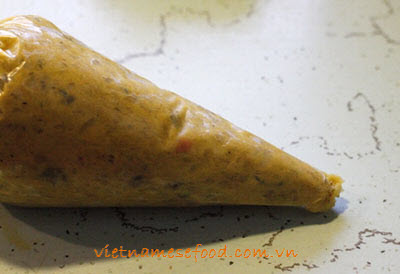 Step 8: Filter the broth in step 1 to remove all small bones which can cause a dangerous problem when eating. Use another clean pot, add more annatto seed oil, wait to heat and fry minced garlic until it is fragrant. Pour all broth into pot; add more water if you want. Cook until it boils and season to suit your flavor.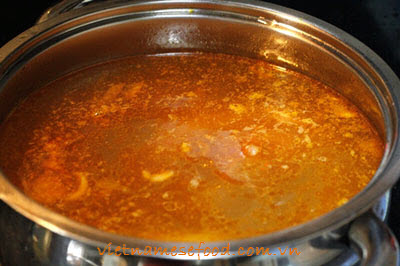 Step 9: When this broth boils, use your hands to press gently the mixture in step 7 into pot. The length of this mixture shrimp depends on you. Cook more 5 – 10 minutes; wait until shrimp balls are floated on face of broth and season again to suit your flavor.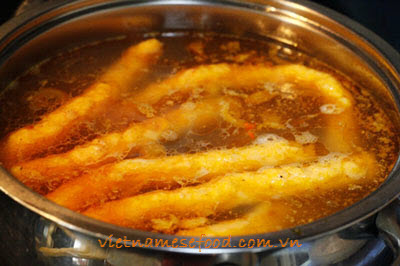 Step 10: Clean bean sprout, wait to dry.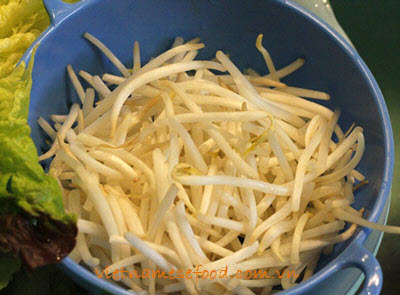 Step 11: Clean salad, cut in half if they are too long. Pick the basil leaves, remove the stems and clean well.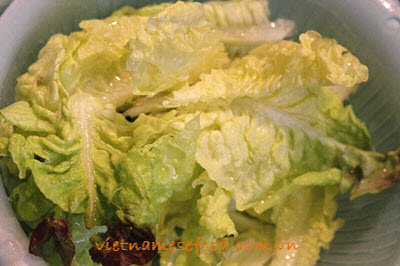 Finally, your dish basically is finished. When serving, arrange a little vermicelli on bowl; add more sliced pork meat on face of food. Pour the broth with shrimp balls into bowl. Sprinkle more sliced spring onion, coriander to increase its flavor. You can add more fried purple onion if you want. Eating with all vegetables I listed, chili paste/sauté, lemon is really amazing. Hope you love it and do not miss our other Vietnamese Noodle Recipes next time. Good Luck for your Cooking.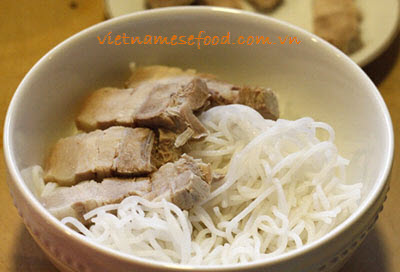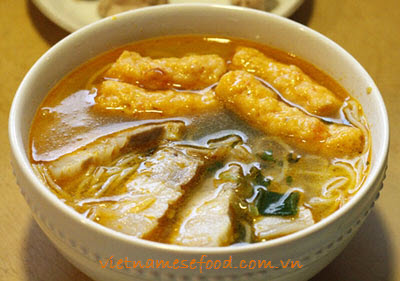 From EZ Vietnamese Cuisine Team.