From many amazing Vietnamese Noodle Recipes, today I would like to introduce one newest dish for all you guys. It is called Squid with Noodle Soup (Bún Mực). This dish is really suitable with who fall in love with seafood especially squid. The great combination between noodle and squid will create a fantastic song in your mouth when chewing.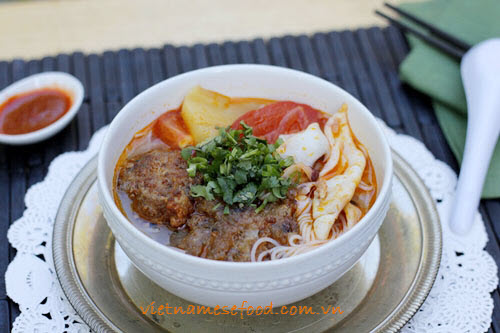 Squid with Noodle Soup Recipe (Bún Mực)
 
So, are you ready to discover one of stunning Vietnamese Noodle Recipes with us? Trust me; you will never regret with this decision. When you are ready, please follow my instruction below carefully and let us start cooking right now.
Ingredients:
1kg fresh squid
50g grinded pork
2 – 3 tomatoes
2 sliced pineapple (100 – 150g)
Spring onion, coriander, tapioca starch, salt, sugar, pepper, Magi's stuff, fish sauce, purple onion, oil
Noodle, chili sauce, bean sprout, basil, salad
Process:
Step 1: Clean well squids, separate their heads and bodies. Use towel to absorb all water. If you want to use fresh squid, you can keep a little and slice into medium pieces.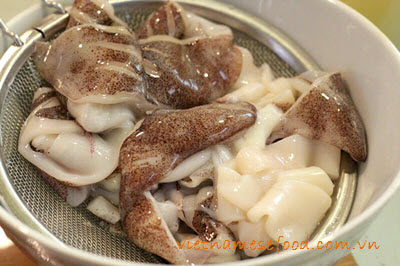 Step 2: Use knife to mince well sliced squids above, mix with sliced spring onion + 2 teaspoons tapioca starch + 2 teaspoons salt + ½ Magi's stuff + a little pepper + 2 teaspoons vegetables oil.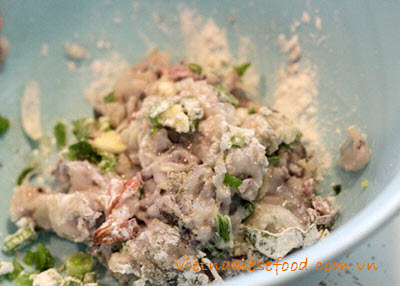 Step 3: Add more grinded pork into mixture squid in step 2. Use spoon to mix well until this mixture becomes thick. Use nylon bag to cover carefully and put in fridge about 2 – 3 hours.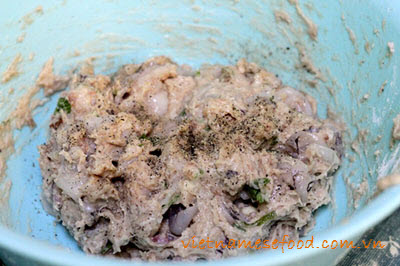 Step 4: Clean well bean sprout, salad, basil. Wait to dry. Clean spring onion, coriander and slice small.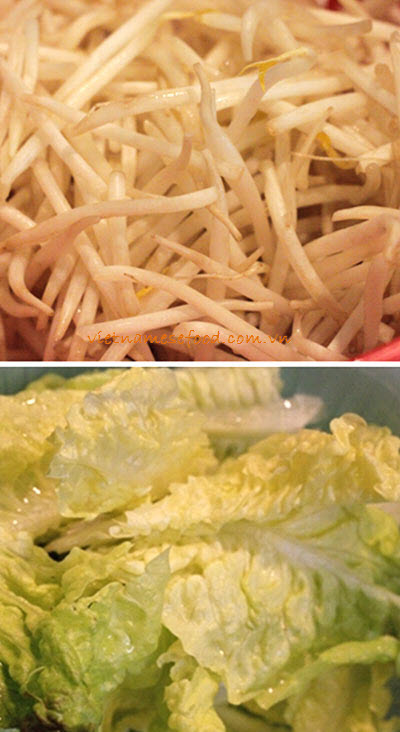 Step 5: Cut off the eyes from pineapple, slice thinly. Clean tomatoes and slice in quarter.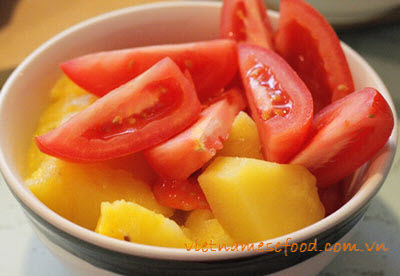 Step 6: Use small pot, heat annatto seed oil (2 – 3 teaspoons), add more sliced purple onion and fry until it is fragrant. Next, add sliced squid (which you do not grind) and fry until it is cooked. Pour into clean bowl. Here is the first step to create one of stunning Vietnamese Noodle Recipes.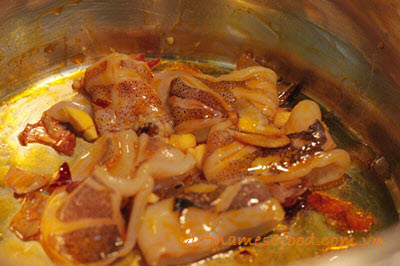 Step 7: Use that pot again, add sliced potatoes and fry in 5 minutes and then add more sliced pineapple into pot. Season with 1 teaspoon salt + 1 teaspoon sugar and continue to fry more 5 – 8 minutes.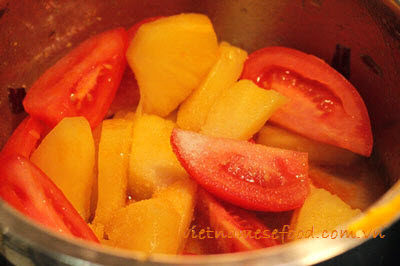 Step 8: Next, add more water or pork/chicken broth (3 – 4 bowls), cook until it boils, season with salt, sugar, Magi's stuff to suit your flavor.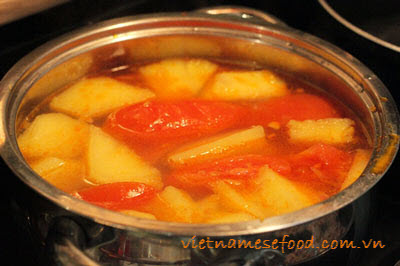 Step 9: Making Fried Chopped Squid: Take the mixture squid in step 3 out fridge, wait about 10 minutes, use spoon to scoop into small balls and spread gently. Heat the oil (1 – 2 tablespoons), add all squid balls into pan and fry until they turn brown yellow. Put on plate added paper napkin to absorb all wasted oil.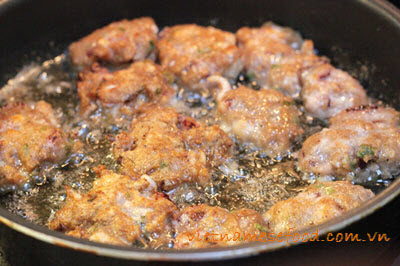 Finally, you just finished one of amazing Vietnamese Noodle Recipes for yourself and family in weekend. How do you feel? It is not difficult, right? When serving, add a little noodle into bowl, add more fried chopped squid, fried squid in step 6 and scoop broth into bowl with some sliced tomatoes and pineapple. Sprinkle more sliced spring onion, coriander to increase its flavor. Eating with vegetables as I listed above is perfect. Good Luck for your Cooking.
 
From EZ Vietnamese Cuisine Team.