One of delicious Vietnamese Soup Recipes you should cook on Tet holiday is Sour Bamboo Shoot with Crab Meat (Canh Ghẹ Nấu Măng Chua). It will be a stunning dish for your family meals. Eating with boiled rice or vermicelli is all good. A little sour and sweet from crab meat and vegetables can make you stop eating. I bet you will not regret when cooking this soup on these days.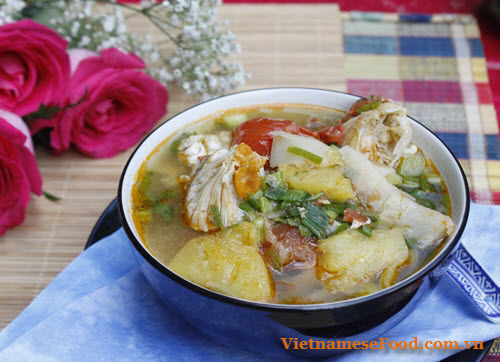 If you want to create something new for your Tet meals, I think here is a good choice. Moreover, you can cook one of stunning Vietnamese Soup Recipes like this dish on hot days is a good decision. Your kids will totally fall in love with it. When you are ready, please follow our instructions below and let us start cooking right now.
Ingredients:
3 – 4 crabs (500 – 600gr)
1 sliced pineapple (100 – 150gr)
2 tomatoes
100gr sour bamboo shoot
Spring onion, coriander, purple onion
Fish sauce, Maggi's stuff, salt, pepper, lemon.
Process:
Step 1: Clean crabs carefully. Separate crab eggs with body. Drop some lemon drops on eggs to reduce its fishy. Next, chop the body in half.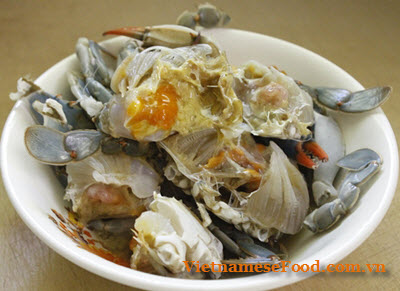 Step 2: Clean sour bamboo shoot, spring onion and coriander. Wait to dry.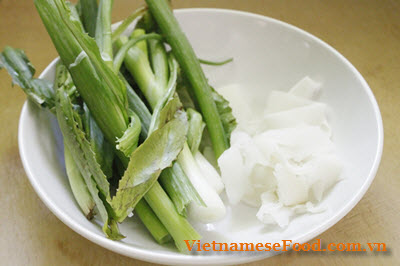 Step 3: Cut off the eyes away pineapple. Slice small. Clean tomatoes and slice fiber.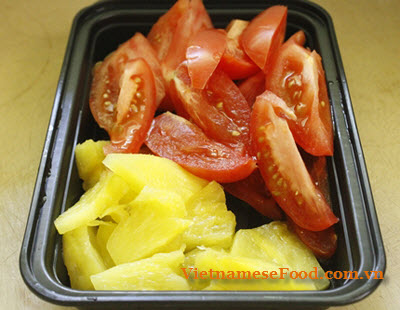 Step 4: Here is the first step to create the flavor for one of interesting Vietnamese Soup Recipes for your family. Heat 2 tablespoons oil, add more minced purple onion and fry until it is fragrant. Next, add crab eggs into and fry about 3 – 5 minutes.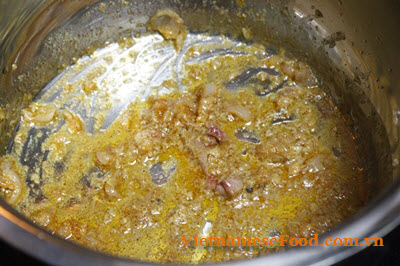 Step 5: Then, add chopped crabs into pot and fry in 4 – 5 minutes. Season with 1 teaspoon salt + ½ teaspoon Maggi's stuff + 1 teaspoon fish sauce, cover the pot and cook about 5 – 8 minutes.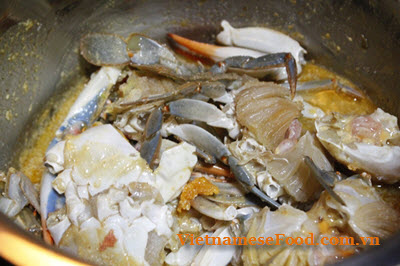 Step 6: Add more 2 bowls of water and cook in small heat until it boils. Sometime, use spoon to scoop away dirty bubble on face of broth.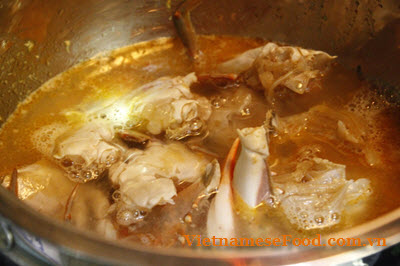 Step 7: Use another pan, add more oil and minced purple onion, fry until it is fragrant. Next, pour sliced tomatoes + 1 teaspoon salt and fry until it is soft.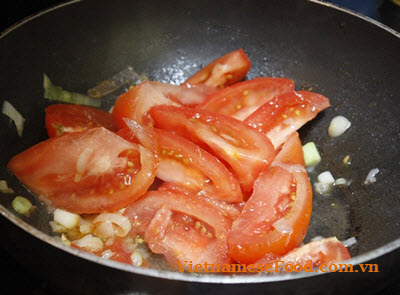 Step 8: Add more sour bamboo shoot + sliced pineapple into pan and cook more 8 – 10 minutes.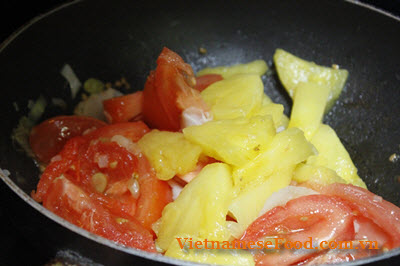 Step 9: Now, you pour all mixture in step 8 into pot in step 6, cook more 4 – 7 minutes. Season again to suit your flavor. Turn off the heat.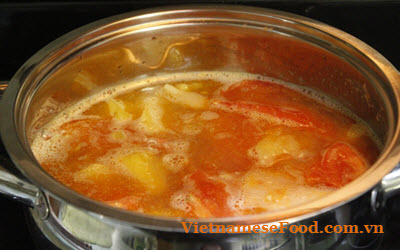 Finally, you finished one of stunning Vietnamese Soup Recipes from us. Before serving, add more sliced spring onion nd coriander on face of soup. Using with boiled rice or vermicelli as you told above is all delicious. I suggest you should eat when it is hot. Hope you love this dish and do not miss our next Vietnamse Soup Recipes tomorrow. Good Luck for your Cooking and Happy Lunar New Year.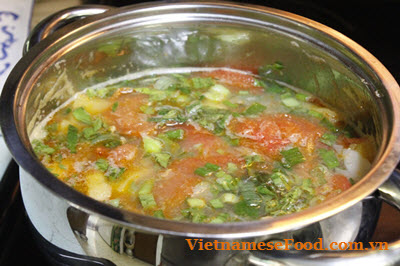 From EZ Vietnamese Cuisine Team.