One hot Shrimp and Pork Vermicelli Soup with Ong Choy (Canh Bún) bowl in mornings is never better. The full stunning flavor in one bowl contains enough what you want in your life. For me, when I feel stress, one of stunning Vietnamese  Noodle Recipes like this one can help me more comfortable. Moreover, if you love Ong Choy (Water Spinach) from Vietnam, I think this dish is a good combination.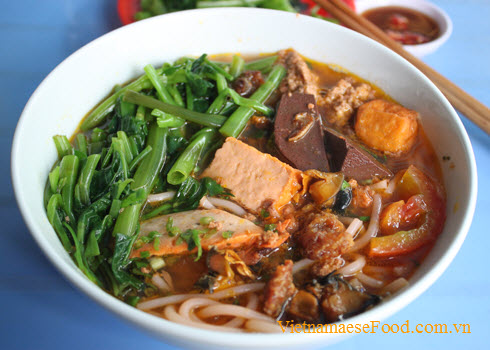 This dish is not difficult as you think. All processes are easy. The special way to create one of traditional Vietnamese  Noodle Recipes is the combination between many stunning ingredients. So, are you ready to cook now? If you say yes, please follow our instructions below and let us start cooking right now.
Ingredients:
500gr pork bone (pork chop)
½ bowl dried shrimps
½ bowl pork meat (fresh shrimps or crab meat – it depends on your flavor)
2 eggs
2 teaspoons annatto seeds oil
2 – 3 slices tofu (200gr)
200gr pork blood (Huyết) – Buy at Vietnamese Markets
Vegetables: Ong Choy (water spinach), bean sprout, salad, spring onion, basil, coriander, lemon, chili sauce.
2 tablespoons shrimp paste (Mắm Tôm) – Buy at Vietnamese Markets
Spices: salt, sugar, pepper, Maggi's stuff, dried purple onion.
500gr vermicelli.
Process:
Step 1: Clean carefully pork bone. Boil water and soak bone in 2 – 3 minutes. Next, clean again. Then, put bone into pot, pour more water (make sure it will cover all face of bone) and cook until it boils to have pork broth.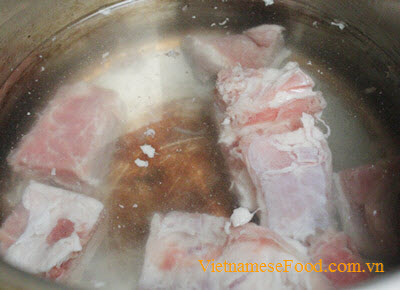 Step 2: Mix shrimp paste with a little cold water. Filter it and pour away dregs from shrimp paste. Next, pour slowly shrimp paste water into pork broth in step 1.  Season with 2 teaspoons salt and 1 teaspoon sugar.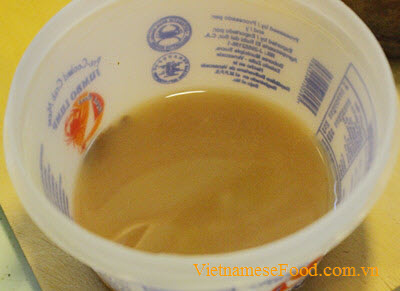 Step 3: Soak dried shrimps into cold water about 10 minutes. Next, grind well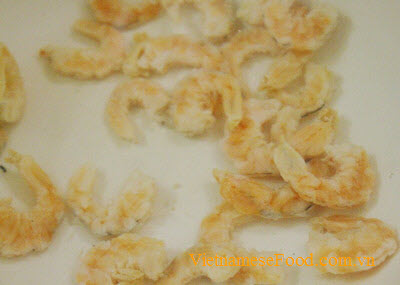 Step 4: Clean and slice thinly pork meat. Next, bring to grind well.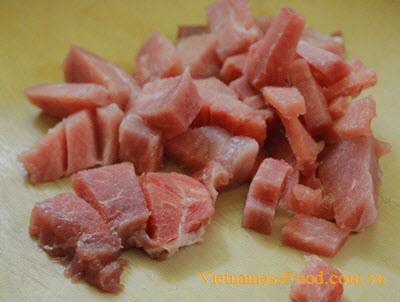 Step 5: To create a stunning flavor for one of traditional Vietnamese Noodle Recipes, you can use more fresh shrimp for cooking. Peel off the cover, pull out the black lines on their backs and grind well.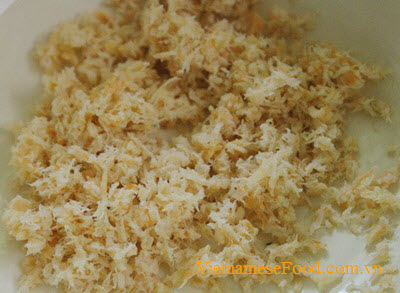 Step 6: Mix dried shrimp, grinded pork, grinded shrimp, eggs, dried purple onion, 1 teaspoon shrimp paste, a little pepper, 1 teaspoon salt, 1 teaspoon sugar together. Wait in 10 – 15 minutes.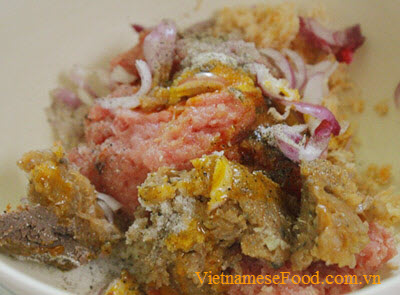 Step 7: Put away the hard parts of ong choy (water spinach), cut into short pieces. Clean with water added a little salt in 2 – 3 times. Boil water and soak ong choy in 4 -5 minutes.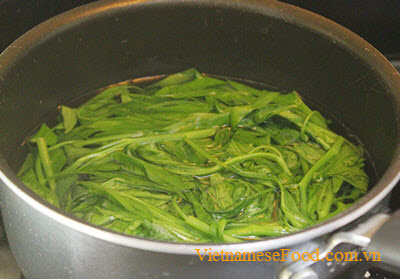 Step 8: Next, soak immediately in cold water added ice to keep the green color of this vegetable.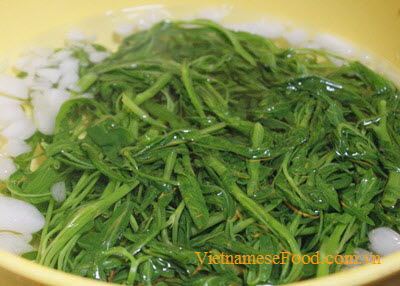 Step 9: Fry tofu in hot oil and slice into small cubes. Clean pork blood, soak into boiled water in 2 – 3 minutes and slice into small cubes.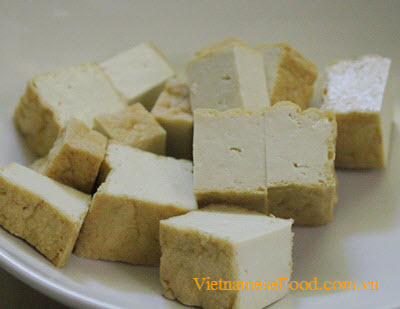 Step 10: Clean all vegetables with water added a little salt in 2 – 3 times. Wait to get dry.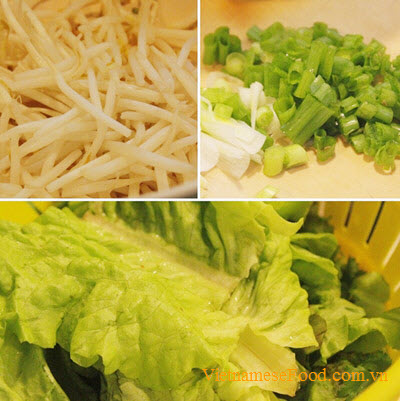 Step 11: Soak vermicelli in cold water in 30 minutes. Next, bring to boil in hot water in 2 – 3 minutes. Then, wash immediately in cold water again to make sure they will not be stuck together.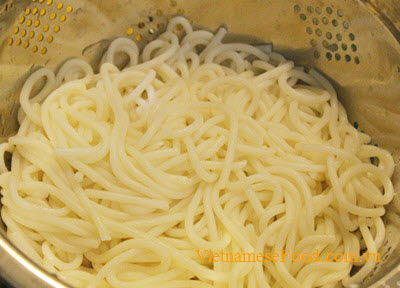 Step 12: Use a clean pot, add 2 teaspoons annatto seeds oil and fry sliced purple onion until it is fragrant. Pour more broth pork in step 2 into pot. Continue add more 3 teaspoons annatto seeds oil and cook until it boils. Then, use spoon to scoop one by one mixture of shrimps and pork meat in step 6. Cook until it boils again.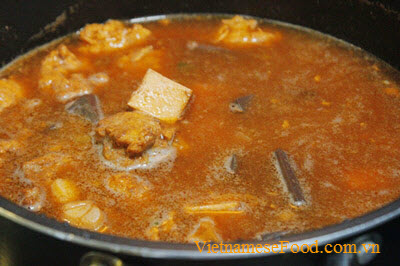 Step 13: Next, add more sliced pork blood, fried tofu into pot, season to suit your flavor.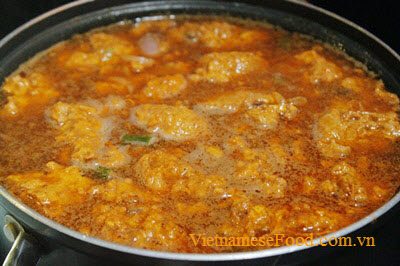 Finally, your process is basically finished. Add vermicelli into bowl; pour hot pork broth and some sliced pork bloods, fried tofu, mixture shrimp pork, ong choy on face. When eating, sprinkle a little sliced coriander and basil. It can increase the specific flavor for this dish. Using with vegetables and some lemon drops, satay (chili paste), shrimp paste is my favorite choice. Hope you love cooking it and do not miss our next other Vietnamese Noodle Recipes tomorrow. Good Luck for your Cooking.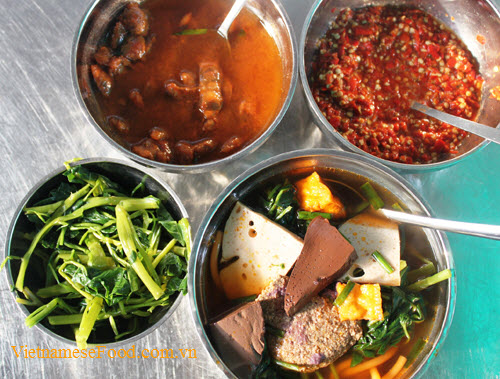 From Vietnamese Food Team.