Have you ever tried to combine Salty Cucumber (Dưa Leo Muối) with boiled rice and braised fish before? It comes from many amazing Vietnamese Salad Recipes. I bet you will never forget its flavor from the first tasting time. A little sour, sweet and spicy from this salad can help you get a good appetite. Are you curious? Do you want to discover its recipe with us?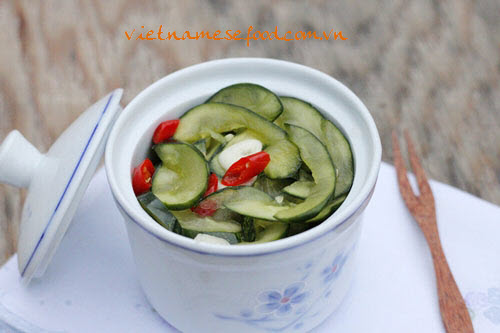 Salty Cucumber Recipe (Dưa Leo Muối)
 
In hot weather, we usually do not want to eat boiled rice. This dish can help to fix it. When you are ready, please follow my instruction below and let us start together cooking one of amazing Vietnamese Salad Recipes.
Ingredients:
5 – 6 cucumber
Salt, garlic, sugar, chili
Glass jar.
Process:
Step 1: Clean cucumber in water added a little salt in 2 times. Next, clean again in fresh water and wait to dry. Then, cut cucumber in half, cut off the seeds.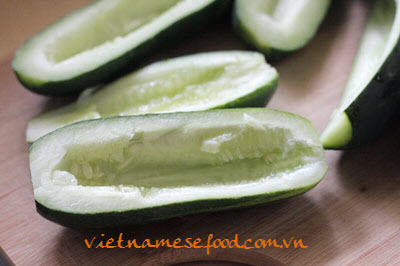 Step 2: Cut cucumber into small and thin pieces like photo below.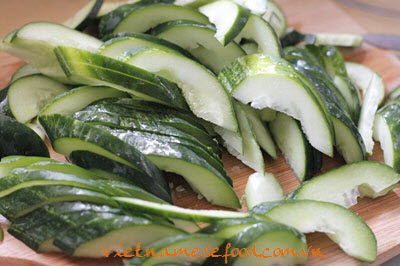 Step 3: Pour all sliced cucumber into clean bowl, add more 1 teaspoon salt, mix well and wait in 2 – 3 hours. Next, use your hands to press out water. This step is quite important to create one of amazing Vietnamese Salad Recipes for your beloved family.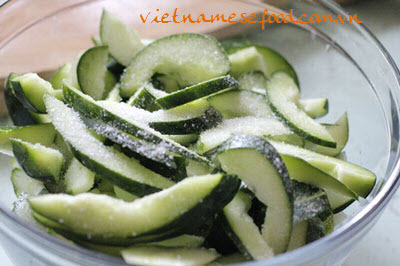 Step 4: Clean chili, peel off the cover of garlic, slice small. Making sauce: Mix ¼ bowl fish sauce + ½ bowl sugar into pot, cook until all sugar is melted. Wait to get cold.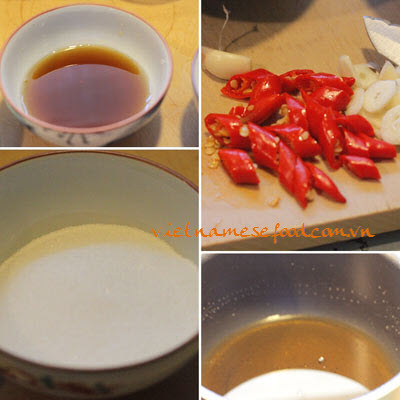 Step 5: Arrange sliced cucumber into glass jar, add more sauce, chili and garlic.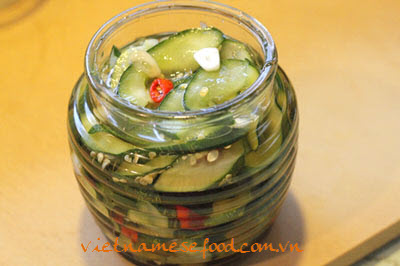 Finally, use lib to cover carefully in 2 – 3 days. After that, you can use it with any salty dishes you want. I usually use it with boiled rice and braised fish as I told above. If you discover other ways for eating with this dish, share with us. Hope you have a good appetite and do no miss our other Vietnamese Salad Recipes tomorrow. Good Luck for your Cooking.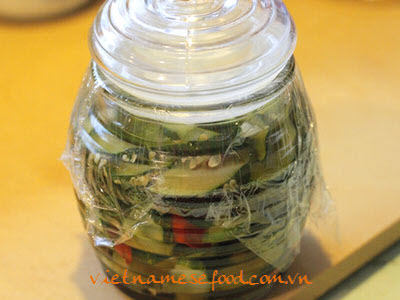 From EZ Vietnamese Cuisine Team.