On Christmas Night, beside of main and dessert dishes, you should serve more one of Vietnamese Salad Recipes. And may I suggest Salad with Potato (Salad với Khoai Tây) to you? The presentation of this dish like a Bay Laurel Circle. It will make your Christmas Night more amazing. Moreover, its color is really eye catching. I bet your beloved family will really happy when see and enjoy it.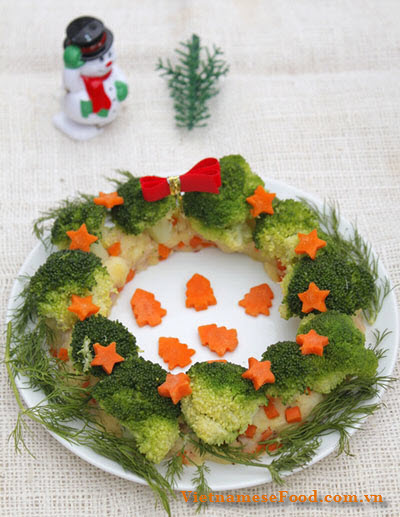 Salad with Potato (Salad với Khoai Tây)
 
So, are you ready to make your Christmas Night more colorful? If you want, please follow carefully our instructions below to create one of stunning Vietnamese Salad Recipes. Let us start cooking now.
Ingredients:
1 Carrot
100gr pork ham
1 potato
½ broccoli vegetables
5gr dill
Spices: salt, pepper, mayonnaise.
Process:
Step 1: Slice pork ham into small cubes.
 
Step 2: Clean potatos, bring to steam. Then, wait to get cool, peel off the cover and grind well. You can use microwave to steam potato to save your time.
 
Step 3: Peel off the cover of carrot, soak into hot water abut 4 – 5 minutes. Next, slice ½ into small cubes and ½ left, use star mould to cut into small stars to decorate. Mix well ½ sliced carrot + grinded potato + sliced pork ham + 1 teaspoon salt + pepper + 1 tablespoon mayonnaise sauce together, wait about 30 – 45 minutes.
 
Step 4: Clean broccoli carefullly in water added a little salt. Chut into short pieces. Then, soak into hot water about 2 – 3 minutes. Then, wash immediately with cold water to keep the green of this vegetable longer. Wait to dry.
 
Step 5: Here is the important step to decorate one of amazing Vietnames Salad Recipes. Pour the mixture (in step 3) on plate, set into circle like photo below.
 
Step 6: Add broccoli on face of mixture. Decorate with some dill and ½ left star carrot.
 
Finally, your amazing dish is ready to serve. Do you love it? Really eye catching right? I bet its flavor is delicious as well. Only 1 day left and Christmas will be here. We hope you and your family will have a happy holiday and Merry Christmas. Please do not forget to visit our website to see more amazing Vietnamese Salad Recipes. Good Luck for your Cooking.
From EZ Vietnamese Cuisine Team.