Summer is coming soon; Pork Chop Soup with Pumpkin (Canh Sườn Non Bí Đỏ) which comes from many stunning Vietnamese Soup Recipes is my favorite choice. The amazing combination between pork chop and pumpkin will create a fantastic flavor in your mouth when chewing. This soup also is really fresh in hot days. Why don't you choose to cook it for all members in family right now?
 

Pork Chop Soup with Pumpkin Recipe (Canh Sườn Non Bí Đỏ)
 
Trust me, you will not regret about this decision. Eating with boiled rice and salty dishes is usual way of Vietnamese people. When you feel free, welcome to follow my instruction below and let us start cooking one of amazing Vietnamese Soup Recipes right now.
Ingredients:
300g pork chop
300g pumpkin
150g green beans
Spring onion, parsley, Magi's stuff, salt, pepper, sugar
Process:
Step 1: Chop pork meat into small pieces, clean well and bring to cook with water (3 – 4 bowls). You can add a little salt into pot. Here is the important step to create one of stunning Vietnamese Soup Recipes.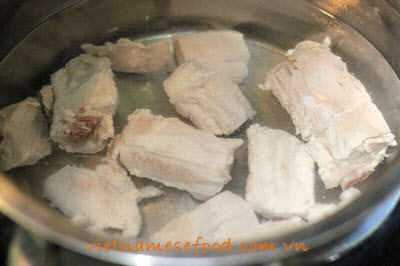 Step 2: Peel off the cover of pumpkin, clean and slice into square shapes. Clean well green beans, wait to get dry.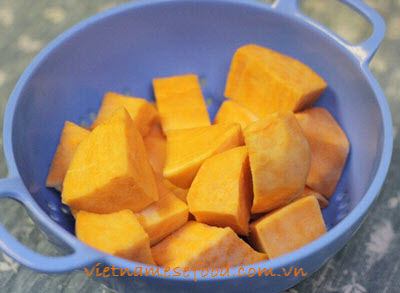 Step 3: After cooking pork broth in step 1 about 30 – 45 minutes, add more sliced pumpkin into pot.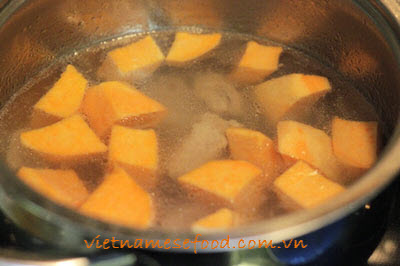 Step 4: Season again to suit your flavor, cook until pumpkin and pork chop are soft. Then, add more green beans and cook more 5 – 10 minutes.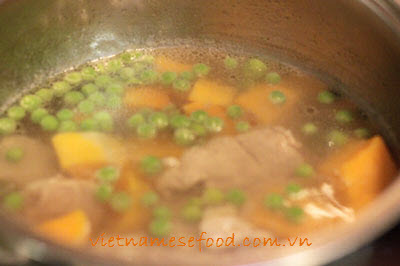 Finally, you just finished one of stunning Vietnamese Soup Recipes with us. Turn off the heat; add more sliced spring onion and parsley on face of soup. Scoop into big bowl and bring to serve with boiled rice is perfect.  Hope you satisfy with this dish and do not miss our next recipes tomorrow. Good Luck for your Cooking.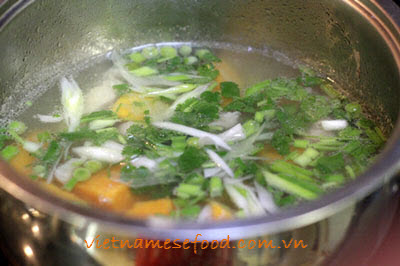 From EZ Vietnamese Cuisine Team