Pickled Vegetables Soup with Beef (Canh Dưa Cải Chua và Thịt Bò) is one of the most favourite dishes from many Vietnamese Soup Recipes. In the summer, people are afraid of eating something cooked with too much oil or fried stuff, hence, soup seems to be the best choice. My parents are also fans of this dish and they taught me how to prepare it.
 
The sweetness from the beef combines with the sourness of pickled vegetables and tomatoes really taste good together. From many Vietnamese Soup Recipes, this dish is quite easy to make and do not take too much time to prepare.
Ingredients:
300g of beef
1 bowl of pickled vegetables (Dưa Cải) – Buy at Vietnamese Markets
1 – 2 tomatoes
Dried onions, salt, fish sauce & pork/chicken broth mix.
Processes:
Step 1: Wash the pickled vegetables many times so that the vegetables would not be too salty and too sour. Cut it into small pieces and let it dry.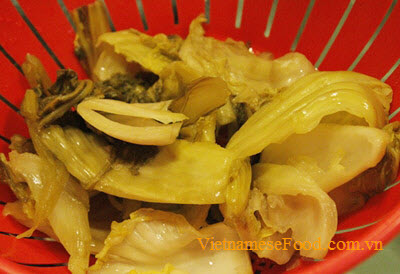 Step 2: Wash the tomatoes, cut it into 6 equal pieces for each.
 
Step 3: Wash the beef, put it into the fridge for about 30 – 45 minutes. Then, take it out and slice it.
 
Step 4: Pour the cold water until the water level is over the beef surface, cook with small heat. Be careful with the beef, otherwise, one of our stunning Vietnamese Soup Recipes would be ruined as the beef would become too tough to eat.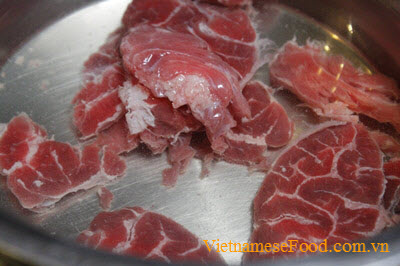 Step 5: Cook the beef in 20 minutes, then add the pickled vegetables and cook for another 5 minutes.
Step 6: Use another small stove. Heat up with 2 small spoons of cooking oil, fry the onions, then add the tomatoes in and stir fry them. You can add a little bit of salt to make the tomato cooked more quickly.
 
Step 7: This is the final touch for this dish. Add the tomatoes into the soup, continue to cook for 5 – 10 minutes, adjust with 2 small spoons of fish sauce, ½ spoon of pork/chicken broth mix. Cook till it is boiled; adjust the soup to your taste.
Finally, you can enjoy one of our delicious Vietnamese Soup Recipes with your family now. It is best served with rice and eaten when it is still hot. The beef contains a lot of nutrition which would enhance your health and the vegetable is good to your skin. Hope you like it and Good Luck for your Cooking.
From EZ Vietnamese Cuisine Team.