On first days of Lunar New Year, most Vietnamese people want to enjoy some fresh food which can make their souls feel better. That is why they choose Mixture Vegetairan (Nộm Thập Cẩm Chay) which comes from many stunning Vietnamese Recipes Vegetarian to cook for themselves and family. With many popular ingredients around your place and easy cooking process, I think you not only can create an amazing dish, but also can save your precious time on these days.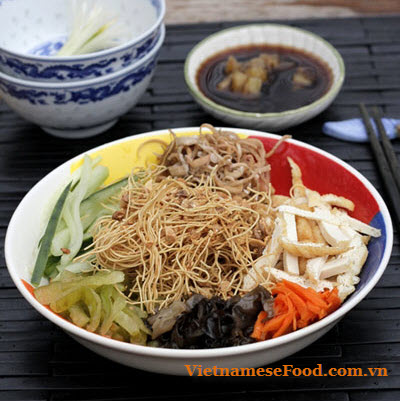 So, are you ready to make one of stunning Vietnamese Recipes Vegetarian with us right now? This dish also can help to control your weight through 3 days of Lunar New Year. Do you like it? When you do want to cook, please follow our instructions below carefully and let us start cooking now.
Ingredients:   
                    
1 sour star fruit
1 – 2 slices of fried tofu (200gr)
1 cucumber
1 small banana flower (200 – 300gr)
1 carrot
3 – 4 Jelly's ear mushrooms
Vinegar, salt, sugar
For dipping sauce: soy sauce, 1 slice pinesapple (100 – 150gr)
Vegetarian Noodle
Roasted peanut, peeled and smashed.
Process:
                                                 
Step 1: Soak Jelly's ear mushrooms into cold water in 5 – 10 minutes. Next, cut off the roots, clean again and slice small. Heat to oil into small pot, pour sliced jelly's ear mushroom into and fry in 3 – 4 minutes.
 
Step 2: Slice fried tofu.
Step 3: Separate the first cover of banana flower. Slice small and soak into cold water added a little vinegar in 15 minutes. Next, clean again with clean water and wait to dry.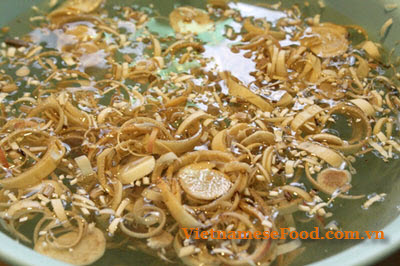 Step 4: Peel off the cover of carrot, slice small. Next, mix with 1 teaspoon sugar + 1 little vinegar + ½ teaspoon salt. Marinate in 15 minutes. Then, use your hands to press out all water. Here is the important step to create the flavor for one of stunning Vietnamese Recipes Vegetarian.
 
Step 5: Clean star fruit, cut off the edges. Slice small. Use hands to press out sour water from this fruit.
 
Step 6: Clean cucumber and slice small.
 
Step 7: Soak vegetarian noodle in hot water until it is soft. Next, heat to oil ( 3 – 4 tablespoons) and bring noolde to fry.
 
Step 8: Mix 3 tablespoons soy sauce + 1 tablespoon water + sliced pineapple together. Mix well and season spices to suit your flavor.
 
Finally, your dish basically is finsihed. When serving, arrange a little sliced sour star fruit, cucumber, carrot, jelly's ear mushroom, banana flower and fried tofu around plate. Next, put fried vegetarian noodle on the center, sprinkle a little roasted peanut on face. Using with sauce in step 8 is perfect. If you love spicy, you can add some sliced chili or chili paste. Hope you love this dish and do not miss our other Vietnamese Recipes Vegetarian next time. Good Luck for your Cooking and Happe Lunar New Year.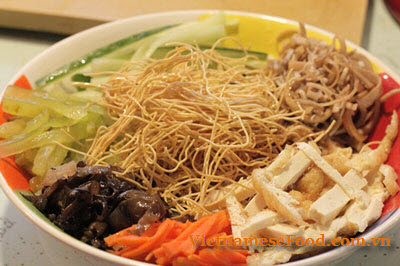 From EZ Vietnamese Cuisine Team.