Today is quite cold; a hot bowl soup is also the best choice. From many delicious Vietnamese Soup Recipes, today I decide to introduce one stunning dish to you. It is called Kohlrabi with Thigh Beef Soup (Canh Su Hào Bắp Bò). Moreover, this dish is good for your family health, so you will be regret if missing this amazing this for your daily meal in the cold weather like today.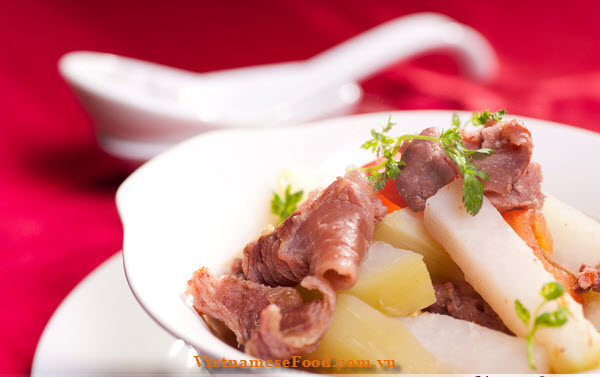 Kohlrabi with Thigh Beef Soup (Canh Su Hào Bắp Bò)
 
There only have 2 steps for cooking one of amazing Vietnamese Soup Recipes. You only need to follow our instructions below carefully; you will create a stunning dish for your family and yourself. Let us cook now.
Ingredients:
– 300-400g thigh beef meat, cleaned and sliced thinly
– 1 large kohlrabi, peeled and sliced.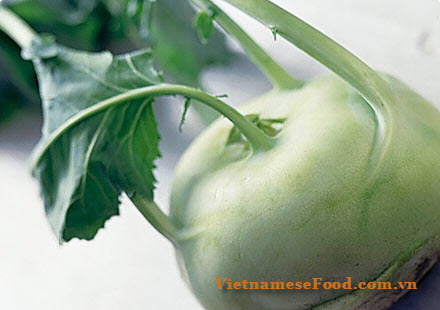 – 2 tomatoes, cleaned sliced into 6 parts for each
– Ginger, peeled and crushed
– Cilantro, cleand and sliced small
– Fish sauce, maggi's stuff, salt, sugar, pepper
Process:
Step 1: Beef washed, sliced ​​, marinated with ginger, fish sauce and pepper for 30 minutes. Then add beef in the pot, pour water flooded the beef and simmer until beef is soft. To create one of Vietnamese Soup Recipes more delicious, you should spend more time in simmer beef.
 
Step 2: When beef is soft, add more kohlrabi, tomatoes and cook until they are all soft. If water is nearly out, pour more water and season to suit your flavor with fish sauce + maggi's stuff + sugar + salt + pepper. Turn off the heat.
 

Kohlrabi with Thigh Beef Soup (Canh Su Hào Bắp Bò)
 
Finally, your dish is ready to serve. Ladle soup on bowl, sprinkle a lille pepper and sliced cilantro on face of soup. Using when it is hot is better. You can eat with boiled  rice, and some others Vietnamese Dish Recipes. Winter is coming, make sure you will create many amazing Vietnamese Soup Recipes for your beloved family. Good Luck for your Cooking. And do not miss our next posts tomorrow. Have a good appetite with your family and friends.
From EZ Vietnamese Cuisine Team.