Ghost Knife Fish Hotpot with Bitter Melon one of Easy Vietnamese Recipes for cooking. If you do not much time to create a stunning dish, here is the best choice. Moreover, bitter melon is really fresh and good for health. When you feel hot inside and your skin becomes dry, I suggest you should eat this dish.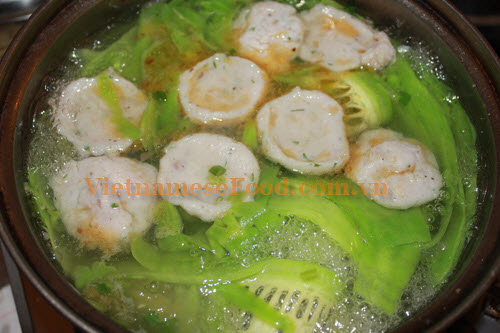 So, are you ready for cooking one of the easy Vietnamese recipes now? Please follow these instructions carefully.
Ghost Knife Fish Hotpot with Bitter Melon Recipe - Lẩu cá thác lác
Print Recipe
Ingredients
2 bitter melon
250gr meat of ghost knife fish (No bone)
1kg pig bone.
Vermicelli, spring onion, fish sauce, shallot
Salt, monosodium, pepper, chili and cilantro (parsley)
Instructions
Step 1:
Clean bitter melon, cut half, do not use seeds, slice thin. Because bitter melon has bitterness, you can boil with hot water about 3 to 5 minutes to reduce its bitterness. However, I suggest you should you whole its flavor. It is really good for health and skin.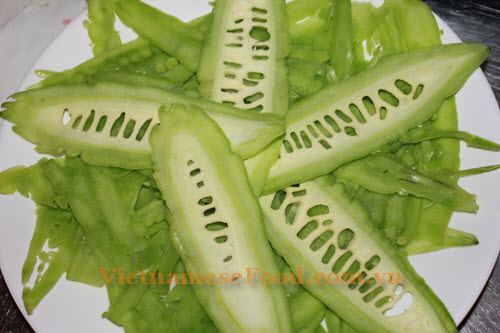 Step 2:
Clean pig bone and prepare for making broth of hotpot. Put bones and water into pot. Next boil it, add a little fish sauce, salt, sugar, pepper and monosodium (optional). Then, you taste again to suit with your flavor. Here is the important step to create one of easy Vietnamese Recipes. Please be careful.
Step 3:
After buying ghost knife meat fish, add sliced shallot, spring onion, a little pepper and salt into it, mix them until the mixture becomes soft and smooth. Next, separate them into small balls.
có hình
Step 4:
When water (including pig bones) boil, sift it to put away small bones which can stuck in your throat when eating. And add sliced bitter melon + ghost knife fish meat balls into pot. Cook and season again. And you finish it.
có hình
To sum up, scoop into big bowl, add some sliced chilies, cilantro on the face of dish. Using when it is hot with vermicelli is perfect. Hope you like this recipe and do not miss our next posts about Easy Vietnamese Recipes on tomorrow. Good Luck for your cooking.