In vegetarian days, what dishes do you usually cook for yourself and family? From many stunning Vietnamese Recipes Vegetarian, I want to introduce Fried Tofu with Sweet and Sour Sauce (Đậu Hũ Sốt Chua Ngọt). Tofu is fried until it turns yellow and crispy. It is covered by one roasted sesame cover. I bet this dish will become a strange and stunning food for these days.
 

Fried Tofu with Sweet and Sour Sauce Recipe (Đậu Hũ Sốt Chua Ngọt)
 
When you are ready, please follow my instruction below and let us together start cooking one of amazing Vietnamese Recipes Vegetarian right now. Trust me; you will never ever regret about this decision.
Ingredients:
2 – 3 slices of tofu
Making sweet and sour sauce: 1 teaspoon sugar, ½ teaspoon salt, 2 tablespoons soya sauce, 1 teaspoon vinegar, 2 teaspoons honey and 3 tablespoons water
Roasted sesame
Chili paste/sauté.
Process:
Step 1: Slice tofu into square shapes. Heat the oil (2 – 3 tablespoons), add sliced tofu and fry until it is crispy and turns yellow.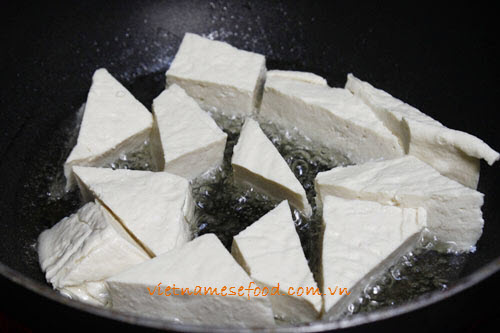 Step 2: Next, put them into plate added paper napkin to absorb wasted oil. For saving time to create one of stunning Vietnamese Recipes Vegetarian, you can buy fried tofu at markets.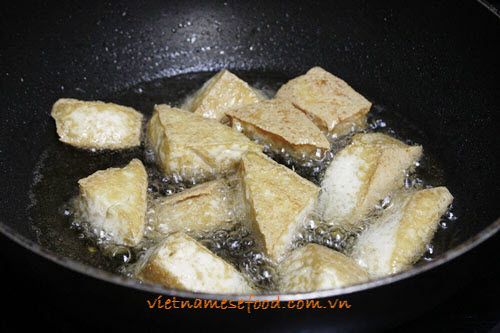 Step 3: Making sweet and sour sauce: mix all ingredients what you prepared together + ½ teaspoon chili paste/sauté. Stir well and pour into pan, cook until it becomes thick.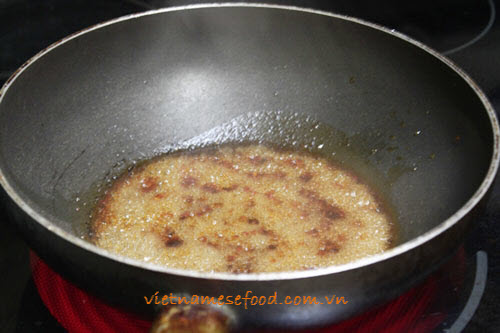 Step 4: Quickly to pour all fried tofu in step 2 into pan, use chopsticks to stir well until all mixture sauce absorb into tofu. Season again to suit your flavor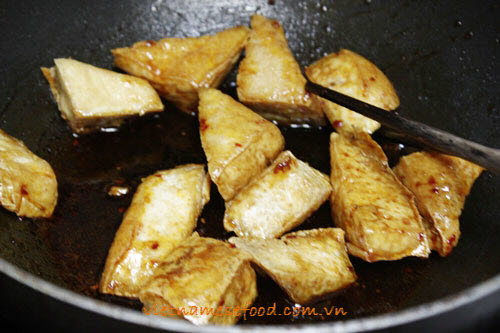 Finally, before turn off the heat, pour roasted sesame into pan, fry about 1 minute. Scoop onto plate and serving with boiled rice is perfect. Here is also one of my favorite Vietnamese Recipes Vegetarian in these days. How about you? Do you love it? Hope you will have a good appetite and Good Luck for your Cooking.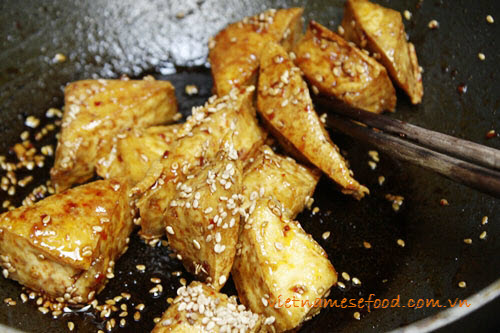 From EZ Vietnamese Cuisine Team.