One of my best favor Vietnamese Chicken Recipes is here. Today, my mom cooks it so I decide to introduce about it for you. It is called Fried Chicken with Panko Bread Crumb (Thịt Gà Chiên Xù). You can use it with boiled rice and hot soup. However, you can enjoy only it with chili sauce. Its flavor is still amazing. The crispy chicken meat is one of important points make you cannot forget from the first time eating.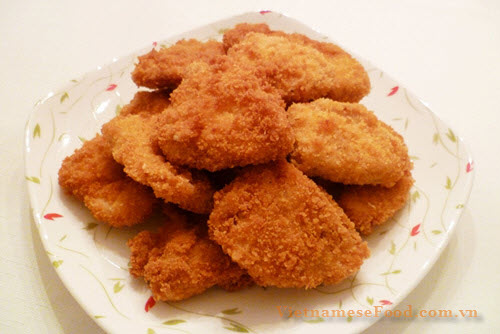 Fried Chicken with Panko Bread Crumb (Thịt Gà Chiên Xù)
 
Moreover, there only have 4 steps to create one of amazing Vietnamese Chicken Recipes. It will not cost much time for cooking. If you ready to cook, please follow our instruction below carefully. Now, let us cook now.
Ingredients:
300gr Chicken meat (No bones)
1 egg, 1 bowl of Panko Bread Crumb
1 bowl of corn flour
Spices: Salt, pepper, Maggi's stuff, vegetable oil.
Process:
Step 1: Clean chicken meat, slice into medium pieces. Use small axe to make them softer. Next, marinate with salt + pepper + maggi's stuff, wait about 1 hour.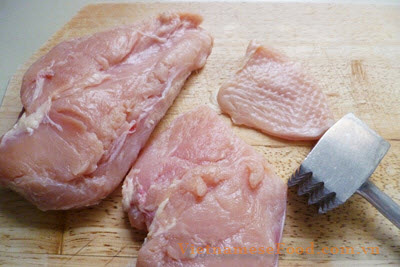 Step 2: Prepare 3 bowl: 1 bowl stirred egg, 1 bowl corn flour, 1 bowl panko bread crumb.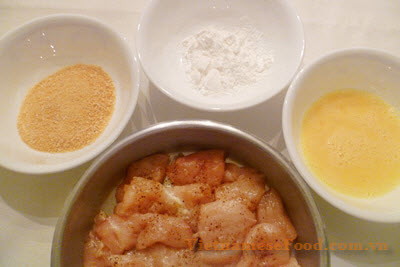 Step 3: One by one, soak every single chicken meat from corn flour, stirred egg and finally is panko bread crumb. Continue until all chicken pieces are covered.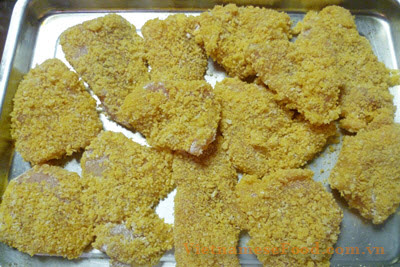 Step 4: Here is the important to create one of amazing Vietnamese Chicken Recipes, so please make sure you follow carefully. Pour oil (enough to cover all chicken meat when frying). Wait to heat, put all chicken meat all and fry until their color turn yellow (about 5 – 7 mintues). Turn off the heat, put them on plate added paper napkin to absorb all wasted oil.
 
Finally, you just finished one of amazing Vietnamese Chicken Recipes. I bet your family and friends will love it, especially your kids. Using this dish with chili sauce or boiled rice is perfect all. Moreover, you can use it with vegetable (cucumber, tomato). It will increase the flavor for this stunning dish. Hope you like it and Good Luck for your Cooking.
From EZ Vietnamese Cuisine Team.