When winter is coming, Fried Chicken Gizzard with Pineapple (Mề Gà Xào Dứa) is one of good choices for your family meals. It originally comes from Vietnamese Chicken Recipes. A little sweet and sour combination will create a stunning flavor in your mouth. As many other Vietnamese Food, it will be a good decision when eating it with boiled rice. I bet you will love it.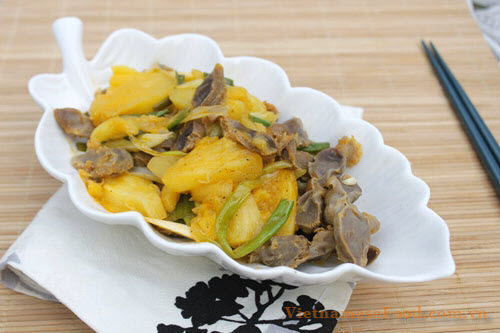 Fried Chicken Gizzard with Pineapple (Mề Gà Xào Dứa)
 
So are you ready to cook one of amazing Vietnamese Chicken Recipes like this dish? Please follow our instructions below carefully. You will not regret about your de cision at all. Trust me.
Ingredients:
4 -5 sets of chicken gizzard
½ pineapple
Scallion, garlic, chili
Spices: salt, pepper, Maggi's stuff, sugar.
Process:
Step 1: Clean chicken gizzard with water added a little salt. Next, cut in half and slice thinly. Marinate with 1 teaspoon salt + Maggi's stuff, wait about 15 – 30 minutes.
 
Step 2: Cut off the eyes of pineapple, clean and slice thinly. Heat the pan, add a little oil and fry minced garlic until it is fragrant. Next, pour sliced pineapple and fry about 3 minutes. Here is the important step to create one of stunning Vietnamese Chicken Recipes, so please make sure you do not neglect when cooking.
 
Step 3: Next, add sliced chicken gizzard into pan and fry until it is cooked. Season to suit your flavor. Turn off the heat.
 
Finally, your dish is ready to serve. Sprinkle sliced scallion and pepper on face of dish. Pour on plate and use with boiled rice. So, how do you think? Hope you like it and do not miss our other amazing Vietnamese Chicken Recipes next time. Good Luck for your Cooking.
 

Fried Chicken Gizzard with Pineapple (Mề Gà Xào Dứa)
 
From EZ Vietnamese Cuisine Team.