Fried Cassava Vermicelli with Crab (Miến Xào Cua) is a great dish which can make you easily get addicted. Like many Vietnamese Noodle Recipes, this recipe would make a splendid substitute for your regular meal. I remember when I was a kid, whenever my mom prepares something else rather than rice, I would jump up & down constantly happily. I bet your children will fall in love with dish too.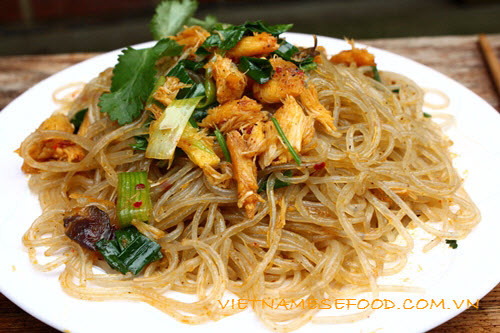 The cassava vermicelli is very smooth, soft but chewy also. On the other hand, the crab meat is sweet & really wakes up your senses. This dish – one of our stunning Vietnamese Noodle Recipes – is really addictive and I can eat a whole big bowl without feeling that it is enough.
Ingredients:
1 big crab (500g)
100g of Cassava vermicelli or Mung Bean vermicelli
Pepper, salt, fish sauce, spring onions, Asian coriander, Chinese parsley, Pork/ Chicken broth mix
Cashew nuts (depend on how much you want)
Shallot, chilli powder (if you like spicy food).
Processes:
Step 1: Clean the crab, put it into a stove, and seals the lid, heat up until it is cooked. Remove the crab meat from its shell; mix with ½ coffee spoon of salt, some pepper.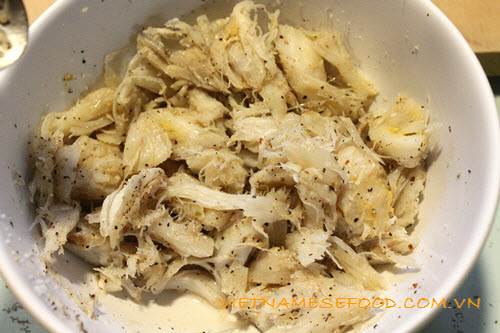 Step 2: Wash & scald the vermicelli in boiled water. Take it out and let it dry naturally. Do not scald the vermicelli too long; otherwise, it will be crushed.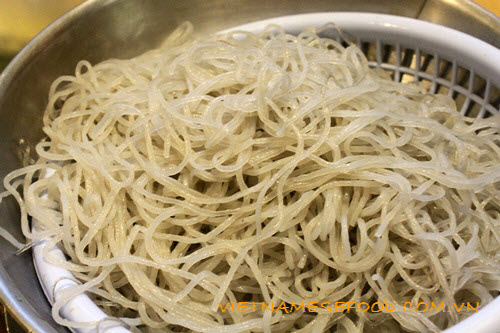 Step 3: Peel off the shallot's skin, mince it. Slice the spring onions and mince the asian coriander with Chinese parsley.
 
Step 4: Heat up with 2 spoons of cooking oil, add the cashew nuts in. From many beautiful Vietnamese Noodle Recipes, this dish is one of the finest because the cashew nuts will produce a very sensational colour. After that, you can remove the cashew nuts. Add the shallot in and fry it.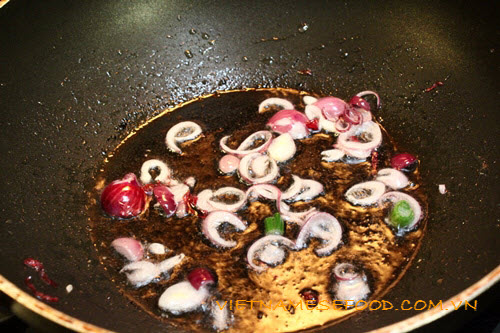 Step 5: Continue pouring the crab meat in, use the chopsticks to stir it. If the crab has crab mud, you can add it into and stir fry it too. Crush the crab mud so that when we add the vermicelli in, this mud will stick on the vermicelli and help the vermicelli not sticking with each other. Add 1 spoon of fish sauce, ½ spoon of pork/ chicken broth mix. Stir it carefully to let the crab meat absorb all the spices, adjust the taste.
Step 6: Add the vermicelli in and stir fry it quickly, stir it constantly. You use both hands with a chopstick to stir the vermicelli constantly. The crab meat will stick on the vermicelli and the vermicelli will not be sticky. If you like it to be spicy, you can add a little bit of chilli powder in.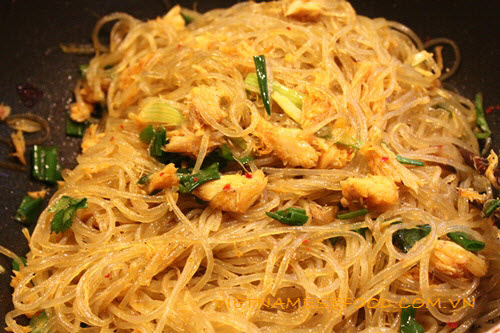 Finally, the dish is ready to be served. Remember to sprinkle some spring onions, Asian coriander, Chinese parsley and pepper on the dish to enhance the flavour. Like many other Vietnamese Noodle Recipes, this dish needs to be served when it is still hot. I hope you would have a good time preparing this dish for your family. Good luck to your cooking guys!
From EZ Vietnamese Cuisine Team.