It is different with Wonton Soup, Dried Egg Noodle with Wonton (Mì Hoành Thánh Khô) is the combination between char siew, boiled wonton, egg noodle and garlic sauce. Here is one of best Vietnamese Noodle Recipes. Using with hot broth soup and bean sprout will bring amazing feeling for who has a chance to taste it, especially in cold days. For me, beside wonton soup, here is also my choice when hang out with friends or family.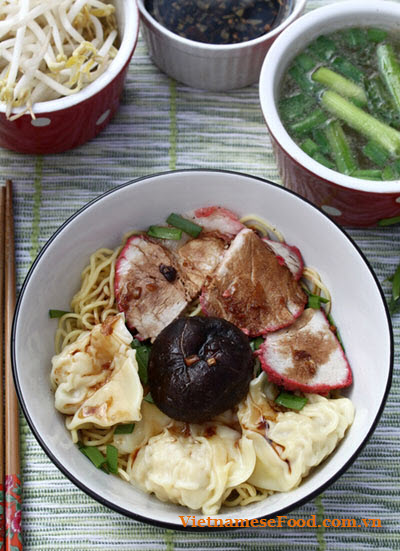 Dried Egg Noodle with Wonton (Mì Hoành Thánh Khô)
 
So, are you ready to make one of amazing Vietnamese Noodle Recipes for your family in weekend? I think here is the good way for changing boring meals. If you do want, please follow our instructions below carefully. And let us start cooking now.
Ingredients:
1kg pork bone
½ onion, 10gr dried shrimps, 50gr salty radish (Buy at Vietnamese Markets)
200gr fresh shrimps, cleaned, peeled and grinded
200gr grinded pork
400gr half lean half fat pork meat
Scallion, bean sprout, garlic, spring onion
Wonton Leaves (Buy at Vietnamese or Chinese Markets)
Mutli flavor (Ngũ Vị Hương) – Buy at Vietnamese Markets
Salt, sesame oil, Maggi's stuff, pepper
Some shiitake mushrooms.
Process:
Step 1: Here is the first imporant step to create the flavor for one of delicious Vietnamese Noodle Recipes. Clean pork bone carefully with warm water added a little salt in 2 – 3 times. Next, pour cold water cover all pork bone into pot. Cook to boil. Then, add more ½ grilled onion + dried shrimp + salty radish. Continue cook and season with 1 teaspoon salt + ½ teaspoon Maggi's stuff. When cooking, sometime use spoon to scoop away dirty bubble on face to make the broth more clear and delicious.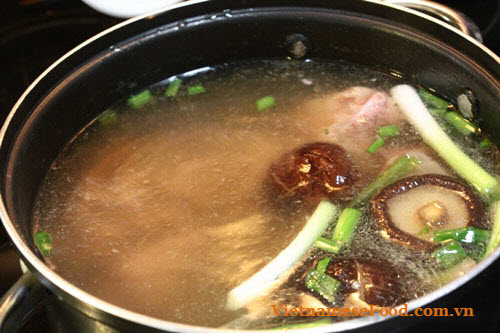 Step 2: Mix grinded shrimp and grinded pork together. Marinate with 1 teaspoon salt + ½ Maggi's stuff + pepper + 1 teaspoon sesame oil. Wait about 1 hour.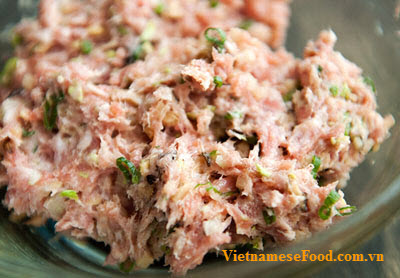 Step 3: Spread wonton leaf into plate, add 1 spoon mixture (in step 3) in the center and cover it carefully.
 
Step 4: Boil water, then pour wonton (in step 4) and boil until they are cooked. Soak into cold water immediately to make sure they will not stick together. Then, wait to dry.
 
Step 5: Making Char Siew. You can follow the link to see the process.
 
Step 6: Clean bean sprout, scallion, spring onion. Slice them into short parts.
Step 7: Cut off the root of shiitake mushroom, soak until they are soft. Then pour all them into broth (in step 1).
Step 8: Soak egg noggle through hot water. Wait to soft. Then soak immediately in cold water to make sure they will not stick together.
 
Step 9: Mince garlic, then add 2 teaspoons oil into pan, wait to hot and fry minced garlic until it is fragrant. Pour this mixture into egg noodle (in step 8).
 
Step 10: Making sauce: 3 tablespoons soy sauce + 2 teaspoons oyster oil + 1 teaspoon vegetable oil + 1 teaspoon sesame oil + 2 teaspoons sugar. Season to suit your flavor.
 
Finally, you finished one of stunning Vietnamese Noodle Recipes from us. How do you think? You can make this noodle soup on these first days of New Year for your family before this holiday ends. This is my suggestion. Moreover, if you love spicy, you can use with chili paste or chili powder. It is perfect when winter is still around here. For serving, add egg noodle on bowl, add more sliced Char Siew, Wonton, Shiitake and Scallion. Pour a little sauce on face of food. Using with boiled bean sprout and hot broth added sliced scallion is really amazing. Hope you love it and Good Luck for your Cooking.
From EZ Vietnamese Cuisine Team.