Hi everyone, today I will show you one of stunning and popular Vietnamese Noodle Recipes is Deep fried Seafood, Pork, and Beef with Noodle (Hu Tieu Xao). The combination of seafood and fresh wide vermicelli rice noodles will bring you the strange taste, but still delicious and attractive. It is also a delicious food for breakfast meals. Using with one hot soya milk can give you enough energy on working half day.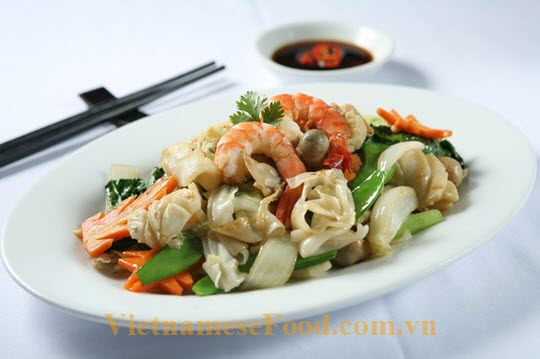 Deep Fried Seafood, Pork and Beef with Noodle – Hu Tieu Xao
With this dish, you will be surprise with the rice vermicelli. It is so different with normal rice vermicelli you knew. So you should try cooking this dish to know how delicious one of Vietnamese Noodle Recipes is, by following our recipe now. 
Ingredients:
– 300gr of fresh shrimp
– 200 grams of pork
– 1 bunch fresh Chinese Flowering Cabbage 
– 200gr bean sprouts
– 2 lbs. fresh wide vermicelli rice noodles.
– Soy Sauce.
– Some Chilies
– Black Vinegar
– Flour.
– 2 shiitake mushrooms.
– 100 gram beef balls
– Some Garlic.
– 1/2 onion.
Process:
Step 1: Preparation.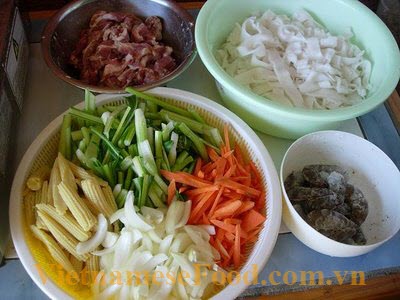 – Wash Chinese Flowering Cabbage, cut into sections and drain, separate the stalks and leaves.
– Wash bean sprouts. Minced garlic
– Onion cut into segments.
– Washed Pork with salt water, sliced, marinated into little seasoning salt, soy sauce, minced garlic.
– Shrimp divided into two: 1/2 peeled, leaving tail, take out dirty part of shrimps. Minced the rest ½ shrimp.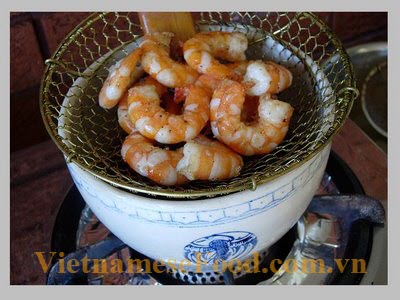 – Shiitake mushrooms soaked in water until soft, and then cut into small. Beef balls cut into 1/2.
Step 2:
– Place the pan on the stove and wait for the stove is hot. Add bean sprouts, fresh wide vermicelli rice noodles stir-fry with high heat.
 
– Pour 1 tablespoon soy sauce; stir until stem noodles are golden brown. When you used all soy sauce, then you lift the pan down immediately to avoid crumbling noodles.
– Drain all noodles into plate. You continue put pan on the stove, set high heat, fry minced garlic until golden, then fried pork.
– Next, add Chinese Flowering Cabbage stalks before, then leaves, shiitake mushrooms, fresh shrimp and fried onions. Stir well
– Season with soy sauce, seasoning, and some sugar to suit your taste.
– Mix flour into one bowl of water, pour into pan, stirring well.
– Pour the sauce onto the noodles, sprinkle with some cilantro.
 
Step 3: Making the sauce (Using with this sauce, it will make one of Vietnamese Noodle Recipes like this dish is more delicious and suit your taste).
– You mix the sauce to serve with the following formula: 3 tablespoons soy sauce, 1 tablespoon black vinegar, and sugar and red pepper slice into chunks, and chili sauce.
Now, you have done one stunning dish already. When cooking it, you have the flexibility to replace the material that the whole family likes: pigskin, squid, carrots … This dish is very attractive, appetizing by the sweetness of the shrimp, the toughness of fiber noodles and crispy cool of Chinese Flowering Cabbage. Change the menu and try to change the dish for your family to make family meal is always new and attractive. And do not forget to see more stunning Vietnamese Noodle Recipes at our website. Good Luck for your Cooking.
From EZ Vietnamese Cuisine Team.