In winter, never better when you can enjoy a hot soup bowl with your beloved family. That is why my mom cooked Cassava Vermicelli Soup with Egg Wonton (Miến với Hoành Thánh Trứng) for us. This dish comes from many delicious Vietnamese Noodle Recipes. Weekend is here already, I think you have enough time for cooking a stunning meal for your family and friends. It can help your relationship keep warmer and closer. Trust me, you will not regret about this decision.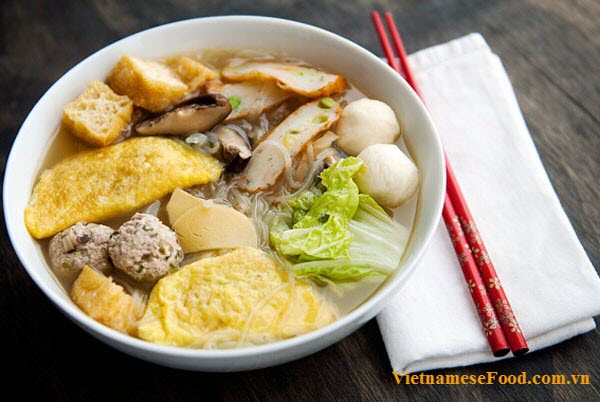 Cassava Vermicelli Soup with Egg Wonton (Miến với Hoành Thánh Trứng)
 
My mom types its recipe and brought to me. So, if you want to cook one of stunning Vietnamese Noodle Recipes from my mom, please follow carefully our instruction below. And let us start cooking now.
Ingredients:
*** For filling of wonton:
400gr grinded pork meat
20gr spring onion
30gr shiitake mushrooms, soaked into cold water about 30 minutes and cut off the roots
30gr fresh bamboo shoot, soaked into cold water about 30 minutes and minced
200gr napa cabbage
7gr fresh ginger, cleaned and peeled
7gr corn starch
10ml soy sauce
5ml oyster oil
6 eggs.
*** For main dish:
400gr cassava vermicelli
300gr napa cabbage, cleaned and sliced small
200gr fish balls
3 slices tofu, sliced into cubes and fried
15 fried quail eggs/ 15 pork meat balls
50gr shiitake mushrooms, soaked and cut into half
100gr Vietnamese ham, sliced into small cubes
Pork Broth.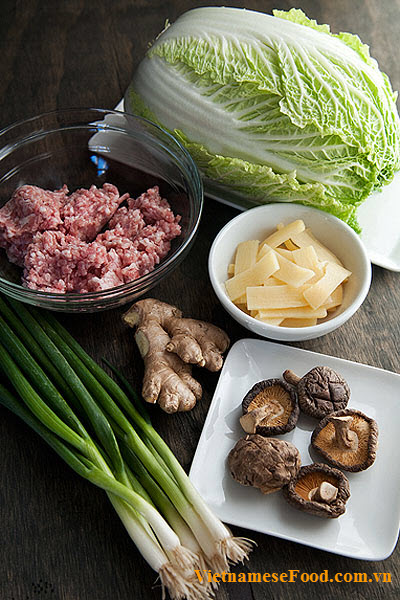 Process:
Step 1: Clean spring onion, slice small. Then, continue slice small shiitake mushrooms + minced fresh bamboo shoot + minced napa cabbage + ginger  for filling of wonton. Mix them together.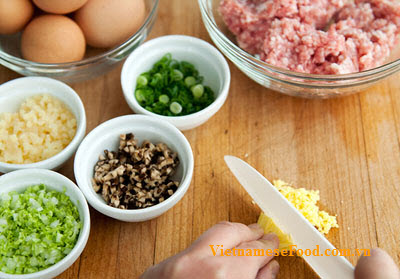 Step 2: Pour grinded pork into bowl, add mixture (in step 1) and marinate with soy sauce + oyster oil + pepper + corn starch.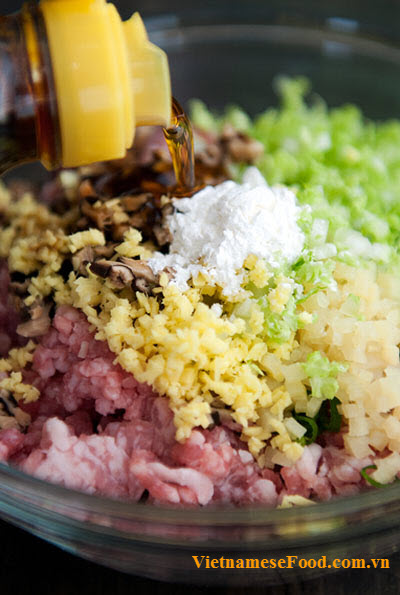 Step 3: Mix them together and wait about 30 – 45 minutes.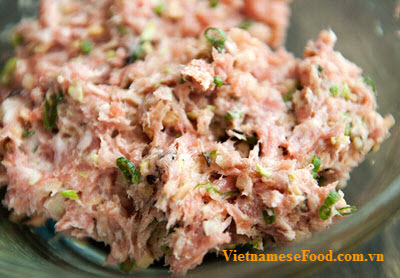 Step 4: Add eggs into big bowl, stir well and season to suit your flavor.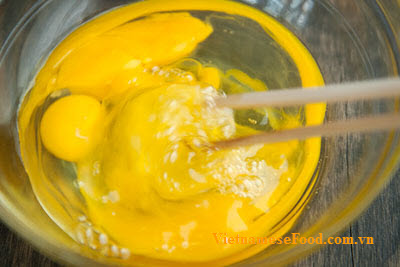 Step 5: Add oil into pan, wait to hot, then scoop 2 tablespoons egg (10ml) into pan and fry until it is nearly cooked, add filling (in step 3) on the left part of egg.
 
Step 6: Use cooking shovel to cover the filling by another part of egg.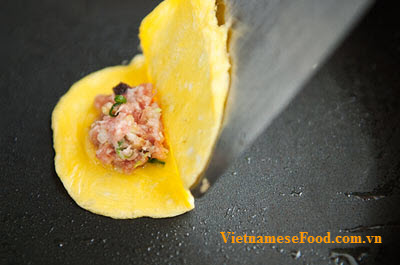 Step 7: Make sure the egg can cover the filling all. Here is the important step to create amazing ingredient for one of amazing Vietnamese Noodle Recipes.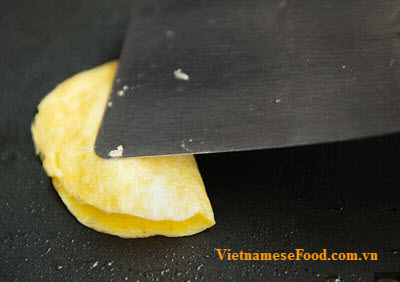 Step 8: Continue fry another face until it turns brown yellow. Continue until the mixture (in step 4) is out. We can call it is fried egg wonton.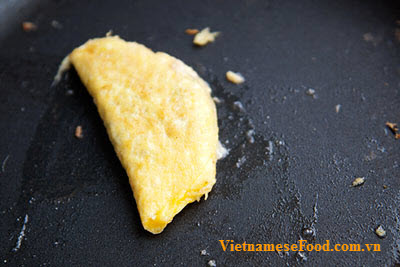 Step 9: Soak cassava vermicelli into hot water until it is soft. Then, wash immediately through cold water to make sure it will not stick together. Boil the broth; add shiitake mushroom, meat balls to cook.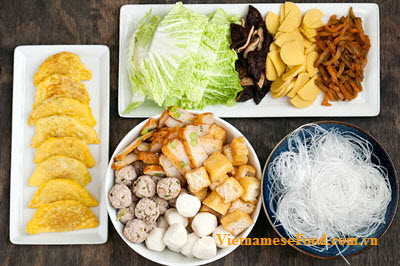 Finally, your dish is ready. You can present by putting many ingredients around table. It can make this dish is more delicious. Add cassava vermicelli into bow, scoop pork broth and add more sliced napa cabbage, shiitake mushroom, fried tofu, meat balls, fried egg wonton (in step 8),fish balls, Vietnamese ham on face and ready to enjoy. Make sure your broth always is hot. It can make one of Vietnamese Noodle Recipes more delicious. Hope you love this dish and Good Luck for your Cooking.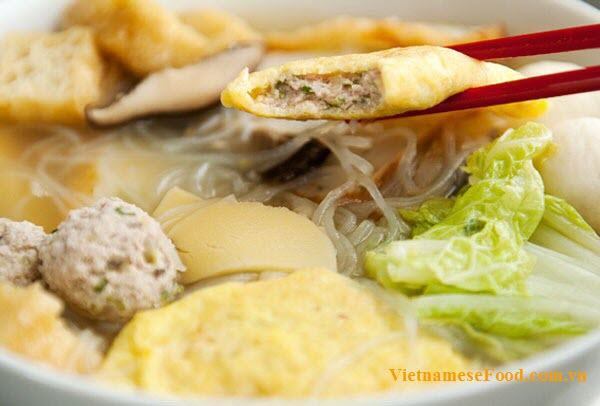 Cassava Vermicelli Soup with Egg Wonton (Miến với Hoành Thánh Trứng).
 
From EZ Vietnamese Cuisine Team.