In rainy days, we usually would like to enjoy hot dishes which can help we feel warmer inside. From many easy and amazing Vietnamese Food Recipes, today I want to introduce Boiled Beef Thigh with Ginger and Lemongrass (Bắp Bò Luộc Gừng Xả) for all you guys. Each slice of beef thigh is rolled with vermicelli, salad and serving with sweet and sour sauce is perfect.
Now, are you ready to cook one of stunning Vietnamese Food Recipes like this one with me? If you say yes, feel free to follow my instruction below carefully and let us start right now.
Boiled Beef Thigh with Ginger and Lemongrass (Bắp Bò Luộc Gừng Xả)
Print Recipe
Ingredients
700g beef thigh
4 – 5 lemongrasses
10g ginger
1 tablespoon minced lemongrass
Salt, Magi's stuff, soya sauce, sugar, garlic
Vermicelli, salad basil leaves
Rice papers (wrap into banana leaves in few hours before using).
Instructions
Step 1:
Clean well beef thigh in water added a little salt, wait to get dry.
Step 2:
Peel off the cover of garlic, mince well. Mix minced garlic with minced lemongrass, 2 teaspoons salt, 1 teaspoon Magi's stuff together. Apply this mixture around beef thigh in step 1. Use thread to cover around beef thigh, wait for 1 night or from 5 – 6 hours.
Step 3:
Clean lemongrasses, chop into short pieces, smash well and put them with sliced ginger into pot added water, cook until it boils.
Step 4:
Next, add beef thigh in step 2 into water and cook. Sometimes use a spoon to scoop away dirty bubbles on face of broth. Next, add 1 tablespoon soya sauce, 1 teaspoon sugar, 1 teaspoon salt into the pot. Here is also an important step to create an amazing flavor for one of the stunning Vietnamese Food Recipes.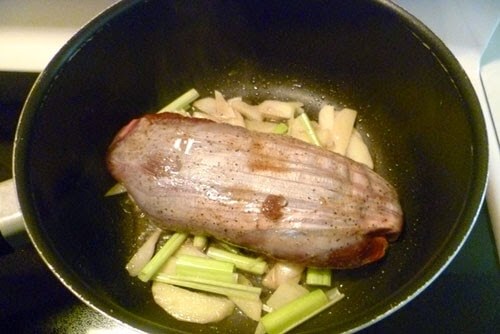 Step 5:
Test beef thigh by stick one chopstick into it. If it is soft like you want, turn off the heat, wait to reduce heat and slice thinly.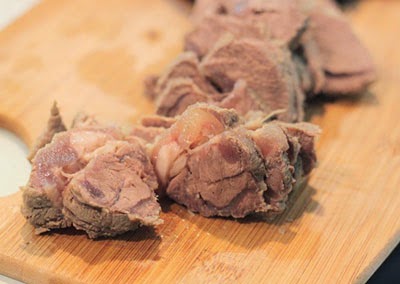 Step 6:
Clean well all vegetables with water added a little salt. Wait to get dry.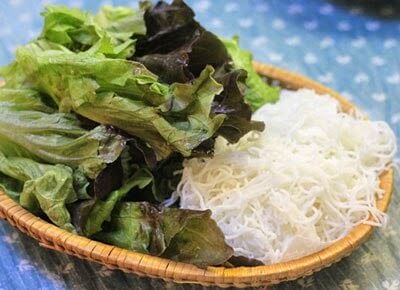 Finally, you can serve this food for your family and yourself. Arrange sliced beef thigh on plate with vegetables and vermicelli. When eating, put 1 rice paper on plate, add beef thigh, vermicelli, vegetables and roll it. Enjoy with sweet and sour sauce is amazing. You can add more cucumber, pineapple if you love it. Hope you will satisfy with one of Vietnamese Food Recipes like this one and Good Luck for your Cooking.
có hình