I was at two minds whether to post the picture below. The picture does not justice to the delicious full bodied taste of this Black Bean Soup (Súp Đậu Đen) which is one of Best Vietnamese Food.
Black Bean Soup is highly nutritious as black beans (also called "Black Turtle Beans") are known to be packed with all sorts of vitamins and minerals. The soup tastes naturally sweet (not like sugar) and is very appetizing when combined with a meal of steamed rice and other dishes.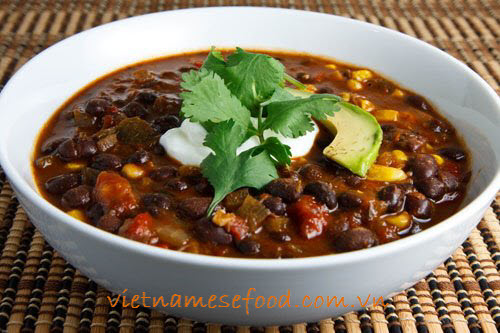 The recipe of this Best Vietnamese Food is pretty much a "cook and leave it" recipe especially if you use a charcoal stove to double boil the soup. I am always partial to double boiling soup on a charcoal stove as the taste is immensely different, not to mention the effect it has on tenderizing the meat which is being cooked.
If you do not have a charcoal stove, fret not as a gas or electric stove is fine and direct cooking is possible. For this recipe, direct cooking rather than double boiling is shown as I know not everyone has a double boiler at home.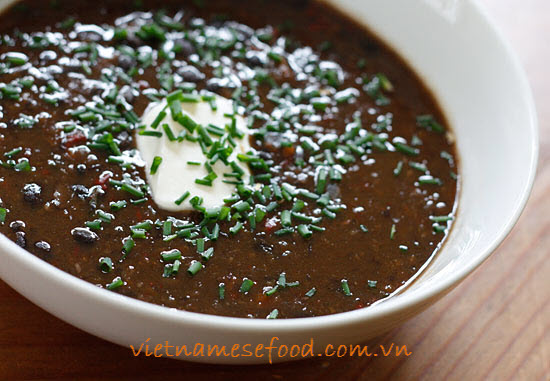 Bring water to boil in a pot. Add pork/chicken and bring water back to boil. Remove scum from upper layer as water is boiling. Thereafter, add black beans (and the optional ingredients) and allow boiling for 2 minutes before reducing heat to low. Simmer till soup reduced to approximately 1 1/2 soup bowls. This Best Vietnamese Food will taste great if it is simmered for at least 2 1/2 hours and try not to add water midway through cooking.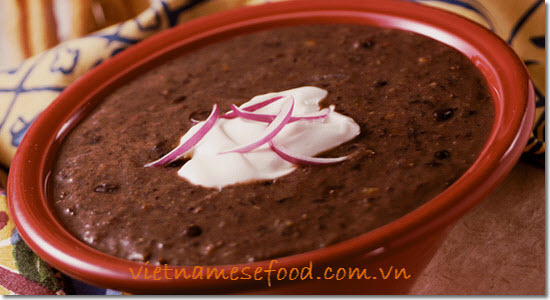 To sum up, if you are double boiling, place beans and pork/chicken (plus optional ingredients) in double boiler and add 2 soup bowls of boiling hot water. Cover lid and double boil for 3 hours. Now you can serve this Best Vietnamese Food to table and enjoy with your happy family. Happy Weekend Everyone.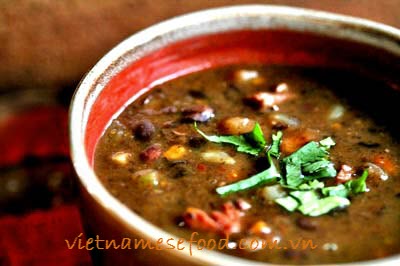 From EZ Vietnamese Cuisine Team.