Banana Flower Salad with Chicken (Nộm Hoa Chuối Thịt Gà) which comes from many delicious Vietnamese Salad Recipes will be my choice today. It is the great combination between banana flower, chicken and roasted peanut.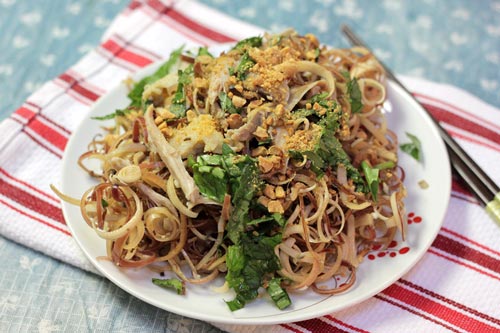 Banana Flower Salad with Chicken (Nộm Hoa Chuối Thịt Gà)
 
When you are getting bored with usual family meals, this dish can replace all of them. I usually eat with fried shrimp crackers (bánh phồng tôm) instead of steamed rice. How about you? Are you curious with one of amazing Vietnamese Salad Recipes like this? Let us start making it together.
Ingredients:
300g banana flower
400g chicken meat (use the breast or chicken thigh)
Salt, sugar, vinegar, fish sauce, lime
Roasted peanut (smashed quickly)
Basil leaves
Process:
Step 1: Clean well chicken meat, put into pot with water and ½ teaspoon salt, cook about 15 – 20 minutes and turn off the heat. You can set up time for cooking depending on its size.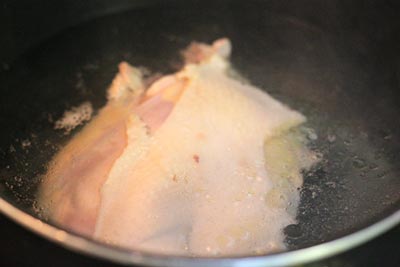 Step 2: Peel off the harsh part of banana flower, slice small and soak into cold water added a little vinegar or lime juice to make sure it will not be turned black.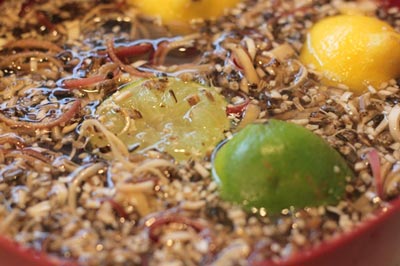 Step 3: Grind well garlic, chili and mix with 2 tablespoons sugar, 2 tablespoons fish sauce, stir gently. Next, add some drops of lime juice or vinegar and taste to suit your flavor. Here is also the important step to create one of amazing Vietnamese Salad Recipes for yourself and family meal.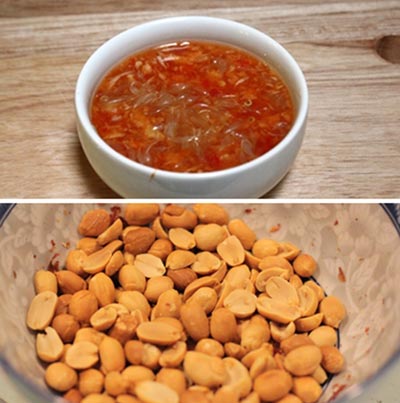 Step 4: Use hand to tear small chicken meat, mix with banana flower and then pour sauce in step 3 into mixture salad, taste again to suit your flavor.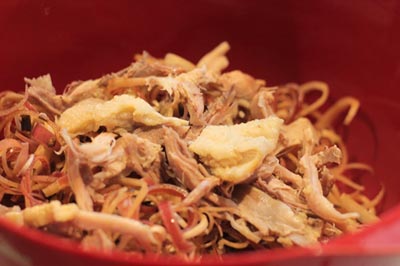 Finally, you already can serve it for family meal. Before eating, add more roasted peanut and basil leaves on top. As I told you above, you can use it with fried shrimp crackers instead of steamed rice. They will bring the different delicious ways in your mouth. Good luck for your cooking with one of stunning Vietnamese Salad Recipes and have a good appetite.
From Vietnamese Food Team.