One of Easy and Healthy Vietnamese Soup Recipes I want to introduce today for you guys is Asian Spinach Soup with Shrimp (Canh Rau Mồng Tơi Nấu Tôm). When the weather is hot, you do not want to eat anything. And I think this soup can help you solve the problem. It is not only tasty but also really healthy. Moreover, if you have kids, this soup can help them eat easily and have a good appetite. It also can help you saving time for other jobs.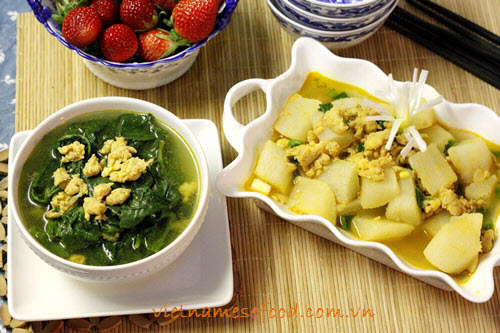 When you are ready, please follow our instruction below carefully to create one of stunning Vietnamese Soup Recipes for your beloved family. I bet you will not regret with this decision. So, are you ready? Let us start together cooking right now.
Ingredients:
200g shrimp
150g grinded pork/chicken
100g Asian spinach
Spring onion, purple onion, salt, fish sauce, pork broth mix, pepper.
Process:
Step 1: Clean carefully Asian spinach leaves. Do not use the stem. Slice into long pieces if you want.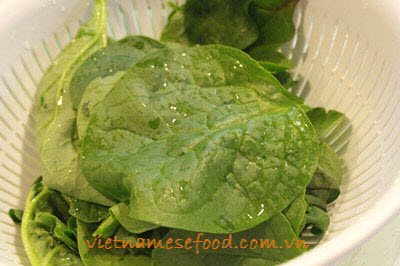 Step 2: Heat the oil (2 – 3 teaspoons), pour all grinded shrimp and pork into pot and fry quickly in 5 minutes. Next, pour 3 – 4 bowls water into pot. Here is the first step to create one of amazing Vietnamese Soup Recipes for your family.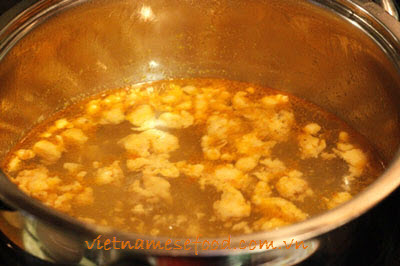 Step 3: Next, add more Asian spinach into pot. Season to suit your flavor, cook until it boils again and turn off the heat.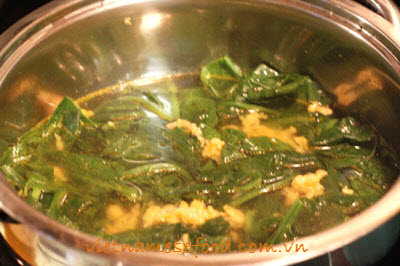 Finally, your dish is ready to serve. Serving with boiled rice and main dishes is my favorite choice. Eating when it is hot can help you maintain the true specific flavor for this soup. So, do you love it? Are you ready to cook one of stunning Vietnamese Soup Recipes with us right now? Hope you will choose to cook it today and Good Luck for your Cooking.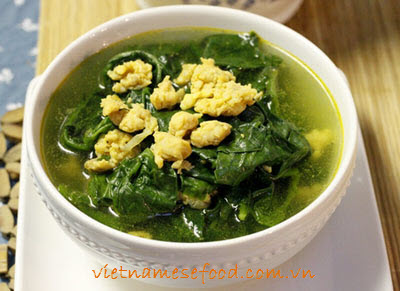 From EZ Vietnamese Cuisine Team.