Vietnamese food is known to be both healthy and robust in flavor, thanks to its generous combination of fresh herbs and greens, paired with rice, noodles, seafood, pork, and beef. Influenced by its French colonial past (as seen in banh mi) and its neighbors in China, Laos, Cambodia, and Thailand, Vietnamese cuisine is an amalgamation of the exciting eats offered in these countries while still maintaining its own identity.
While many cities such as Hanoi and Ho Chi Minh City offer plenty of fine-dining venues and five-star hotel restaurants decked out in extravagant settings, some of the best (and most authentic) Vietnamese delicacies are actually found at roadside eateries, vibrant street markets, and humble-looking restaurants.
When it comes to Vietnamese food, most people immediately think of two things: pho and banh mi. It makes sense. While pho and banh mi are easily identifiable as Vietnamese, there's so much more to the fare than these two quintessential items. To help you navigate the myriad of options out there, below are 10 dishes to try next time you make your way to a Vietnamese restaurant or head to the country on vacation.
1. Pho (Phở)
Pronunciation guide: fuh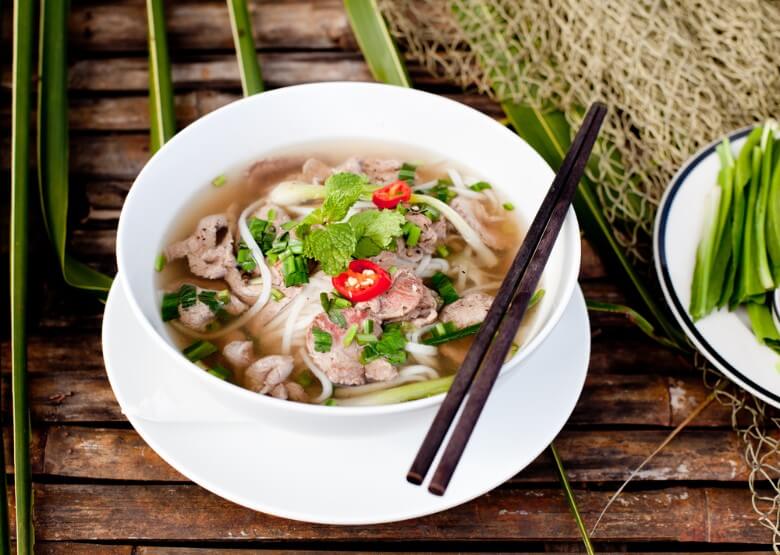 Every morning, all over Vietnam, an army of cooks busies themselves with the task of serving the perfect bowl of pho (pronounced 'fur'). It's much more than just noodle soup; the history of pho is saturated in tradition and echoes the history of Vietnam and its culture.
Pho is essentially Vietnam's signature dish, comprising rice noodles in a flavourful soup with meat and various greens, plus a side of nuoc cham (fermented fish) or chilli sauce. A basic bowl contains tai (beef slices), bo vien (beef meatballs) or nam (beef flank), topped with bean sprouts, lime wedges, and fresh herbs such as basil, mint, cilantro, and onions.
Depending on the restaurant or roadside stall, you can also opt for more exotic ingredients such as gan (beef tendon), sach (thinly-sliced pig stomach), and ve don (flank with cartilage). Typically eaten for breakfast, pho is priced between VND 20,000 and VND 30,000 at a local restaurant or street market in Vietnam.
Learn more!
2. Bun Cha Hanoi
Pronunciation guide: boon-chah-hah-noy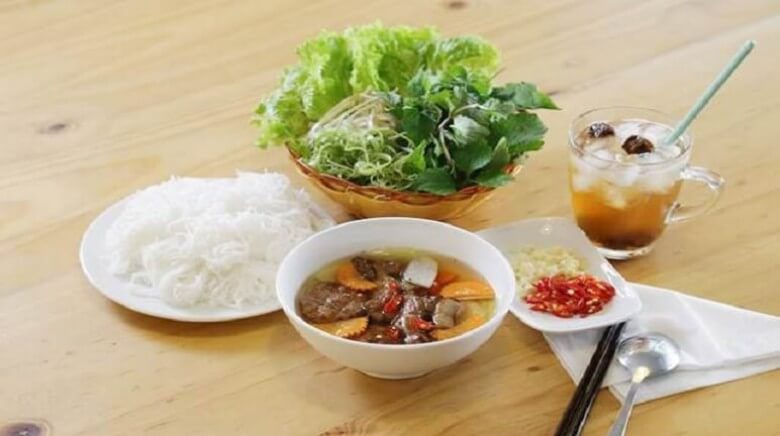 This is the dish that Anthony Bourdain introduced President Obama to during the Hanoi episode of his CNN TV show, Parts Unknown, and it's one you should introduce to your lunch or dinner plans, too. The dish consists of slider-sized, mini ground pork patties steeped in a diluted sweet and savory fish sauce. Served with rice vermicelli noodles on the side, and a plate of lettuce and herbs, bun cha ("bun" means rice vermicelli; "cha" is the pork patty), is essentially a deconstructed version of the popular chargrilled pork and noodle bowl known as bun thit nuong.
In Hanoi, it is simply called "bun cha," but everywhere else, Hanoi is added to the name of the dish to indicate its origin. To eat it, you assemble noodles, vegetables, and meat in small batches, drizzling a bit of fish sauce in the bowl to your taste, and slurping up the noodles and veg in between bites of pork. It takes some effort and can get a bit messy, but the interplay of crisp, fresh veggies, springy, rice noodles and smoky, charred pork is fantastic, and the ad hoc assembly means that no two bites are the same.
Learn more!
3. Bun bo Hue
Pronunciation guide: boon boh hway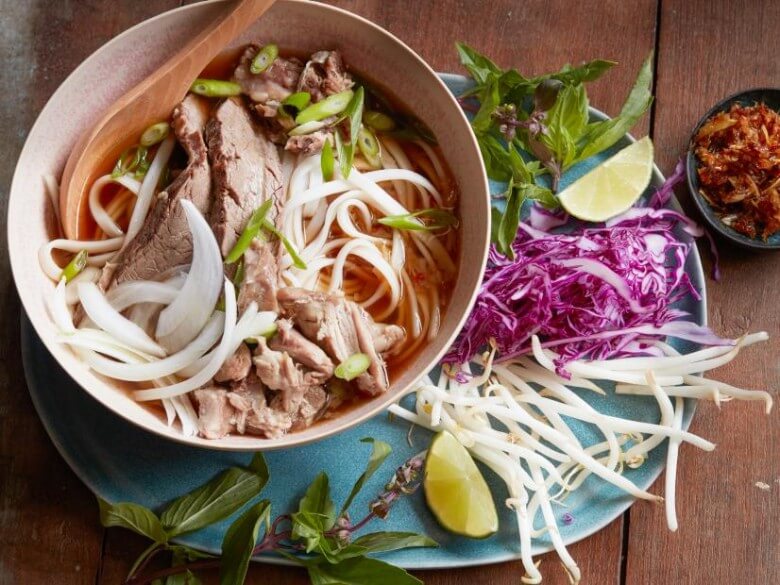 Sometimes just referred to as bun bo, the "Hue" denotes its origin city.  With dollops of red oil floating on top and chunks of huyet (congealed pork blood), pork hocks, peppery Vietnamese beef sausage, and sliced beef shank as toppings, bun bo Hue is definitely meaty.
It also might seem a bit daunting. But if you are willing to dive tongue first into this spicy soup – a specialty of the Imperial city of Hue in the central region of Vietnam –  you might never want to eat anything else. Served with thick, udon-like noodles, the broth is simmered for hours with lemongrass and other spices, yielding a robust, full-bodied, umami-laden flavor-bomb for a meal that is quite addictive.
Learn more!
4. Bun rieu
Pronunciation guide: boon rieu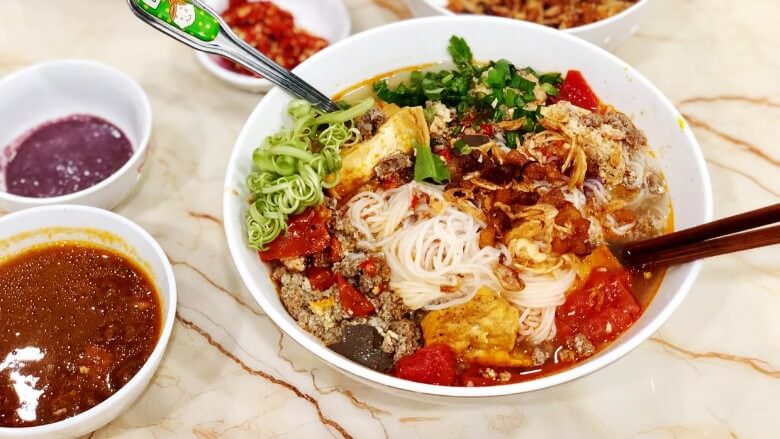 This dish is built for crab addicts. A rice vermicelli noodle soup made with tomato and crab, bun rieu is one of Northern Vietnam's most popular and recognizable meals. Originating in the Red River Delta, both the broth and topping are both made from rice paddy crabs that have been pounded into a paste.
There are a few variations of this noodle soup dish, but the foundation of it is a crab and tomato broth. The crustaceans produce a piquant aroma while the red vegetable adds a layer of acidity and hint of sourness to the soup. Vermicelli is often the noodle of choice and toppings can include meatballs, pork knuckles, fried tofu, fish, snails, and blood cubes.
Learn more!
5. Mi, hu tieu, or pho kho
Pronunciation guide: mee, hoo tee-oh, fuh khoh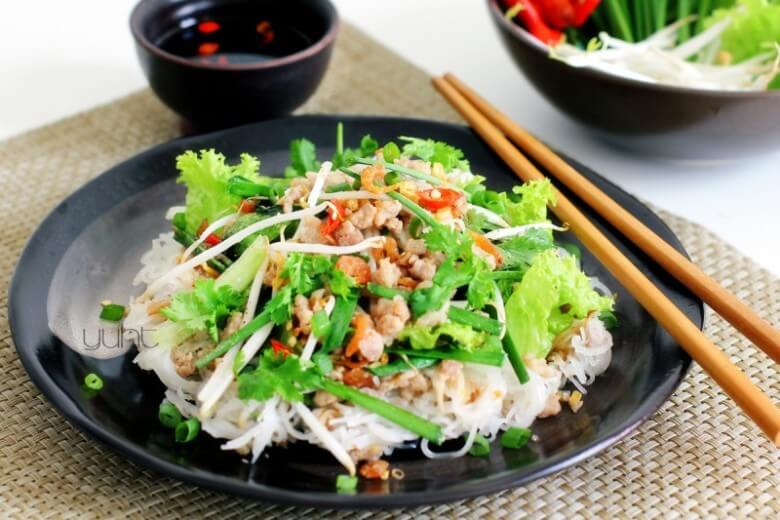 Most Vietnamese restaurants that serve noodle dishes also frequently offer an option to order the dishes "kho," or dry. This means that the noodles are served in a bowl separate from the broth. While not all noodle dishes can be ordered this way, the most common ones – mi (egg noodle), hu tieu (chewy rice noodle), and pho ga (chicken pho) – can.
Great for hot days when you don't want to sweat from eating something with steaming hot broth, the kho version of these noodle soups also benefit from a special sauce – usually a sweet and savory brown sauce made with sugar, oyster sauce and soy sauce – that is poured over the dry noodle to give it an extra umami boost.
Learn more!
6. Banh xeo
Pronunciation guide: bang seh-oh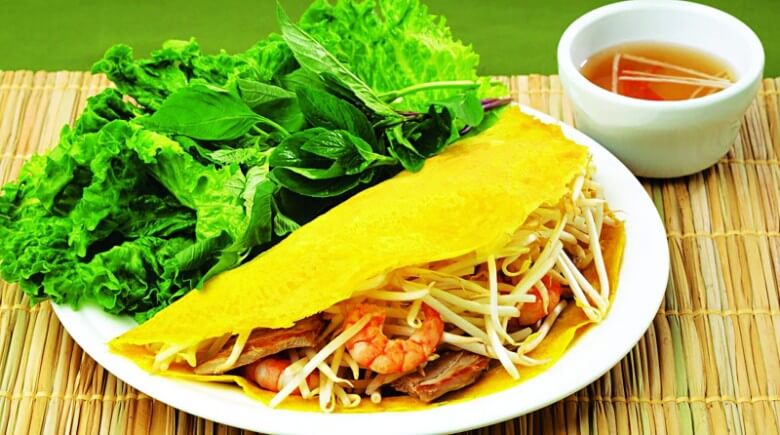 Similar to a crepe or pancake, is a type of savory crepe made from rice flour and turmeric powder (hence the yellow hue) and is stuffed with pork, shrimp, and bean sprouts. Wrap it up in lettuce, add some herbs to it, and dip it into some fish sauce before taking a bite into this crispy delight.
Most roadside stalls, local markets, and restaurants sell a platter of banh xeo for about VND 5,000 to VND 25,000, which usually comes with a side of fresh lettuce or rice papers. Eat like a local by wrapping your banh xeo in mustard leaf, lettuce leaves or rice papers together with nem lui (lemongrass pork skewers), mint leaves, basil, before dipping in fermented peanut sauce.
Learn more!
7. Banh cuon
boon rhee-eww
Pronunciation guide: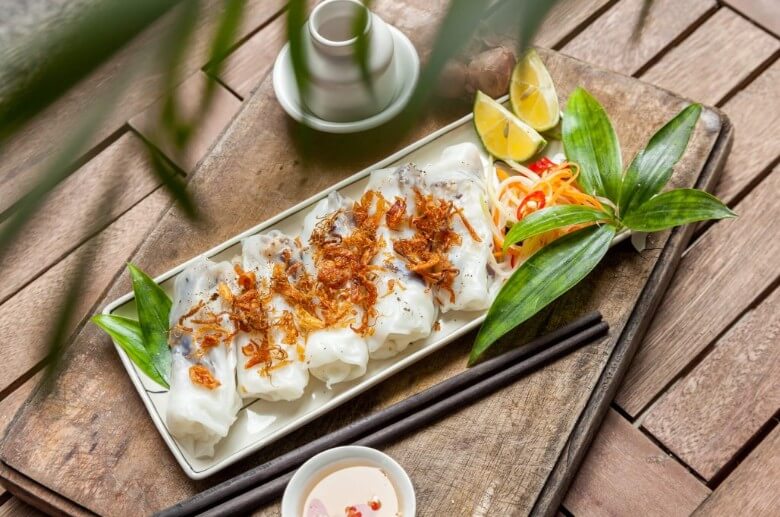 Also known as rolled cake, banh cuon is great for when you're feeling peckish whilst sightseeing in Vietnam.
These delicate rice noodle rolls may look familiar if you've had cheung fun at a dim sum restaurant before. When it comes to banh cuon, these parcels are filled with minced pork and wood ear mushroom, then topped with a smattering of fried shallots and dipped into fish sauce. Make sure to eat them while they're hot and soft.
Learn more!
8. Banh mi
Pronunciation guide: b-un me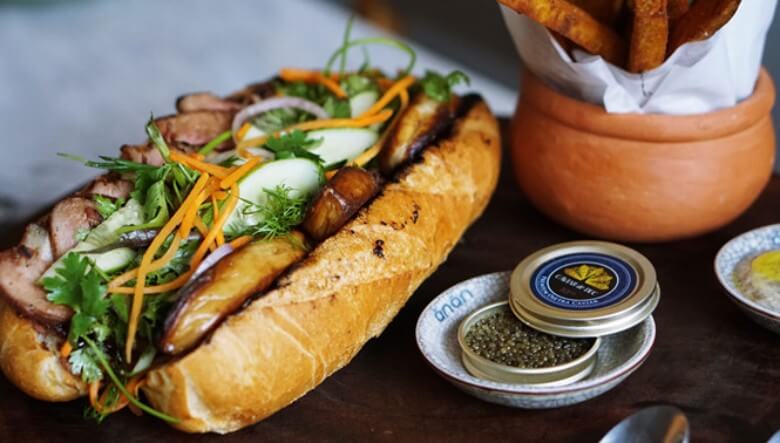 If you're planning on traveling to Vietnam, the one sandwich you will hear about and will not want to miss is the Bánh Mì sandwich. This famous Vietnamese sandwich has been consistently ranked as one of the world's best sandwich.
Banh mi is a unique French-Vietnamese sandwich that's great for when you're in need of a quick meal. Priced between VND 10,000 and VND 15,000, it consists of a toasted baguette sandwich, pickled vegetables, pate, butter, soy sauce, cilantro, chilies, and hot peppers.
The traditional meats you find in bánh mì are pork, pâté, and cured ham. Then, additional bánh mì ingredients are a mélange of Vietnamese herbs and vegetables. Typically, the vegetables are coriander, cucumber, carrot, slices, radish and more depending on what part of the country you are in.
Learn more!
9. Com tam
Pronunciation guide: kəːm təm˦˥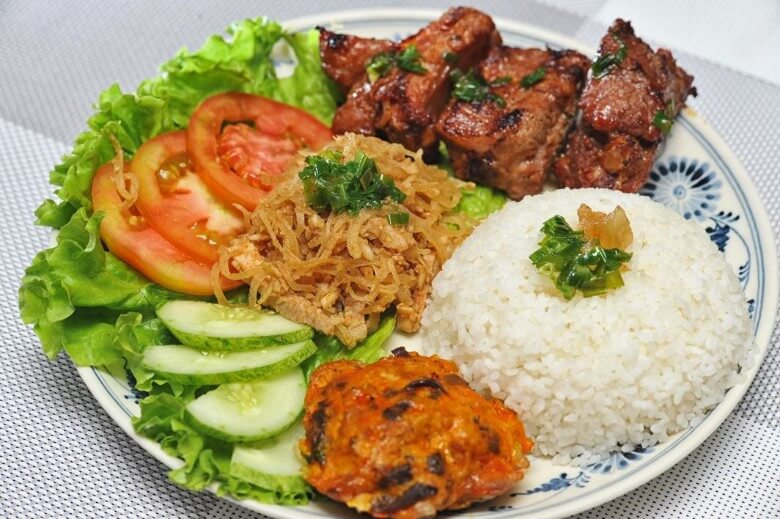 Some of my happiest moments in Saigon have been sitting down with a good plate of cơm tấm and watching the city go by. Cơm tấm is pure gastronomic pleasure: barbecued pork on broken rice, topped with a fried egg and other accoutrements. Saigon and cơm tấm are inseparable: the two most distinctive smells in this city are exhaust fumes and grilled pork. This dish is as much an icon of Saigon as motorbikes or the Bitexco Tower are.
These imperfect rice grains were traditionally discarded after the milling process but have been elevated into a delicious signature street food dish by the ever-resourceful Saigonese.
Cơm tấm is one of the most accessible and delicious dishes in Vietnamese cuisine. Everyone loves it: Vietnamese, foreigners; kids, adults; rich, poor. But it doesn't just taste great: there's an atmosphere surrounding the cooking and consumption of this dish which is intoxicating and compelling.
Learn more!
10. Bo la lot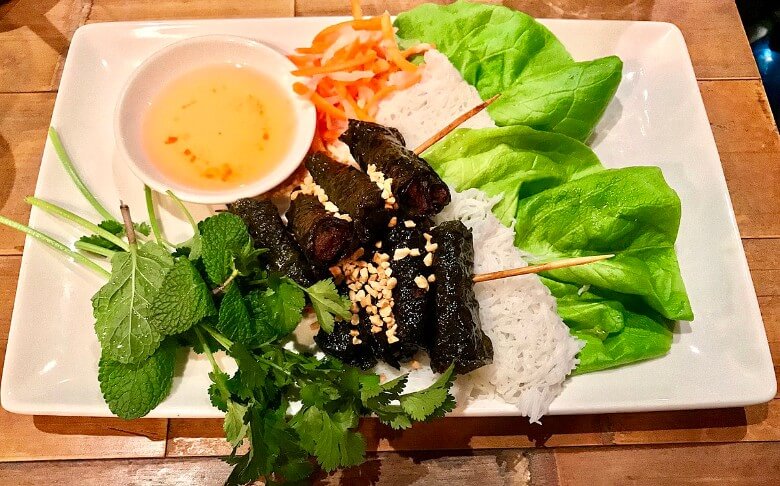 Soup noodle dishes are some of the most famous things to eat in Vietnam. And there's no denying they are delicious. But there are other dishes, like minced meat wrapped in herbaceous leaves and grilled over charcoal, known as bo la lot, that happens to be one of my favorite delicacies from Vietnam.
Fully known as thit bo nuong la lot (thịt bò nướng lá lốt), this Vietnamese dish includes minced beef mixed with garlic and shallots and some simple spices, wrapped into wild betel leaves (also known as piper lolot leaves), rolled up like cigars, and grilled over hot charcoal.
The mix of of flavorful meat grilled in an herbaceous leaf, paired with raw vegetables, and being able to assemble each roll yourself, are the reasons why bo la lot is such an amazing Vietnamese dish.
Learn more!